by prokofy on 23/03/07 at 3:13 pm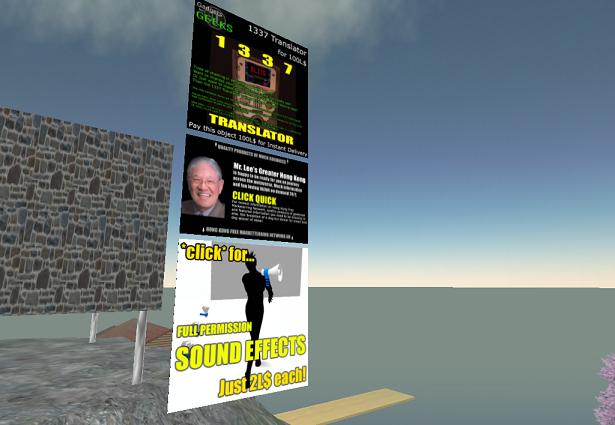 Mason and sign extortionist Chrischun Fassbinder, notorious for the Mr. Lee's Hong Kong signs, and Ancient Shriner, another spinning sign-griefer, bring RL real estate firm Coldwater Banker to SL.
Prokofy Neva, Dept. of Virtual Estate
Oh, no, here we go again. Remember how Philip told us that when big business came to Second Life, that they'd never use big billboards and blight up the landscape? But when he and the other laissez-faire Lindens allowed all these small inworld microbaron businesses to scoop up the 16m2 and 64m2 parcels, and put ugly spinning signs on them set to extortionist prices to "buy back the view," he probably didn't imagine that RL big business would ever make direct use of those microbarons in their own projects — and enable them to drive mainland customers to their new RL real estate clients through the devaluation of everyone else's land.
When I read on CNN that the real-life real-estate company Coldwell Banker was coming to SL, I thought it would be an interesting contribution to observe and not necessarily a death-knell for inworld land businesses. A RL real estate company might bring some insights into the slash-and-burn SL virtual estate climate but might also be willing to learn from those who have learned their trade the hard way on Linden Lab's laggy servers. While nobody likes to face harsh competition, we already live with that in SL, and hundreds more units on a dozen sims disappear very quickly with the onrush of newbie customers swarming into SL — there likely is enough more than enough business for everybody.
Yet when I read Fortune writer David Kirkpatrick's coverage of the story, however, I began to see some tell-tale signs that this RL business was making use of biased and even vindictive advisors. The story talked about bringing "order" to the rentals business that it claimed had only a few land barons in it, although SL already has stunning order in sims run by hundreds of agents from Anshe Chung to D'Alliez to Azure and even to my own modest Ravenglass. "We thought we'd try to bring real estate to the masses," a Coldwell exec is quoted as saying — as if he was coming into unsettled territory. Why try to set barons against each other? And don't in fact hundreds of rental agents all over SL, not just a few land barons, bring "real estate to the masses already"?
Landing at the Coldwell Banker HQ in Ranchero and peeking under the hood, I suddenly realized what was up. Coldwell Banker didn't come in without baggage, nor start with a clean slate and good will toward the community: they chose two of the most notorious, cut-throat and rude extortionist sign-griefers in the business as their landholders and managers. I was in shock. Ancient Shriner, an avatar who also runs the secretive "SL Masonic Lodge No. 1″ and Chrischun Fassbinder, owner of the infamous "Mr. Lee's Hong Kong" signs, are running the Coldwell Banker operation. Clunk. Another flat-footed arrival of a RL company into SL.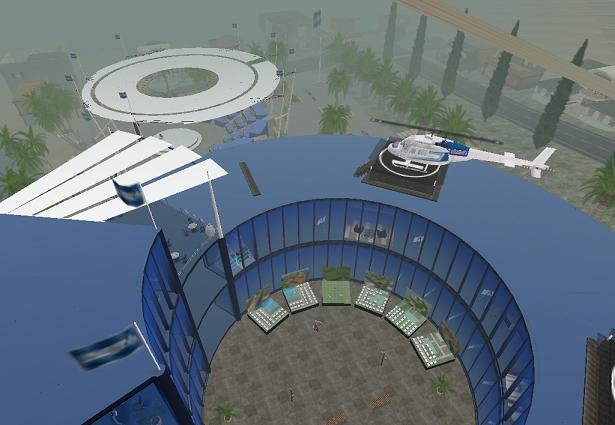 Modern toilet school of architecture build in Ranchero.
Flying around the cold blue glass and steel vanity headquarters for Coldwell Banker, owned by the Icehouse Land Holding group of Ancient Shriner, I was filled with dismay. Why don't these companies do their homework?! Ancient Shriner was there in person to sneer at me at tell me I should be grateful he didn't ban me — his nasty, smug and self-satisfied comments were the kind of thing I expect from inworld business always — but RL business is supposed to be above all that.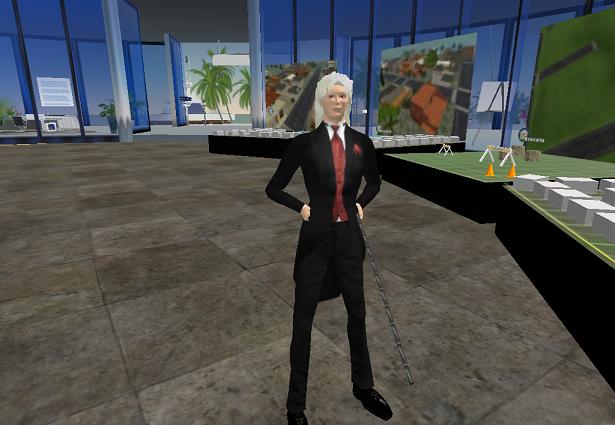 Mysterious microbaron Ancient Shriner.
Coldwell Banker in RL doesn't have any reputation for blighting communities, extorting neighbours to buy back their view by placing ugly advertising, flipping land by night or cutting it up smaller to hawk it faster, or anything of the sort. It strikes me as one of those typical, bland, big, but efficient real estate companies that helps a lot of people buy and sell homes.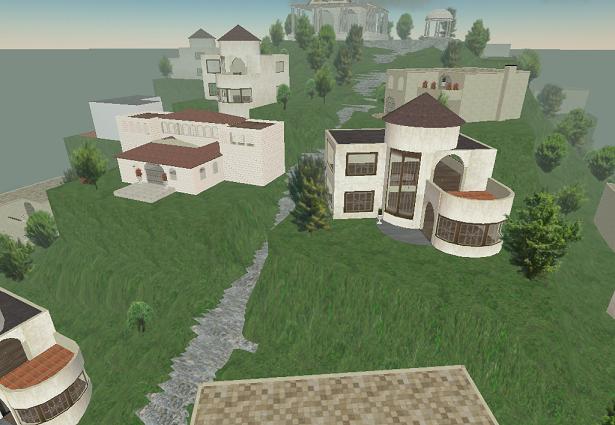 Little Masonic lodges on the hillside made of ticky-tacky.
And for that matter, the RL Masons and the Shriners, though fodder for all sorts of "tinfoil hat conspiracies" have good reputations in RL communities. The Shriners are noted for their fund-raising drives to help disabled children and their hospitals, not for making huge, atrocious, spinning signs driving everyone around them nuts, or screaming at a neighbour objecting to plywood piling up on their lawn and requesting autoreturn that he must be a "communist" if they tell other people WTF they should do on their land. No, the Masons in communities all over SL are leaders in business and volunteer work, not griefers. They are never associated with crime, shady busy dealings, harassment, and certainly never extortion and blighting of the outrageous kind you see in SL with these microbaron signs.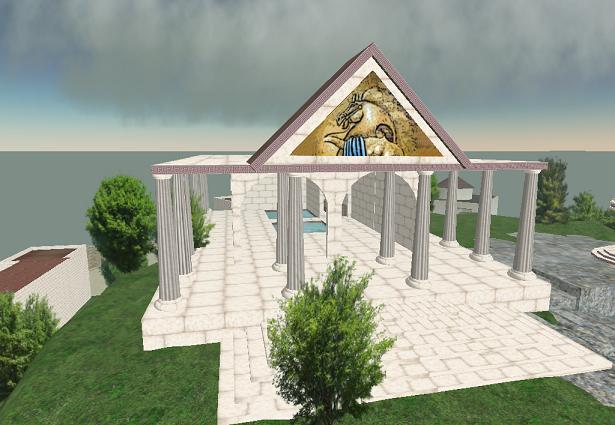 Part of the worldwide conspiracy?
Perhaps there is some ideological affinity or networking that brought Coldwell Banker and Ancient Shriner together around the shared mysticism surrounding Neal Stephenson's Snowcrash (from where the character of "Mr. Lee" and his franchulate "Hong Kong" is taken); perhaps it is a mere happenstance. We're not likely to ever know, as both Ancient Shriner and Chrischun Fassbinder, while heavily involved in land flipping, renting, building, and financial operations of all sorts, including the stock exchanges, are not very public, and don't post on forums or speak at public meetings or keep blogs to my knowledge.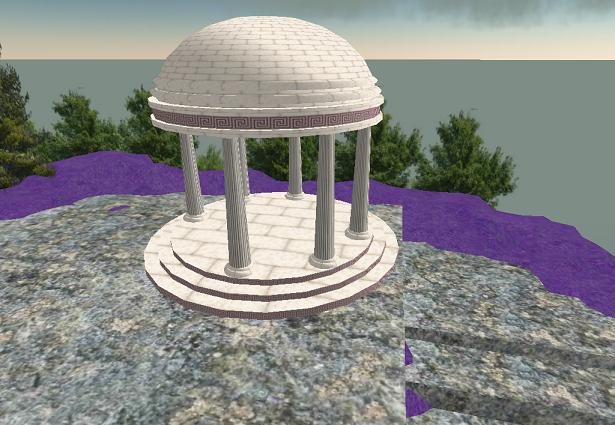 A purple haze of mystery surrounds this land deal.
A most curious feature of the Coldwell operation was something I've only seen once before inworld in two years: purple land, i.e. land ostensibly still owned by Governor Linden with auction ID numbers, that in fact remained purple while owned already by Ancient Shriner's group. This is most odd indeed. A parcel can remain purple after you've won the bid, and show that the land should be sold to you — but it can't physically remain purple after you've taken it and put it on your tier and in your group — at least under the ordinary "laws of nature" of SL.
One knowledgeable land baron speculated that LL may have made some arrangement with Coldwell Banker to give them a break on tier beyond the ordinary 10 percent bonus for grouped land, but could only do it this awkward way. That seems unlikely, but as a tabloid writer I'm going to speculate heavily that there's something "up" here with this curious purple land. LL is probably only too glad to think up some caper to break the backs of land barons. They want to sell their land at a profit, but they resent those who buy it and then flip it to make a profit themselves. They want a free land market to create a simulation of real life, but they personally have disdain for the land business and Philip himself would be happy if 512 ms at identical prices were just endlessly rolled out. He cares much more about "content" and "value-add".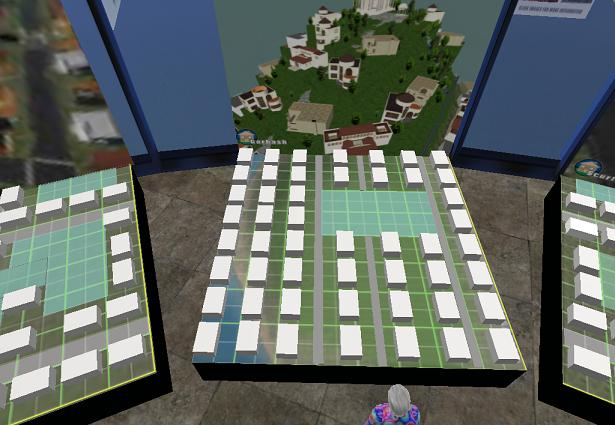 Modern RL efficiency to the chaotic mainland?
David Kirkpatrick, the prominent journalist for Fortune to whom the Lindens vouchsafed an embargoed exclusive notice of their plan to go open-source earlier this year, usually writes much more informedly of Second Life; he probably just failed to do the basic right-click "about land" check that you always need to do in Second Life, where the game isn't so much "follow the money" as it is "follow the land holding group".
Curiously, he also fished up a quote from Paul Carr, who has a book coming out soon on Second Life. "It's true that Second Life real estate transactions are daunting and confusing," Carr is quoted as saying. While Carr was careful to say that the problem wasn't Anshe Chung or famous land barons, he implied that land-scamming is far more prevalent than it is (he must read the official resident answer forums too much). Trying to sum up the SL experience, he claimed there were "people who offer to sell you the Golden Gate Bridge. For every legitimate real estate broker there are a thousand scammers." The Herald has reported on exactly one island scammer and heard about another; there just aren't that many in the business, even if you count every fly-by-night wannabee who tries to get a newbie to sell their first land for $1024 (and that problem is now completely history with the end of subsidized first land).
Kirkpatrick describes Carr as predicting that with Second Life populated almost entirely by casual and newly-arrived users, a trusted brand that stands behind virtual land transactions will be welcomed by many. Yet many inworlders have become utterly exasperated with "Mr. Lee's Hong Kong" which is everywhere blighting and devauling land — causing move-outs, sell-outs, and lost business. Chrischun is infamous for never accepting any offer to trade, mitigate, come down in price, etc. He sticks up his identical price of $9345 everywhere, in the middle of prime waterfront, on a lonely mountain where probably two people click on it a month, in the middle of a grassland sim — anywhere he can grab a 16m2. Unfortunately, some pay to buy back their view, prompting him to gloat that there is a "market" for his sign space.
(I'll save some of my choice transcripts from these guys for my own blog, as the Herald has had a lot of inworld drama lately.)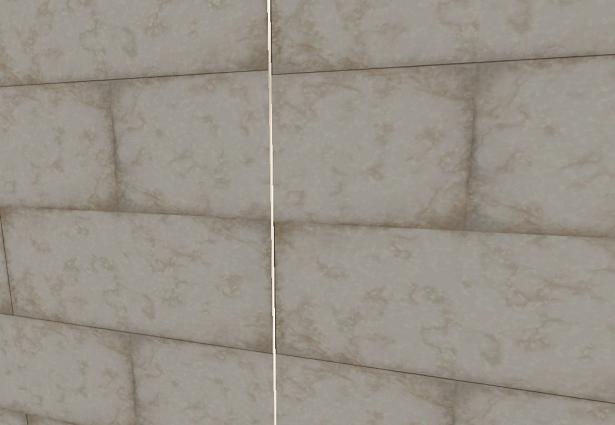 Oops, back to stone-mason Sunday school at the temple, guys!
Says Carr, "Coldwell's properties will appeal to those who want to live in a virtual world that looks like the most banal regions of the real one – suburban tracts filled with uninspired architecture. The one exception, in the Gorbash region, offers modern hillside homes with a view of a dirigible dock, a pirate ship docked in a nearby cove, and the "for sale" signs put up by real estate speculators that endlessly dot Second Life's landscape. And even the suburban tracts lie next to a casino. (Gambling is a hot Second Life activity.)"
A visit to Gorbash revealed a humorous scene of dozens of identical miniature Masonic Temples, replete with goofy symbolism and strangely bad texture and seam jobs, not befitting of the world-famous Order of Builders. No matter. Everything in SL sells; just put a price tag on it!
The invasion of big business has been made far more annoying than it had to be by their choice of partners with bad reputations who have harmed the quality of Second Life for thousands of people. But as Kirkpatrick notes, the juggernaut of Second Life rolls on. Perhaps if the Coldwell account goes well, the RL businessmen with more experience and good judgement than the inworld pretenders they've chosen as partners might persuade their new virtual pals to roll up their obnoxious sign-griefing microbaron empire and behave like good neighbours.