by Pixeleen Mistral on 26/04/07 at 8:02 am
AN repulses attack – Herald reporter wounded
by Omega Groshomme, war correspondent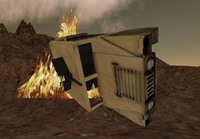 The Alliance Navy was attacked on Wednsday morning 1:00am SLT by members of several opposing factions. Members of Titan industries rolled into "The Woofer", the Alliance Navy sim, using small arms fire and phantom rounds engaging in a small fire fight from the NW side of the sim. Attempts to advance toward the AN HQ were quickly withdrawn as members of the AN held back opposition with heavy machine gun fire and Talon aircraft. Attacks carried on to 1:35 SLT when another attack was reported by security forces at "tethys", the AN sub HQ.
Members of SOCOM advanced over the draw bridge into a security post where they were met with mild resistance for a short time. After a quick briefing AN Cadets were sent in to clear out hostile forces and to secure the HQ, at which they were quickly engaged by SOCOM forces using high powered rifles and sniper fire. AN troops made haste pushing SOCOM back over the bridge to the front gate where snipers were taking up positions to fire into the AN base. The snipers were later killed by AN marines sent to hold the bridge.
The engagement at "the woofer" however carried on passed 2:20am SLT when Titan forces withdrew and SL commandos, as well SOCOM continued their attempted assault. AN troops dug in,deploying light machine guns and automatic rifles holding back the attack, when this writer (Omega Groshomme) was hit by enemy fire after identifying myself as a reporter when trying to move in for a closer photo. AN cadets fired, neutralizing the hostile forces and pulling me to safety.
While getting medical treatment from 2 rounds; 1 to my arm, 1 to my torso, I tried to carry on snapping pictures of the fight when a sniper round clips my camera leaving only 1 photo left to salvage – that of a AN Marine fighting on to hold back his enemy. The amount of gunfire slowly died down at 3:10am SLT, but sporadic shots, as well sniper fire still continued until 3:40am SLT when are hostile forces were neutralized by officers of the AN using Talon aircraft. strafing the hillside with cannon fire and light bombs.
AN forces held their ground today against a determined enemy, proving their abilities to negotiate tactics as well saving the life of a reporter. Low casualties were reported for the AN, but none were able to be interviewed until the mess is cleaned up and proper intel is received. I am making a full recovery and will be back on the battlefield in no time to let the public know of AN's progress in the on going war.

Omega Groshomme reporting from The Woofer med bay.