by Alphaville Herald on 12/04/07 at 4:04 pm
by Muffin K. Smith, Herald grrrl about town.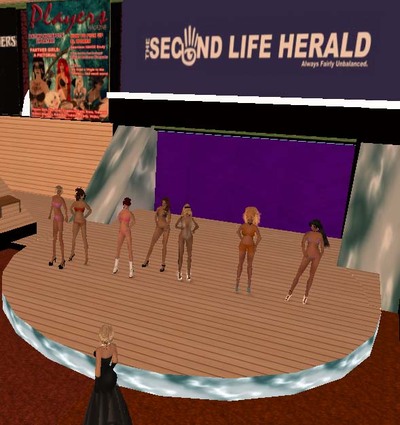 Fox Cavern- Post Sixx grrls are learning that beauty is more than pixel deep, because last week's Post Sixx grrrl pageant seemed to come down to personality and brains as the beauties who took the stage were "really too close to call" according to pageant judge Marilyn Murphy. Now in its fourth week, the SL Herald's Post Sixx Pageant is becoming one of the most popular events in the Second Life Week. Between the beautiful swimsuit clad models and the witty banter of judges Murphy and Jaime Wheeler, the audience and the models come prepared to be both entertained and entertaining.
"The best part is that the growth of this contest has been all word of mouth," said Wheeler. "We've done very little advertising and yet every week we have more and more people here. I have a lot of fun, and I think the contestants and the audience do too and it's that sense of fun that makes it popular. Heck, last week we even attracted a griefer, so I guess that's a sign we've hit the big time," Wheeler added with a laugh.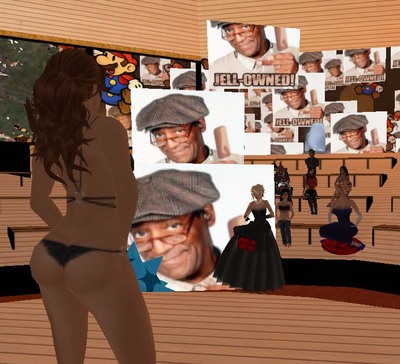 A sure sign of pageant success, the PN boys arrive to find out what women look like (Apparently their moms took away their National Geographics).
The pageant is held at The Shadow Auditorium in Fox Cavern (227,225,21) a beautiful theater initially built by sim owner Shadow Brando specifically to host this prestigious event. "Everyone has heard of Marilyn, and the Herald, and Post Sixx Girls, it's an honor to have them come to my place week after week," said Brando. The next pageant will be this Friday, April 13th , at 5:00pm SLT. With the growing popularity of the contest, people interested in entering should plan on arriving early to ensure a place.
At the last pageant, as many as fifty people crowded into the sim to watch a dozen girls compete to become the next Post Sixx Grrrl and win a free photo session with the legendary Murphy. "It really was our toughest pageant yet because there were so many wonderful girls who entered," said Murphy.
"We had a couple of contestants who have been SL fashion models for years, who had worked for some wonderful designers, as well as some newer girls who wanted to become models and who had spent a lot of time and care in making their avatars. They're all beautiful, how does one choose just one?" added Wheeler. "In this case, we went with the girl who had impressed us most with her interview, Aurel Miles, who ironically is not interested in modeling but who instead did the contest as a lark."
The Post Sixx feature in the SL Herald is one of the paper's most popular pieces, and its only weekly column. Featuring three pictures of an avatar, one clothed and two nudes, Post Sixx has generated a lot of interest over the years. An outgrowth of Players Magazine, Murphy's in-world magazine, Post Sixx is a way for beautiful and interesting avatars to get seen by thousands of Herald readers and is thus a much desired honor. "We have launched more than a few modeling careers," says Murphy with a laugh, "but what we're really looking for is the interesting person who has done something unique and attractive with their avatar, whether a drow or demon or faerie or something else altogether."
"Contestants wishing to enter just have to show up at Shadow Sinners a little bit before the scheduled start of the contest," says Wheeler. "It's very relaxed and we try to put the contestants at ease. They wear a swimsuit, come out on stage, and tell us a little bit about themselves. So far, it's been either Friday or Saturday night and people have had to check the events listing to find the date and time, but we hope that going forward our real life schedules will settle down and we can get into a groove of having it always at the same time. When in doubt, though, check the events, but this week is great because it will be Friday the 13th at 5:00pm SLT.