by Pixeleen Mistral on 08/05/07 at 9:18 am
by Pixeleen Mistral, National Affairs desk
Two reports arrived on the mojo wire this morning that may help explain Linden Lab's sudden interest in account verification – an apparent reversal in direction after opening the metaverse to essentially anyone last June with unverified access to the "over 18" garden of cyber delights.
Mainz TV and Speigel Online report that German authorities are taking an interest in the ageplay scene in Second Life. The media appears to have found the story interesting as well – with the German reporters making a visit to Robin Linden to show her some of what they found.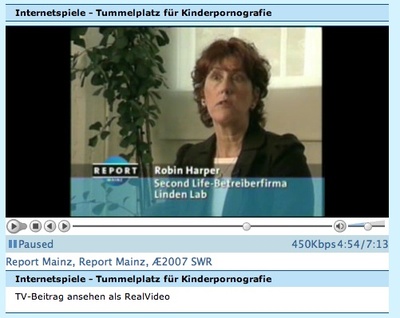 Ageplay? in Second life? shocking!
This could not have been the happiest day in Robin's work life since, as reported previously in the Herald, the Linden's crackdown on ageplay has been largely ineffective – and now the mainstream media has noticed.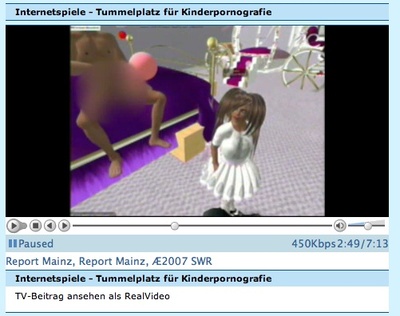 We can hope for a happy ending however, as Robin Linden's real life typist appears on camera and promises to find out who is behind the ageplay and report them to the police. Here at the Herald we are sure this will all end well, given the Linden's stellar record for careful planning and thoughtful consideration of complex issues. In other good news, at least the grid was working well enough that those television reporters could get those simulated child porn videos – so perhaps the resident's Open Letter complaints can be swept under the rug.