by Pixeleen Mistral on 27/06/07 at 10:09 pm
More anti-furry discrimination on the way?
by Pixeleen Mistral, National Affairs desk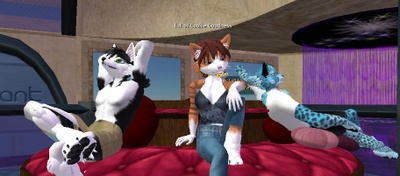 Worldwide protest against Second Life furs?
Last week's /b/ furry death camp could have been only the start of widespread discrimination against one class of metaverse citizens – anthropomorphic cats, dogs, foxes, squirrels, and others known in-world as furs. In a press release sent to the Herald today by Rivers Run Red, it was announced that "Stella McCartney and PETA will co-host on Second Life® the first worldwide virtual anti-fur protest, from July 12th for a week". Does being "virtual anti-fur" mean that real life fur suiters are OK, but metaverse furries are bad?
We can only speculate about what prompted this protest in SL and wonder if any of the players involved realize the largest group of non-human metaverse citizens are known as furs. Is Ms. McCartney courting a Linden ban for broadly offensive behavior? Intolerance is frowned upon by the Linden game gods, who are known to ban for "any reason or no reason". Let us hope this does not end in tears for Ms. McCartney.
The mood in Luskwood and Furnation sims – both furry enclaves – was somber tonight, in striking contrast to comments by PETA President Ingrid Newkirk who said, "Stella's Second Life fur protest is a light-hearted way to draw attention to a very serious issue". While furries are generally accepted by longtime SL residents, some privately express anti-fur sentiments, and suggest that various criminal elements are over-represented in the furry population – such as underage players and those into extreme role play. Acceptance of the furry community may be less prevalent among the newer real-life-in-second-life partisans, and may account for the unfortunate tone of the planned protest.
A number of furs the Herald contacted wished to remain nameless for fear of reprisals – but viewed this as still another form of harassment, wondering why Ms. Newkirk and McCartney have chosen to align themselves with the anti-furry goon and griefer elements in the metaverse. Several furries in Furnation Prime sim when informed of the anti-fur protests considered an anti-anti-fur protest – with rusty hatchets, cruxs and hyenas.
According to the announcement, the Stella McCartney / PETA Island will be open on Second Life® from 12th-29th July, with a contest for the best anti-fur slogan. It was unclear if the organizers understand the sorts of slogans to be expected from the various griefers and anti-fur goons in-world. According to the event organizers, "the best 3 slogans will win Stella McCartney prizes. First prize: 2 tickets to the Spring Summer 2008 fashion show in Paris in October". Sloganeering furry-haters in Paris – does it get any better?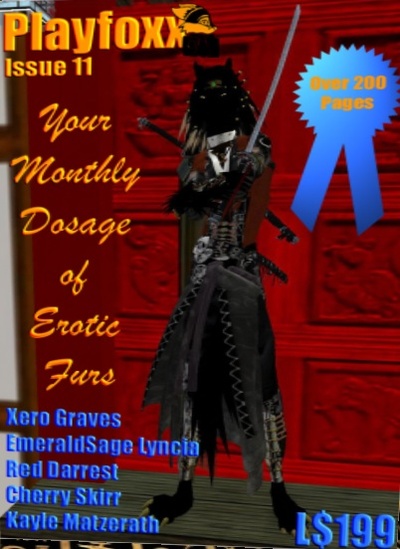 Isn't this community worth engaging?
Reading further into the press release we find that Rivers Run Red have been busy "working to develop virtual worlds as a new channel to engage in communities, reach consumers, and build brand experiences". Having heard of bad experiences with gay hermaphrodite foxes, I can understand some concerns, but is the entire fur community to be written off as no longer worth engaging? Wouldn't a more furry-friendly slogan have been appropriate for the PETA hypervent?
The press release concludes by noting that "Linden Lab employs a senior team bringing together deep expertise in physics, 3D graphics and networking". There was no mention of Linden Lab expertise in social issues, governance, or community.