by Pixeleen Mistral on 25/06/07 at 10:34 pm
Half ur base r belong 2 us
Mercz and /b/ form alliance to take over Alliance Navy's Emit Time base
/b/'s short lived Fursecution concentration camp
by Pixeleen Mistral, National Affairs desk & Ace Graveling, War Correspondent
June 20 was a bad day for the Alliance Navy of Second Life. Behind on land tier payments, they lost control of half their Emit Time sim base to forces aligned with another militia – the Merczateers. Even worse, a clan of /b/ griefers set up a furry concentration camp on the former AN base, and began masquerading as the AN.
AN's trouble began about 1:25 AM SLT June 20th when one quarter of the Emit Time sim – and half of the Alliance Navy base – was placed up for sale and was promptly bought by the "Ailiance Navy" – the first i appears as a capital letter in an attempt at deceiving the casual observer. Three members of the Ailiance Navy (or AiN) maybe familiar to Herald readers: IntLibber Brautigan of Brautigan & Tuck Holdings, Ethan Schuman of the Merczateers militia, and Tizzers Foxchase, who is associated with the /b/ and Woodbury University.
After a brief chat with last week with Tizzers Foxchace (who is now serving time with the banned), I spoke at length with Ethan Schuman about how his group was able to take over the Alliance Navy's base and turn it into a parody of the AN. While Mr. Shuman was not pleased with all of the /b/'s actions, I learned that Mr. Shuman felt collaborating with the /b/tards was a small price to pay for the victory over the AN .
It may not be surprising that the Furry death camp only lasted a few days before the Linden game gods removed it and handed out a number of bans. The police blotter friday showed that the Lindens had been busy in Emit Time sim – though some might wonder at this, since Emit Time is on a private estate.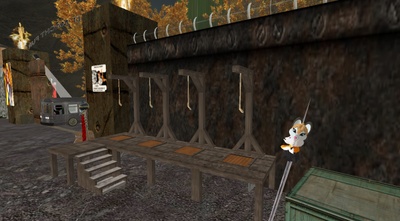 Furry execution area located just past the ovens
Mr. Schuman whisked me up to a plywood platform in the stratosphere so that we could talk without being hit by the boxes of organic cornmeal the /b/tards were shooting while riding an iconic /b/ vehicle – the screaming longcat. Protip: turn your speakers off if there is any chance of a screaming longcat in the vicinity.
Ethan Schuman: I was who found out about the fact that the Alliance Navy didn't actually own the lease on this half of their land, and who came up with the idea to buy it. Anyways, after I found out that the AN didn't own this half of their land, I talked to the guy who did. He's a good friend of mine.
Pixeleen Mistral: and?
Ethan Schuman: When the Alliance Navy lost their sim, it was because of the fact that they didn't have enough money to pay for it. He gave them money, and gave them this quarter of the sim. In return, he was not compensated, nor was he even thanked, and he was treated quite badly by them. When I talked to him, he was having financial troubles. That sort of treatment is typical on the part of AN. He was in need of cash, and I saw an opportunity to strike at AN through unconventional methods.
Pixeleen Mistral: well, going after their finances is really post-modern. so then what happened?
Ethan Schuman: So, I united a group of like minded individuals, including IntLibber Brautigan, Aryte Vesperia, and Anthony Lehane, and the four of us purchased the plot at full price for the remaining term of the lease. It is important to note that all of us paid from our personal funds, not group money.

AIliance or Alliance – which is doper?
Pixeleen Mistral: did you tell anyone, or do this quietly?
Ethan Schuman: We did it quietly, though IntLibber had the idea to start up another military group next door. The rest of us just wanted the chance to take the land plot and return all their stuff. Anthony and I particularly enjoyed it because of what was done to the Merczateers Kremlin oh so long ago
Pixeleen Mistral: so payback was sweet?
Ethan Schuman: I should note that IntLibber funded the majority of the buyout, the rest of us put in smaller amounts, with my own donation just a token amount.
Pixeleen Mistral: this is interesting – it took a loooong time to spring the trap
Ethan Schuman: Payback was delicious. The reaction of the Alliance Navy has ranged from name calling, threats of legal action, to flat out harassment. But then again, when you consider the absolutely despicable behavior of Admiral Harlequin Salome, who personally banned me from all AN land and spread untrue rumors that I was sexually harassing AN members simply because I KNIFED him…
Pixeleen Mistral: good lord
Ethan Schuman: …their reactions have been par for the course. Their Marine Commander actually told me I could "Go die in a hole." Not very commendable behavior
Pixeleen Mistral: well, they are under a lot of stress now
Ethan Schuman: The bottom line is that we beat them, fair and square, in a field of battle they are not used to fighting on (the intellectual battlefield), and which they are poorly equipped to do so.
Pixeleen Mistral: that is why I said this was really post-modern – its the cyber-war instead of the grunt war in the trenches
Ethan Schuman: A popular joke amongst those of us familiar with the AN is that it's only cheating if the AN's opponents think of it first.
Pixeleen Mistral: financial people can be warriors too, I guess
Ethan Schuman: In this case, I saw a weakness on their front, I gathered my troops, and I exploited it (while remaining well within LL terms of service and traditional rules of engagement), and we were victorious.
Pixeleen Mistral: so once you had the AN's land – you let the /b/ people loose on it?
Ethan Schuman: Though, I must add that I'm not personally happy with the presence of the Woodbury/PN/griefer crew down below us, though they are here at the whim of IntLibber, and as he paid for most of this…
Pixeleen Mistral: ok – so that is IntLibber's doing
Ethan Schuman: The original intent was supposedly to form a parody group and run around acting like idiots. I should rephrase. IntLibber took measures to try to make the new group a legitimate military faction. I don't think he anticipated the explosion of /b/tardery that has manifested itself. The only reason I remain in the group is because I have owner rights, and have the ability to reign them in if they get too far out of hand.
Pixeleen Mistral: how far is too far?
Ethan Schuman: Well, I won't go into specifics, but the Alliance Navy admiralty are culturally diverse in real life, and symbols of hatred such as swastikas are things I won't tolerate anywhere. There is a double standard here, as the Alliance Navy admiralty sanction acts such as slander, and once went as far as to crucify an effigy of Aryte Vesperia, who is a devout Christian IRL. However, even with those actions, I will not allow anything of similar sort to be employed.
Kovirr Hesse: I remember that. . . lol. Don't forget the head on the pike.
Ethan Schuman: The Alliance Navy are masters of spin and deception, and if you speak with them, they will downplay or ignore the immoral and unethical actions they routinely stoop to in an effort to demoralize, bully, and break their opponents.
Pixeleen Mistral: ic
Ethan Schuman: Speak with anyone who has ever been a target of one of their campaigns of intimidation, and you will discover them for the treacherous snakes that they are.
Pixeleen Mistral: they certainly have enemies but you may have shown that they are not as powerful as some thought
Ethan Schuman: The AN is quite formidable on the battlefield, but if you take their guns away and make them fight with strategy, logistics, and intellect, their typical defense is to stick their fingers in their ears and scream until their faces turn red. Kind of like what they do when you defeat them in battlefield combat, but that's beside the point. This event really bothered them. It was to the point where Harlequin Salome decided to leave SL for a while, though he was back after only a few hours.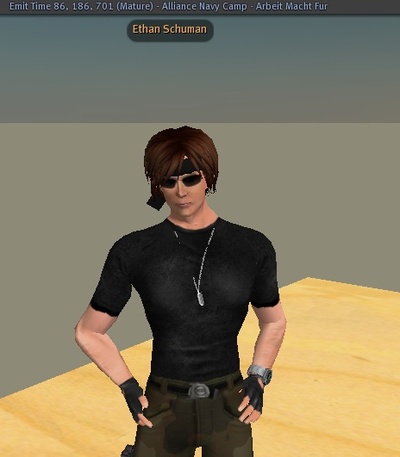 Ethan Schuman has a sweet feeling right now
Pixeleen Mistral: anything else you want the Herald readers to know?
Ethan Schuman: It is VITALLY important to note that our intent was not to unlease the hordes of… however you wish to classify the mess below us… onto the Alliance Navy, and that this is a private venture. We simply wanted to smack them in the face and go "OH YEAH!" in the Kool Aid man voice.
Pixeleen Mistral: well, I think you did that and there may be some collateral damage as well
Ethan Schuman: Some, which is unfortunate, I will admit.
Pixeleen Mistral: but that is really IntLibbers doing
Ethan Schuman: That little mess is his venture, though I'll be heading down there to help clean it up later on. The Alliance Navy leadership are dishonest, cowardly, hypocritical, and they have no honor. Something like this has been a long time in the coming, and I'm personally quite honored to have been Karma's hammer.