by prokofy on 29/06/07 at 1:58 am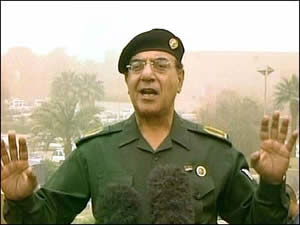 By Prokofy Neva, Harry Bridges Memorial Dept., Smith Act, Inc.
You know how when you go to play a game, this TOS drops down in front of you? You know, the screen that says "I agree" or "I disagree" in Second Life — the rules that you must obey or you can't enter the world. They contain many complicated, vague, sometimes even contradictory things, but you want to get playing the game or you need to get into the virtual space to run your business or socialize, so you click "yes," even though you're not happy. You're not happy, but hey, that's how it is. It's their game. It's their servers. They can do what they want.
But imagine if you had a drop-down TOS like that in real life. That wouldn't be right, would it? In real life, laws like that get made with more responsible and accountable people in charge, usually — don't they? And you've never had an agreement to sign like that before you went to a conference, to speak at a workshop, or to record the sessions or photograph the participants, have you?
Well, welcome to the oppressive and chilling future inklings of the Metaverse that Second Life and its fetid fetid ones always provide for us. The Zhdanovites at the SLCC OrgKomitet have now posted "SLCC Community Standards" — like the sort of CS you sign on to when you log on, but not half as well-written, and not a third as intelligently interpreted as we get from Daniel Linden. Don't like it? Refund your reg fee by July 13.
In a post at the notorious free-for-all forums Second Citizen (which, BTW, has no rules even remotely resembling these ones their leaders have posted for this real-life conference!), Jennyfur Peregrine has nonchalantly indicated that anyone who goes to SLCC will have to commit to abiding by these rules — or face removal. That means you cannot videotape or record any sessions — exclusive total broadcasting rights are granted to only one SL media company, Phreak Radio (the "fair use" of other broadcasters isn't made clear). That means you cannot speak for more than 1-2 minutes when you ask a question. That means you cannot "harass" anyone else — a concept that is as capacious as the ever-growing grid of SL itself. Read the rules here and my analysis here in this thread.
Let's hope Linden Lab, MillionsofUs, RiversRunRed, Infinite Vision Media, Useful Technology, NMC Virtual Worlds, Anshe Chung Studios, OnRez, and the other sponsors of SLCC get a serious grip on the implications of turning real life into a game ruled by game-gods, and urge the organizers to drop these ill-conceived organizer-made restrictions in favour of media self-governance.