by prokofy on 12/07/07 at 11:40 pm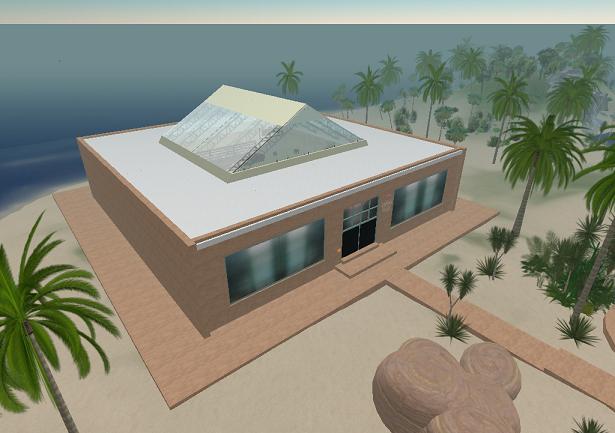 By Prokofy Neva, Dept. of Virtual Estate

The other night I attended an off-the-record meeting of inworld business people who, for some reason I couldn't fathom decided to use the new outworld Crowne Plaza meeting space (claiming to be the first such private meeting facility in SL!) under the theory that this was "safer" or "more elegant". What it really was, was a box, with some kind of security system that kept knocking away even everybody who had joined the group. You couldn't have picked a more apt metaphor for the sad tale unfolding in Second Life: outworld businesses, mainly metaversal developers, are able to make a whopping $33,000 a year per employee average revenue, mainly through servicing companies like Crowne seeking a presence in SL; even $9000 median income. Inworld land businesses, if they can show a profit on the Positive Monthly Linden Flow chart maintained by Meta Linden, are more likely to be making at best about $3000 a year *after tier* (far more research and better math is needed on both categories of businesses).
The Crowne furniture and setting was uninspired, unlike some of the really spectacular rental sims out there these days, like this new mountain waterfall development. I'm a big fan of Lilith trees, but seeing the flat palms one too many times arranged in exactly the same way begins to wear on you. Still, sitting in a box with Trumanville surroundings — what better way to contemplate the fool's errand called "mainland rentals" which to one extent or another, form the bedrock of most SL businesses?
Many people have a misplaced notion of "land barons" based on the myths perpetrated by the media (including the inky tabloid you're clutching in your hand) as fat, blinged-out money-grubbing, greedy capitalists bent on rapacious destruction of innocent newbies in threadbare rags. The fact is, all of us in SL are owners or accessors of high-end graphic cards and DSL lines here, people. If we're going to weep, it should be for a couple of hard working gals who charge only $280/200 prims a week, who, when you do the math, make only…$50 US a month which they usually have to blow on houses, or buying out ad farms or grief parcels on the riotous lands outside their manicured Damani prefabbed sims.
Have you done the math?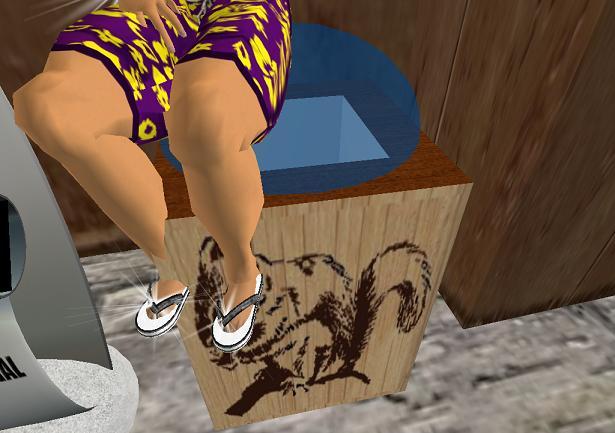 A casino and mall landlord only makes enough to keep himself in flip-flop bling, not the butter-soft pimped baby furry skin boots favoured by tabloid editors.

THE SAD MATH OF MAINLAND
Let's say you spent US $2200 on the auction for your flat, grassland nothing-special new class-5 sim with a hard-to-pronounce name like Mkhachkala (I swear the Lindens did just name a whole continental area after every Russian province *but* that one). You decide to go "fancy" and divide up to only 16 parcels, leaving one for a commons area with some casinos, freebie dumpster-diving or other money-soakers in the middle, which means 15 x 4096 m2 for which you can *try* to charge $25 US each a month ($6756/mo or 1689 Lindens/wk).
But…you'd be wiser not to try to get that as everybody else has the exact same idea as you, you discover as you stare out over the steppes of Krasnoyarsk and Ulyanovsk. So you go with $1500 and try to offer some extras, maybe some free furniture or a TV (that runs $999 at least). Let's say by a miracle of charming personality and SLevents with sploder balls you get 100 percent occupancy and $333 in rental revenue (never the case). $195 immediately goes out the door in tier for the sim — oops now you have only $138 left per month, and that means it will take you 16 months — a year and four months, to make back your $2200 "investment". But…let's say your occupancy this month is 60…or 40…you are facing the grim prospect of having to bail.
The game of Second Life basically consists of about 50,000 people or so trying to beat the odds of those grim numbers each months by all kinds of ingenious methods. So let's say they buy a sim, but they sell off part of it to a friend 4 x 4096 x $60,000 — they can then get about US $880 recouped on the purchase price and make the wait less painful, if they can be sure that friend will keep those parcels nice, possibly with a store those newbies in the rentals need. Or perhaps they'll group their land and get about 6,500 m2 of tier generated from the 10 percent group bonus, and use that tier to flip land for sale around the area, or perhaps buy a few lots on the margins to protect the view and reduce their risk — because at any moment, on all four sides of their flat kingdom of money-making dreams, chaos can break out in the form of a ridiculously laggy texture store, newbies barn, sex palace, or just plain stupid giant chicken. Lag on another sim infects yours due to the "child agents"; clubs and malls are not only blighty, they add to traffic and that means griefing. The landbaron — that caricature of a man who is usually a woman in SL — in fact means sitting on their front porch with a shotgun trying to keep themselves awake to take care of tenants 24/7 so their rentals are filled, keep griefers at bay, and stay one step of the landbots if they're trying to run their land-flipping tier on the side as well.
ISLAND MATH
Do the math on the islands to understand why no one in their right mind goes into mainland rentals: there, if you terraform your island nicely, you can sell each of the 15 4096s for even only L$25,000 (you won't get more given the competition)– and still make US $1387 in the first month, making back almost all or all of your purchase price of US $1695. And now you can still charge US $25 and make US $375 a month in rentals — or if you have really nice landscaping and build your own pretty prefabs, even $30 or more per 4096 — and still have US $80 in the clear after tier of $295 is all paid. Not much of an income, eh but get a couple islands going, maybe a commercial strip and a club area where you can pump out more revenue, and as long as you can keep full occupancy, assure yourself of say, US $2400 a month income for 30 islands.
A SUMMER SLUMP, MMORPEG STAGNATION OR AN MLM?
Of course, occupancy and sales were what everybody was groaning about at this Crowne meeting and several others I've attended or hosted in recent weeks at the Sutherland Dam — but people had a hard time figuring out how they could cooperate when everybody competes — sure, when they get to 90 percent occupancy they start referring to colleagues, but now, everybody's scrambling. At all of these type of meetings lately, there's talk about a "summer slump" and trying to reassure themselves it's nothing — but they've been talking about it since St. Patrick's Day and here it is really summer and the slump is the worst it has ever been in SL for many people. Occupancy is at 0 or 30 percent for many. People are eating a US $75 tier level, a $780 tier level — it feels like the over-expensive inventory and maintenance you pay in an MLM. Even Ancient Shriner of Coldwell Banker, with all kinds of RL business backing and blighty ads peppering the mainland landscape claims only 30-40 percent occupancy, and high turnover (something he seems proud of, strangely, but given their scheme of holding deposits which they can invest for interest, it may make sense).
More people are online, but fewer people are buying or renting. Many business people are noticing that the problems with billing that numerous Second Lifers are experiencing and the problems in purchasing Lindens from inworld are taking a terrible toll on their sales. A customer poised to pay a month's rental, or buy a big, expensive vehicle suddenly jams and can't access the $5000 or $10,000 he needs to get started, despite having a valid credit or debit card onfile. Frustrated, but addicted to SL, he gives up and goes back to that free living arrangement with a friend and stays. Some people wonder if *their* economy is tanking, but maybe other people's aren't (SL always makes people jealous that way). If you are a new German player flush with stronger currency making interesting prefabs and building a lovely-looking rentals sim where you can talk to your customers auf Deutsch, you're simply going to do better than somebody from Bayonne, even if they've learned to put "grundstucke" and "miete" in their classified keywords.
WHY MAKE TIER?

Many landlords are not making tier and trying to talk themselves out of ever making it. Indeed, curiously, the more I talk to them the more I marvel at how many women especially are willing to go into this business and not make tier. And that's because their mindset is completely different from that of someone who simply must obtain a bottom line or get out. They're proud of themselves if they just manage to pay for their game. They come to SL primarily to socialize at first, and maybe try their hand at making clothing or furniture. Yet it's so competitive, and so hard to meet the right people, that they turn to rentals as both a side income and a way to socialize. The typical rental emporium often contains not only housing, but a club and stores with vendors and some kind of theme that helps generate content and experience, whether it be South Pacific or Country Western or Hotlanta, and keep people interacting, talking — and buying, which is what they'll do when they reach a comfort level, socializing. The hours logged on most are by people who own or rent land and create or socialize on land; the people willing to not make tier back are holding up the Lindens' entire empire.
LAND GLUT END TO LANDLORD DREAMS
These mainly high-school educated people, who perhaps went to community college and even work in real-life hotel management or sales in large chains like Wal-marts, buy into SL almost like into Amway, paying a little more to resell something that most people know they could get for less, hoping they make a little income and the people paying a little more get a little better social and customer service experience. But they wind up frustrated and angry at the Lindens land-glutting, popular stereotypes of landbarons, and deadbeat tenants, many of whom bail out of SL merely becaue they can't get their game working.
The gravest problem for the nation of landlords now is that cheaper land — prime waterfront is down as low as $10.9/11.9/meter — means people go off and buy their own land. And as much as they may gloat that they are the winners of Second Life by helping to make losers of other people, those other people — by liquidating, abandoning, cashing out, drive down the value of the Linden, deplete the business core willing to keep engaging in this utter folly of investing unpaid labour for risk-laded virtual sales. They make the MLM — sustained largely on belief — collapse.
To be sure, those gloaters are merely the next generation of frustrated land-sellers as long-time observers can confirm, as their pristine new mainland beachfront becomes uglified with clubs and malls by other eager new landlord-nation members without much aesthetic sense (some of whom were driven out of nice residential rentals into the more lucrative mall business because land prices plummetted *cough*).
So the newly-blighted then sell out to liquidators at $8 or $9/m or less and go back to island renting in the never-ending SL drama cycle that depletes the pockets of mainland landlords, delights and then frustrates and impoverishes short-term end-use landowners, fills up the coffers of especially themed island owners and finally makes a quick buck for small-time landbarons. But don't be too quick to scorn people with names like Buzz and companies with names like SLeaze-By-Night Liquidators and profiles that say THIS LAND IS OUR LAND, YOUR LAND IS MY LAND. You will thank your lucky stars they are there to pay as much as $8 or $9 per meter on your now-uglified formerly $18/m prime waterfront. And don't start hatin' on those island barons either — they're often screaming in the Concierge queue with islands that are down, won't work, crash, or don't let people rez objects, and their vacancy rates are nearly as low as mainland vacancy rates now.
THE BETTER MATH OF MALLS
Why do so many of the nation-keepers turn to clubs, malls, and casinos? The math here is better if you can squeeze, say, 120 vendors on to your shopping sim, extract $450 US in rents (say L$1000 per month per unit), pay the $295 tier, and have $155 US recouped to help pay back your island purchase in 10 months. Hmmm. Better go mainland, have $255 left and not think about paying the $2200 initial cost back so soon, or at least put in some camp chairs, casinos, soak out more income to shorten that to a less painful 4 or 6, or you begin to wonder: why didn't I just leave the same money in the real-life stock market or money-market on PayPal???
Now can you see why there are malls and casinos everywhere? It's a cycle that begins with the never-ending glut of $1000 opening-bid mainland auction sims; following through to the $2200-$3400 auction buy and frenzied chop and sell or develop-and-rent — and leads inexorably to the feeding of the Lindens' bottom line and the conclusion by the now hardened landlord that he has to open a mall or a club with sexy clothing in vendors to make ends meet.
The tipping point for getting out of the cycle of fearfully watching vacancy rates plummet, never having enough land to satisfy period surges in demand, seems to come at about 32-38 private islands, after about 6 months — those barons that cross that threshold seem to assure themselves income, if they can avoid the temptation of putting all that income into "growth" which equals "over-exposure of risk". But with the growth and competitiveness of SL, this threshold number is likely to double inexorably — at what point does it become madly risk-laden?
DESTROYING THE LAND BARON CLASS=DESTROYING THE ECONOMY
So why is it a good thing if land prices plummet? It's temporarily a good thing for those people who fly around shopping and then finally wish to find their dream 2048 or 4096 to put down their McMansion and cyber on. But by impoverishing the "landbaron" class that can no longer rent or sell, the socialists, the airheaded shoppers, the cybering masses who hate paying a lot, are gutting out the only form of income production in SL available for the unskilled long-hours-labouring middle class — the equivalent of Korean deli owners sending their kids to college. Not everyone can script, design, build, and make beautiful prefabs for $3000 or $10,000 a pop or sex beds selling for $45 US per unit. Content makers, unlike rental agents, can put out a vendor inworld and leave it to ka-ching all day while they play WoW or do RL jobs. Many people turn to rentals work because it's *what there is* — until the economy becomes far more rich and diversified it's not only what keeps the Lindens' bottom line fed, it's what keeps the engine of the inworld economy fed. Don't forget that the "landbaron" you're renting in fact may not even make a profit; in fact he may barely make tier and is actually *paying for* the privilege of playing store. And content-makers can't forget that they can't live off third-party shopping sites — they really the presence in world to get sales, and that means owning or renting land for stores and vendors — and facing high rents, and the same slump everybody else faces.
If land barons see that this already really thinly-margined highly risky business venture is made even more ridiculous by plummetting land prices, problems with buying Lindens, and less log-ons, they sell and pull out. That reduces investment in SL and purchases on the auction; but it also leaves the now highly diversified and reasonably-priced market to be seized by only 2-3 large oligarchs — which was exactly the story back in 2004-2005 when land only cost $6-7/meter. Then mall rents skyrocket in high-trafficked areas, island tiers increase, and there's a slowing in sales, especially for people who can't pay higher rent to display their stores and vendors . If it's an impossibly hard balancing act for the Lindens, who have all the server-side data we don't about real sales and peaks and slumps, for us, it really begins to look like an MLM scam.
"…MLM programs are set up to make most distributors fail, as there is a continued incentive to continue to recruit distributors even as the products have reached market saturation, thus causing the average earnings per distributor to continue to fall."