by Pixeleen Mistral on 11/07/07 at 8:22 pm
Linden Lab's numbers suggest we are in for a really bad recession. Like 3rd world bad.
by Curious Rousselot, Voodoo Economist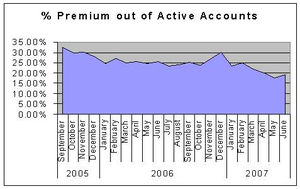 Linden Lab released the updated economic statistics for Second Life and it is time again for some fairly unbalanced analysis and speculation. Our friend Eric Reuters has provided a short summary also. Now, for some Herald-style analysis.
In our last article we performed a little magic with mathematics to estimate the number of active accounts in Second Life. Since then, Meta Linden has been kind enough to start providing number of active accounts. How exactly they determine what an "active" account is wasn't explained but rumor has it that an active account has spend at least 1 hour a month in second life.
Meta's number for active accounts is just under 495,000 accounts in June and around 508,000 accounts for May. Prior to that we have to rely on our earlier magic calculations, which give us a steady increase to around 409,000 for April. Does this June downturn (the first one ever) indicate we have hit the high-mark for Second Life or is this just summer doldrums? Only time will tell.
There are some other disturbing indicators, like the percentage of premium accounts as compared to the number of active accounts (see chart above).
After the inception of free accounts in 2005, the relative number of premium accounts hovered pretty consistently around the 25% mark. Until we hit March 2007. At that time Linden Lab stopped the New Land program and we see since then a drop in premiums to below 20%. Is this an indicator that premium accounts aren't as worthwhile as they used to be or just summer doldrums? We may have to wait until fall to find out.
If this down-turn in percentage of premiums continues, what is it going to mean to Second Life? When the percentage of premiums falls, it means the land owners must each own more land. After all, you can't own land without a premium. Land barons might be happy. But they can only be happy if they have more renters. Since we are seeing a reduction in the number of active residents, our friendly land barons may be in trouble too. No rent means no income. And that might lead to an actual drop in the cost of land for those of us that just want a small piece to call our own. We haven't seen a significant cut in the cost of land recently. Lost of ugly spinning for sale signs but none of the land barons are abandoning their holdings yet. On the other hand, the Lindens are poised to flood the mainland land market with a new continent worth of virtual real estate.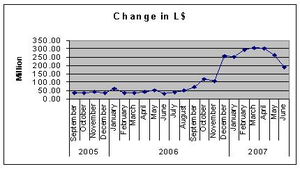 Some other economic indicators don't bode well for the health of the economy. Our economy is not closed. Linden Lab adds new Linden dollars regularly – and the L$s they sell on the Lindex are a source of revenue for the Lab as they sell those newly printed L$s for hard RL currency. The premium accounts get weekly stipends and nearly anyone can choose to purchase L$s on the Lindex. So, our economy doesn't work exactly like the real-world but the indicators are still not good.
We've seen strong evidence that Linden Lab caps the exchange rate for the Lindex and the "Change in L$" is another strong indicator that Linden Lab is carefully controlling the prices.
Back in the account boom that spiked in late 2006 we also saw a corresponding jump in the influx of L$ into the economy. Now we are seeing a drop in that rate at which new L$s being injected into the economy. Since the actual number of premiums for the spring of 2007 have continued to grow, this drop in newly minted L$ doesn't reflect a change in stipend payments. It must reflect other sources of L$ introduced into the economy. And those sources are shrinking dramatically. This suggests that the game gods are making less RL money selling L$s to players.
In fact, the numbers we have seen over the last few months are behaving in the exact same way that a real-world economy does when entering a recession. If this really is the start of a Second Life recession, what is it going to mean? It has been speculated that Linden Lab is unlikely to buy back L$ in order to keep the economy stable. But if they don't and we do go into a full blown recession, then we are likely to see the sort of economic ruin that rarely happens in the real world.
A big recession in Second Life is going to mean that the L$ devalues significantly. And that means people that earn income in L$ and cash it out are going to lose and lose big. Land barons won't earn enough in rents to cover their tier, let alone earn profit. Anyone relying on actual income from the sale of virtual goods will see significant drops too.
That means rent is going to skyrocket and the cost of goods will rise too. But, unlike the real world, the average avatar doesn't actually need a residence. We pack up our prims and move out. We can stop shopping at expensive boutique and go to the freebie stores. In short, the people relying on the economy to pay real-life bills (including tier) are going to lose big time. What about the rest of us?
Those of us, like myself, that are in Second Life for the fun of it are going to get the opportunity to win and win big. When the land barons can't cover tier because rents are too high and enough people move out, they are going to sell. If they all sell, the land market is going to crash. We get cheap land. We'll pick a small plot and setup our hobby house or store. Maybe we even see First Land come back just so Linden Lab isn't stuck with all that abandoned land.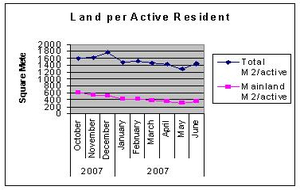 Of course if land becomes cheap, what is it going to mean? That is an interesting problem all on it's own. If we look at the number of active resident and the available land we see that there is around 1500m2 of land per active residents (both mainland and islands). But, if we only look at mainland there is less than 400m2 per resident.
So, I'm going to have to hope that all of the non-premium accounts don't think the way I do if there is a crash in the land market. There isn't enough mainland for the active residents to each have their own 512m2 if we all suddenly signed up for premium accounts.
Since that really isn't likely to happen I'm not worried. Besides, all this speculation could be totally wrong. Maybe these are just summer doldrums and when fall hits the numbers will rise again. Maybe.