by prokofy on 14/07/07 at 12:46 pm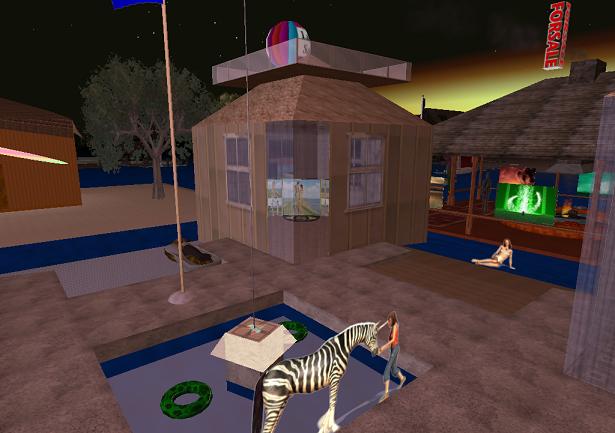 Porn art cabana in Blister.
By Prokofy Neva, Community Affairs
Tipped off by some newbie helpers who staff a monitoring network with Linden support, Linden staff may have seized or "force-copied" anime paintings said to contain what was deemed illegal child anime pornography from a cabana tonight in the working-class water sim of Blister — leaving only adult nude amateur art mostly made with a 3D modeling program: Poser.
The tipsters – who asked not to be named – said an adult lesbian couple had made the paintings themselves using images of pre-teen Millenium anime characters from a 3-D modeling website.
A visit to the site of the raid showed the cheap cabanas to be owned by Lisae Boucher and Femke Bikcin, who did not respond to Herald queries. Sources say neither resident was removed from SL. The two appear to make a modest SL living by selling their paintings for L$25. Conflicting reports suggest that either the content owners – Ms. Boucher and Bikcin – suddenly removed the worst of the images upon being warned by LL-sponsored Volunteers, or their pictures were "force-copied" by Michael Linden and determined to be in violation of a stricter new TOS/CS interpretation released in May by Daniel Linden, prohibiting the display of child pornography or real or virtual depictions of "ageplay": "[C]ertain types of content and activity are simply not acceptable in any form," including "Real-life images, avatar portrayals, and other depiction of sexual or lewd acts involving or appearing to involve children or minors".
The artwork still remaining on site included disturbing depictions of nudes and skeletons and a cut-out of a decidedly underage fairy. Some mentors were of the opinion the Lindens had not finished the job, and should have banned the residents instantly and removed them from the People list as they do with grid-crashers.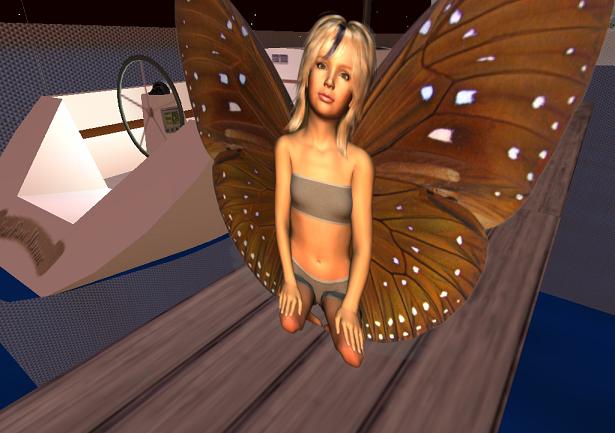 Broadly offensive?
The monitoring for offenses such as "ageplay" is being done inside the officially-supported Volunteers communication channel, where mentors, volunteers, and other helpers are now keeping surveillance over the behaviour of their fellow residents and stay in constant touch with Lindens in the channel about what action to take.
The group, recently revised and renamed under the direction of Blue Linden, appears to have taken on enhanced capacities in keeping with the new challenge of "Keeping Second Life Safe, Together" and policing "broadly offensive" material.
In a separate development, sources in the channel contacted the Herald last week with concerns about how such possibly unlawful content as child avatar depictions should be determined, and what standards should be used in particular for distinguishing RL pornography showing pictures of human beings, versus fantasy art such as anime portraits, or screenshots made of child avatars in Second Life, or created in modeling programs such as Poser. Mentors have been very divided on the topic, like much of the rest of SL society, but the Lindens have sent a strong signal: abuse-report anything you find objectionable if you have concerns that it could be unlawful. However, the legality of such depictions can vary by RL country, further complicating matters.
Clearly, the Lindens do not appear adverse to using this newly revised Volunteers system not merely to help newbies on Orientation Island, as was their old brief, but to deploy helpers across the grid to be the eyes and ears of LL in ferreting out broadly-offensive material such as child pornography that nobody would routinely find in one of the numerous $5000/512 m2 cheap water sims up north in the continent of Nautilus.
Some venerable oldbies like Suzie Boffin, who used to appear frequently on the number one slot of the old leader board for positions of wealth, land, and positive ratings in SL, appear to be concerned about the use of this channel for this particular surveillance purpose. And Mia Linden makes it clear that she does not wish volunteers to use the group to discuss definitions of ageplay and child pornography. Yet Lexie Linden does encourage volunteers to abuse report what they find, and clearly the volunteers feel empowered to identify and discuss the actions of fellow residents they believe to be miscreants.
According to the official Linden police blotter, the Lindens have been cracking down more on objectionable porn and behaviour now clearly prohibited by the TOS and Community Standards. On July 12 in Blair, for example, LL handed down a 3-day suspension for "broadly visible mature content". A warning was issued for "broadly offensive" content in Endicott on July 13. Citing the offense as "Community Standards: Broadly Offensive Content or Conduct," a 1-day suspension was handed down in Empyrean for "Disturbing the peace with offensive content". A teen was caught trying to access the main grid as well on July 12 and suspended for 14 days.
The raid in Blister didn't find its way into the police blotter for Saturday, June 14, now on display; that's often the case, as the Lindens strategically include only a fraction of incidents on the blotter. Instead, "Mature content in PG region" was chosen to illustrate the problem, with a warning issued.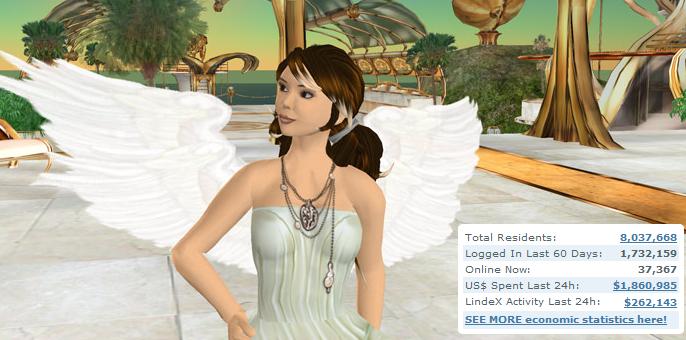 Broadly attractive: LL now has more than 8 million sign-ups.

CHATLOG FROM VOLUNTEERS (FORMERLY MENTORS) GROUP CHAT
Alida Tomsen: oh that is very wrong
Hionimi Engawa: I even found a pregnant child av, very disturbing
Hionimi Engawa: AR myself to death here, someone told me he got offendedby an ageplay parcel/sim, and yes, Nemo it's called 241, 9, 49, all kinds of child and sexuality here, already filed like 6 abuses.
Frodo Hartunian: OMG
Pyrii Akula: It's a private sim isn't it? How did he get there?
starhunter Gall : nemo is main land sim
Arrianna Asturias: uh oh, what did I miss?
Hionimi Engawa: Someone told me of it
Gabriella Molinari: gesus
Frodo Hartunian: gah
Susie Boffin: Why are you telling us in Mentor Chat? I really don't care.
Glitch Braess: THere are avatars in second life that choose to be their normal RL height… which isn't 7 feet. please keep that in mind.
Hionimi Engawa : She was looking for normal xhild stuff, roleplayer, but not sexual, and shockingly found the place
Danielle Ferguson: This is quite true as am rather short as well
starhunter Gall: agreed Glitch, just a AV is short dont make them a child
Susie Boffin: I am 5'3″ in SL which is my real height
Hionimi Engawa: Yes yes, I'm checking their profiles, they really do perform child porn! D:<
ASCIIrider Hailey: ok it's a GAME folks. .have ary real minors had sex because of this?
Second Life: Frodo Hartunian has left this session.
Hionimi Engawa: For the fourth time, I'm reading their profiles, they play child, having sex, damn it
Arrianna Asturias: It's against the TOS
Danielle Ferguson: Thank you ASCII
Susie Boffin : Big deal. Ignore them if you don't like it
Hionimi Engawa: LL bans ageplay, so that's why I'm telling, if you don;t care, stop moaning and just close the chat
Trinity Coulter: I will say this… its not necessarily real children, but its also disappointing to have Official SL Volunteers be so dismissive of the rules
Stormy Wilde: Hionimi file an abuse report, lindens cant do anything without it.
010000100111001001100001011011 Omlet: agreed
ASCIIrider Hailey : they PLAY children.. not ARE children
Izira Kirkorian: exactly
Arrianna Asturias: I mean, it's up to you, but if it bothers you, report it.
Arrianna Asturias: Age play is against TOS. Bottom line.
Arrianna Asturias: Yes, exactly
Elhaym Keynes: are there pictures of RL children in sexually explicit situations?
Hionimi Engawa: I am, 6 files reported
Drakon Lameth : Arrianna, it's not technically against the ToS, they haven't ammended it yet…
Joelle Tardis: The issue here is I believe that is considered a TOS violation as some Places Have laws against it online as well as in RL
Willy White: S is a real big place
ASCIIrider Hailey: show me where in the TOS that is, which a court ruled not valid anyhow
Second Life: Izira Kirkorian has left this session.
Arrianna Asturias: LL acturally asked us to report it.
Arrianna Asturias: I thought they had. Sorry about that. But they did recommend that we report it if we saw it.
Rhaorth Antonelli: ageplay is nto against the TOS ageplaying a monor in lewd acts etc is against the TOS
Jana Fleming: one day a governmental agency will decide that sl needs to be shut down because of it, then we'll all care :p
Drakon Lameth : when do we start reporting the churches of assorted religions next? I hear its against the law in numerious countries to have a religious artifact of another religion.
Yumi Murakami : Elhaym, avatar depictions are enough as per Blog
ASCIIrider Hailey: great and a blog isn't a TOS or community standards
Elhaym Keynes : but the avatar's may not be related to the sim itself is why I ask, right?
Yumi Murakami: it's grossly offensive content
Arrianna Asturias: There is a big difference between religious freedom, even sexual freedom and a depiction of sex with a child.
ASCIIrider Hailey: simple ya don't like it. .LEAVE! no one is forcing you to stay and watch
Joelle Tardis: as a parent I agree
ASCIIrider Hailey: if it were REAL minors I'd care
Arrianna Asturias: So, SL should be a haven for pedophiles to come and gets the kicks, huh?
Hionimi Engawa: ASCIIrider, I'm not liking it in a way I find it offensive, and someone came to me reporting this, and I'm helping him
Rox Arten: I would have to agree as well it is abuse and feeding the appatites of pervs only puts our children in rl in danger
Drakon Lameth : Arrianna, we're having to report Age Play because some fedral governments don't like it… I'm waiting for the next reports, for violence (when we raid the Gorean sims), for Beastiality (when we raid the furry sims), and for various religions reasons.
Trinity Coulter: "'If you say you're under 18′ applies to the real life person. Child avatars are not a problem in themselves. You can say your avatar is under 18, just as long as your under-18 avatar is not engaged in lewd behavior." — Robin Linden
ASCIIrider Hailey: and hey I'm offended by Gor.. my solution I don't go there
Drakon Lameth: Rox, Arrianna… would you rather they were doing it here in SL, or actually doing it in RL?
Lexie Linden: Hi Mentors! Please do report things you see as being abuse and if you want to discuss or debate the topic among yourselves, please meet somewhere to do that : )
Rox Arten: real minors or not… the adults pretending to have sex with the "children" are sick
ASCIIrider Hailey: and who cares what othewr goverments say? last I knew the servers were in the USA
Rox Arten: would you care to discuss the implications of what they are pretending
Arrianna Asturias: And yes, child porn, real or cartoon is illegal in the US
Arrianna Asturias: They shouldn't be doing it at all
Drakon Lameth leaves the chat humming: "When they came for the…"
Arrianna Asturias: So, a depiction of an adult having sex with a minor shouldn't be legal here either.
Rox Arten: Drakon I am a survivor of child sexual abuse
ASCIIrider Hailey: ok people get a damned grip! this is ADULTS doing roleplay!
Kris Spade: Could you all please take Lexie's advice? This debate can go on forever.
Mia Linden: PLEASE DISCUSS THIS IS ANOTHER CHANNEL. not in the mentor channel as Lexie just asked u all.
Arrianna Asturias: Sorry, I signed on in the middle.
Hionimi Engawa: I agree, everyone is actually only busy defending their opinion in here :\

UPDATE: An additional source reports indicate a reason for the conflicting reports. Apparently some of the worst of the alleged porn was kept underwater and out of sight. And Michael Linden's avatar is described by eyewitnesses as a small, "violently pink chibi squid," in wierd "Flying Spaghetti Monster" mode. He could have been mistaken for an underwater creature in the sea of Blister.
FURTHER UPDATE 3:30 PM 7/14: I'm changing the headline to REVIEW instead of SEIZE because it appears from witness reports, some of whom were the mentors who abuse-reported the content, that Michael Linden reviewed and "force-copied" (i.e. used God-mode to copy an item with no-copy permission set) the material, but then the owners, depending on the account, either swooped down quickly to remove it to avoid further action, or conversed with their more reasonable neighbours who persuaded them to remove some of the content. More on this story is coming soon based on further interviews and group posts — stay tuned!