by prokofy on 20/07/07 at 9:58 am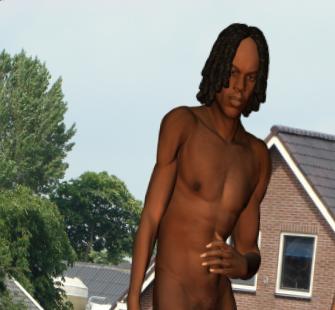 Fishy man, fishing in troubled waters.
By Prokofy Neva, Art Dept.
Art — and the figures in and around it — can be inscrutable. In the much-commented thread about the raid in Blister, Dutch amateur artist Lisae Boucher finally provides a link to another SL store where her controversial works are on sale — images that she says Michael Linden has cleared for "keeping SL safe together". The parcel in Blister is now renamed, and put on "buy pass" for $20, and the art that was the subject of abuse reports, visits, and more than 100 comments at the Herald, has been removed — apparently out of respect for the neighbours' sensibilities.
In a thread already filled with her threats to report this site to the Internet service provider and claims that her privacy is invaded, Lisae offers to send me the link to her other store inworld, but challenges me not to publish it, claiming that if it *is* published, that could lead to more harassment in world, more abuse reports, even more Lindens. Receiving a poisoned chalice like that isn't easy, but after she sent the landmark, I visited the store in question I had no doubt that the link could be provided to the public. Why?
Because it's a store in a giant mall, checked off as a "mature" parcel in a mature region, and a store not only with 22,558 traffic today, before it was written about by the Herald, and when it is not obviously linked to the other site that became the target of vigilantes, but it even has dance poles paying out $2 to build the traffic. The landmark Lisae provided to me teleported me directly into a camper's pole, and while the store was deserted, she reports that word had evidently gotten out and sales were brisk. When a store is *already* at 22,558 with camp chairs and porn art all over it for sale, you can't blame a Herald link for visitors.
Perusing the vendor, I pondered whether the images could be construed as child porn. The images are very realistic, but not RL humans. I'm not an expert on this subject — but then, few of us are. And I can only provide my own opinion: the pictures of a tall, black man in an erotic pose next to a short, white, pre-pubescent girl in a shy pose can very likely be construed as falling under the newly-interpreted Community Standards against "broadly offensive material". Look, this isn't Gumby and Pokey here.
I think few people looking through the portfolio would disagree. Why? Because Lisae's stories about difficulties placing penises just right, or calculations of the angle of erection, fall apart when you see the pictures, which show the figure of the man — described as a pearl fisher — in various poses and states. Why does the observer conclude that he is tumescent? Because he's shown as flaccid in other pictures. The contrast is very clear.
The girl isn't anything at all like any 18-year-old or even 16-year-old; she's more like 12. In one scene, strangely, she is lying naked in a tent flashing the finger at the viewer with an angry look on her face. She's running in another, and in a third, looking angry and seeming to throw a tantrum, shaking her fists.
On Lisae's website, she has added a back-story of sorts dated July 19, after my first story appeared, explaining that the girl — Pearl, Princess of the Amazon — was kidnapped along with her mother, who was forced to jump off a cliff to her doom for fear of capture, and yet somehow Pearl was saved by the pearl fisherman…The pearl fisher is described as variously "her step-father" and "her father".
Lisae runs an amateur website which she advertises on her profile, with pictures that seems to have a membership system. I couldn't help thinking that operating in SL, she felt much of the same set of circumstances applied — that only certain friends or people on various networks, who registered, who seemed to be "like-minded" would be sharing these pictures on the Internet, and by the same token, in SL, it might work the same way.
But SL is and isn't the Internet. The Internet is so big that your own little amateur site with pictures that you get loose networks of friends and friends of friends to see can actually be a very small pond, be totally lost, and not get much traffic. And SL is so much like a small town — yet a big place, too — that when you put out a store with adult art of this nature, instead of just a close circle of friends, you may well cause a stir and get a stampede of visitors.
You can't claim on a parcel that has 20,000 traffic and camping poles and art for sale, checked off to be in SEARCH and found with strings of terms (in this case "Club, Art, Shop, sex rooms, nude naked women, free items & money, nice, gadgets, rental shops. 18+ only! Playboy missing…"), with art for sale in vendors, that this is a Tupperware party and that anyone who writes about it and places a link is guilty of "causing harassment" and shouldn't publish the link.
So, am I suggesting this art should be abuse-reported? No, nothing of the kind. I'd actually encourage people not to do so, in fact. Because as I've repeatedly stated, I don't think any of us should be playing this wierd game with the Lindens, where they pretend there are community standards that a "community" has supposedly defined, and we pretend that we are defining them by abuse-reporting images that appear to qualify both under the LL TOS/CS as "Real-life images, avatar portrayals, and other depiction of sexual or lewd acts involving or appearing to involve children or minors." No, not until we get better clarification of just how to understand this with concrete examples — examples we are not ever likely to get due to the desire of LL to avoid appearing to control content and specify boundaries that it can't keep.
Michael Linden has supposedly "cleared" on this art, yet I find it strange that he has, and inscrutable. Did he really see this particular vendor, or only those that remained after the images that drew the abuse reports were removed? I certainly don't wish to copy the image here in full — and I don't even wish to use those black boxes sometimes appearing in the tabloid press because to do so would still present a very disturbing picture of an adult and child in a questionable pose.
Why? Well, it seems like it might well qualify under an ISP's TOS about obscenity, but more likely, it would inspire even the maker of the images to engage in a curious form of gotcha and report the site as obscene. It's like the old SSG trick in TSO — they'd trash somebody's home and make an obscene picture and spell out banned words in floor tiles, then…abuse report it as in violation of the TOS — and get it to stick.
I have faith in the readers of the Herald, however, that by and large, most have no desire to sic any volunteers, neighbours, or Lindens on someone merely because they make art that seems by probably anybody's admission, at least borderline "non-socially redeeming". Judging from the sales reported, however, there are plenty of customers for whatever is redeeming or not. Efforts to show that this or that Internet site or this or that store in SL may have far more graphic and questionable stuff are beside the point; it's *this* set of paintings that we are told are "cleared by the Lindens" and that's why it's of interest so that we can start to understand the parameters of what is allowable even under what seems a draconian policy.
All kinds of scenarios are possible, of course. Lisae may not be a real Dutch woman of 18, as stated on her profile, but a sting operation by some vice squad of RL police (not likely, given her meandering justifications of nudism and such in comments). Or she could be Dutch, but a 300-pound 47-year-old truck driver logging on from a truck stop.
But in Second Life, as I have said, everybody knows you're a dog. If you say you are a young person just starting out learning poser and having difficulty learning to put clothes on the figures, or find it technically challenging to get dicks at the right angle, that's all plausible, and in the virtuality of SL, we have to take you at your word, at face value. It might very well be that this rather short young figure is really "18 or 19″ as the back story says. And the pink chibi may well have cleared it, and struck a blow for freedom of expression in spite of what appears to be a blanket suppression of it.
I just can't be sure.
So I'll let the reader decide. Mona Lisae…or Phony Lisae?