by Pixeleen Mistral on 08/07/07 at 5:25 pm
by Janelle Kyomoon, former Woodbury University visitor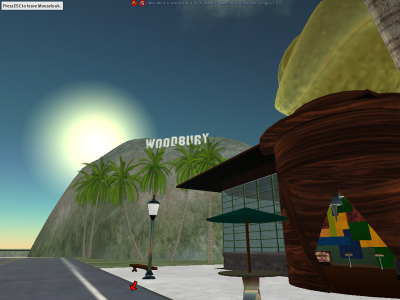 the lost SL campus of Woodbury University
Woodbury University, a liberal arts college located in Burbank, California, has been the heated subject of controversy since the conception of its virtual campus in March of 2007. The finger has been pointed at Woodbury for being a conspiracy and cover-up for recent griefer activity. What was the initial plan for Woodbury University in Second Life? Was it just a haven for griefers, or did legitimate educational activities ever occur?
In the spring of 2007, Woodbury's school Media, Culture, and Design offered an experimental communications course under the title CO-3714 Virtual Worlds. This course was designed to study the culture of the internet, and interact with it via the metaverse that we all know as Second Life.
The first Woodbury campus was designed in a terracotta, Moroccan theme and housed a large auditorium, a student store, and a media culture building. The auditorium was used for several scholastic events, including a biography presentation of visionary Leo Bronstein. Students from Woodbury met at the campus twice a week to creatively collaborate on designs, and experience virtual interaction.
In order to keep the highly-stylized designs of the campus uncluttered, a student sandbox was created below the campus. The students began using this free area as more of a "cultural" sandbox rather than a technical one. Students posted different humorous images from the internet and used it as their place to hang out in the metaverse. Many of these images originated from the website 4chan.org which almost instantly attracted the attention of other 4chan fans. I am not one that openly agrees with some of the things done by the 4channers or /b/tards as they are called but they usually kept to themselves in the sandbox and in one instance where one of the few did come over to grief me and they were quickly ejected and banned from the area.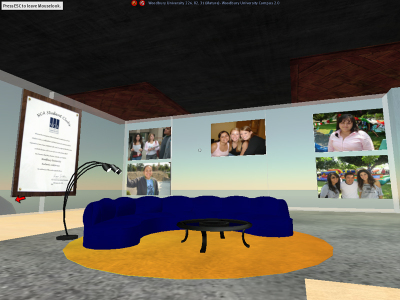 Woodbury's open door policy had pluses and minues – like SL itself
Due to Woodbury's open-door policy in the cultural sandbox, many users took advantage of this in a positive manner, and others abused it. The day that the Patriotic Nigra were tipped off to the existence of what they dubbed "The Shrine" is the day trouble began for the school. The sim was crashed repeatedly, which immediately drew the attention of the Lindens and anti-griefing groups such as the JLU. The first campus was deleted by the Lindens under the assumption that it was a stronghold for the PN, rather than a legitimate university.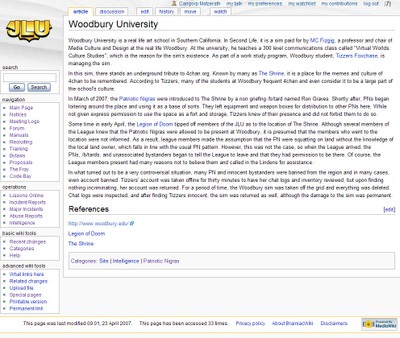 the Justice League's Woodbury files
The school was able to phone Linden Labs and explain the situation, but the damage to the sim was permanent. The new "downtown Los Angeles" themed campus was quickly reconstructed with the assistance of many sympathetic users from the university and 4chan. In order to prevent further griefing attacks, the "Woodbury University" group was formed with exclusive build and scripts rights being given to it.
Student activities and learning did take place at Woodbury University. One only has to look so far to see so. Lynn Insoo, a metaversal visionary and immersive 3D specialist, was able to display his amazing 360 degree photos and video at the Lucid Exhibition within the Woodbury sim. His work drew high-profile users to WU, including no less than 5 Lindens. He was also included in the German publication Hello Second Life, praising his accomplishments at Woodbury. Lynn even named off many Lindens that visited the Woodbury campus to see exhibit as witnessed in chat logs I have of him speaking with Tizzers Foxchase:
Lynn Insoo: I actually remember bringing Jack to see the exhibit at Woodbury.
Tizzers Foxchase: Was it true you brought Philip Rosedale to the exhibition?
Lynn Insoo: There were several Lindens brought there. Jack, Glenn, Matthew, Which and Qarl Linden.
Lynn Insoo: All found the research interesting and were glad to see such work being done on campus.
Lynn Insoo: I never showed Philip Rosedale my work personally.
Woodbury also housed a movie studio on the campus for the students interested in film creation. The studio focused on the art of Machinima, bringing real world filming techniques into a virtual space. Several sets were constructed including a Back to the Future themed set, a green-screen sound stage, and a Soviet nuclear submarine from Hunt for Red October.
Woodbury University was an open canvas that allowed students from other schools to come and try their hand in this virtual world, I being one of them. Since my earlier years I have been fascinated by fashion and the work that goes into, specifically costumes or cosplay. Having made many of my own costumes and outfits in my First Life, I saw Second Life and Woodbury as an outlet to express ideas in fashion and costuming. Woodbury University allowed me a space to work with prims and other options to fully express myself creatively in the virtual world so that I may carry it back into my first life. My use of the prims were purely basic and simple use to obtain a style of look and clothing and still is. I started off reading blogs and looking in the beginners area of Second Life. Woodbury gave me a place to freely express my ideas without putting down a ton of money to have a place to store some of the prim objects I was using.
Woodbury was not a haven for griefers. It was not a conspiracy. Woodbury University broke the mold of traditional educational methods in Second Life. An environment such as Second Life has become an immense opportunity for small schools such as WU, allow them to compete with larger players (such as Harvard). Woodbury has continually managed to remain the #1 most visited real life educational spot in Second Life with a daily traffic average of 10,000.