by Alphaville Herald on 16/08/07 at 8:56 am
SL must grow constantly to be profitable – a sophisticated Ponzi scheme?
3000 servers for 50k simultaneous users – 1/3 of LL's income from selling new servers each month
by Gwyneth Llewelyn, mostly harmless meta-resident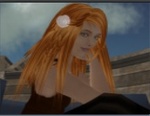 We believe Linden Lab is a profitable company, at least since April 2007, because Jeska Linden blundered that out in a SciFi e-zine interview. Speculation on the costs of running a grid and providing the Second Life software have somewhat settled down — except, of course, in the minds of the clueless residents who swamp the Official Linden Blog with whining. For these, Linden Lab "makes millions a month" (or, who knows, a day), is about the size of Microsoft, and should be able to fix any bugs in a few days by hiring a couple of thousand programmers. In fact, the whiners make the usual mistake of mixing up income with profit — for them, earning millions is just what they see, but they have no clue on what the costs are.
On the more thoughtful blogs, however, people analyze the real statistics (at least, the ones that LL is willing to share with us!) and are quite skeptic at LL's claims of "being profitable". In fact, they add the little numbers up from what is LL's income, and see that it's impossible to run the Second Life Grid with so little money.
Between the two extremes — just looking at the income, or just adding up values for the costs — lies the very thin line of Second Life's profitability. So, how much money is Linden Lab really making?
cHex your math is wrong because a land baron typically maintains a trading tier. He pays a flat $195 a month per sim. He buys and sells land, and tries to never let that trading tier sit there idle or be unsold before tier day. So he doesn't pay $195 five times if he manages to buy and sell five sims that month; he buys monthly tier for $195 once, then keeps it filled and selling constantly as his trading tier. To be sure, the end users who pick up from him then open up a tier, but that parcel is now off the land baron's tier bill and he goes to buy another piece, removing it from that person's tier bill, etc.
Assumptions
First, to do some proper maths, the major issue is knowing what the variables are. On the costs side, if you never ran a distributed application over a few thousands of servers from a co-location facility (or two), it'll be quite hard to know where to start to research for data! Then, of course, there are salary costs and office space costs. These are also notoriously hard — Linden Lab has quite a lot of people working for them, and although we have a rough idea on how much a Liaison is paid (that information is often leaked), we have no idea on how much Philip makes. Or Cory. Or Robin. Or, for that matter, qArl or Cube, who work part-time. Or Ginsu.
To make matters worse, LL attracts people because it's a cool company, and not necessarily because they pay well. Philip had a dream job working as a consultant for Real Networks, he might very well be on LL's roll for zero dollars — he has enough to live on his own for a few decades until Second Life really makes serious money (ie. billions of US$ per year

). And finally, office space is very complex to figure out on a company where most people do telecommuting anyway, and the rest are spread around five office locations — two in California, one near Seattle, one in Boston, and one in Brighton, UK. Then you have to add on top of that running business costs, which differ in each location. Luckily for us, we know how much LL spends in advertising — mostly zero, but their public relations agency, Lewis PR, are an outsourced contract, and so are their lawyers (except for Ginsu).
On the other hand, we have the idea of the rough income that LL makes. This is not straightforward to figure out of the published statistics, but you can get a good idea on how much they make, since they publish all the data for enough months to give you a good average on the monthly income. This is actually the easiest bit. Still, at some stage, there are a few assumptions to be made. And when those are simply wrong, the results of any analysis will be completely off the mark, too.
Income
Let's look at the easy bits first. Peeking at the economy page, we can roughly split up LL's major sources of income in the following way:
* Monthly fees for Premium users. This is around 100,000 residents, but many are on quarterly/yearly plans and pay less than US$9.95/month. The cheapest Premium users are the ones on yearly payments and just pay US$6/mo., so let's take the average, for an income of roughly US$800k monthly, and growing 5-6% monthly.
* Monthly fees for private islands. For July, this means about 8700 islands. Not all are paying US$295/month, though, since many have the "old price" of US$195, and a lot are universities/schools and other non-profits which pay half the monthly fee. But let's assume that the average is about US$200, for US$1.7M.
* Then you have tier for the mainland. This is harder to calculate, since although we know there are around 2700 sims on the mainland, we don't know how occupied this is with land actually sold (for instance, all public land will not count towards tier, of course; and a lot of special areas — like the ones set apart for Relay for Life or other similar initiatives — is being held by LL for these cases). So let's assume 2500 of those sims are really being used in the mainland. The worst case scenario would be if only 2500 users would pay tier for the whole sim, for US$195 per month, so this would be just US$0.5M. But I've read somewhere that the average land held by the Premium accounts is around 1024 m2, which would pay a tier of US$5/mo., so this is actually the same value (100,000 Premium accounts paying on average US$5/mo. of additional tier).
* But another huge chunk comes from all the setup fees of new private islands and sim auctions on the mainland. In the first case, LL rolls out almost 1000 private islands per month, or close to US$1.6M. The mainland grows much slower these days, it used to be 150-200 new sims every month, but there were less than 100 added last month. Still, their economy page says that about the equivalent of 178 sims were auctioned, and the average seems to hover between US$1700-2000 per auctioned mainland sim, so we can add another US$300k.
* And finally we have the LindeX transactions. I'm not counting on those, since the US$0.30 LL charges will very likely be eaten up in PayPal fees and other processing charges.
So, very roughly, LL has an income, by mid-2007, of around US$5M/month. Not bad, and remember, this is growing every month, so it's not like you can predict they'll make US$60M/year. It might be more, depending on the sustained growth of Second Life.
Infrastructure Costs
Now let's see how much this costs in infrastructure. For some reason, LL was advised to buy their servers instead of leasing them. It has advantages and disadvantages, but one thing is for sure — they add 1 server per 4 sims, so, this means that every month they need to buy around 300 servers per month (!). Remember, we're talking about rack-mountable top-of-the-line units here, not your US$500 "handmade" PCs. It's very likely that they'll pay around US$4k per server, and that's with a good discount, based on the huge amount of servers they have to install every month. So US$1.2M will be "lost" on that.
Then we have co-location costs, the most hard thing to figure out. People tend to get used to buy their own servers and host them for as little as US$100/mo. with "unlimited" bandwidth (or at least a huge amount of TBytes/month). Well, co-location facilities have different pricing levels, and since LL apparently buys their own servers, this means that they most likely pay a fee per server cabinet (typically, that will take around 40 servers) and for the total bandwidth consumed.
Most co-location facilities do not list their prices publicly, and we can only make an educated guess at what LL's setup truly is (a press release once mentioned they had 10GBps of total bandwidth — one link to Dallas, one to the outside world — which is consistent with the amount of simultaneous users that log in: users will, on average, require 100 Kbps per connection, and this would roughly allow up to 100k users at the same time), but here is an example from a facility in SF: they charge US$650/cabinet/month, and US$450,000/month for the total bandwidth of 10 GBps. LL requires 75 cabinets for its 3000 servers, so this would be another US$48,750/months. All together adds up roughly to US$500k — a bargain, since it gives LL around US$150/month for each server, which is not such a bad price. There are, however, several providers in San Francisco with more aggressive pricing — Linden Lab has picked Level 3 in March because of their (alleged) much higher reliability.
So infrastructure overall, at the current monthly growth, will be around US$1.7 million — not too much.
Office space
This is where my calculations usually go wrong, since there are two things that need to be calculated:
* How many Lindens require office space?
* How much do their offices really cost?
The first is purely guessing — I think that there are around 250 "active" Lindens now, and perhaps 100 of them are bound to their offices, most in SF, the rest on the other locations. The remaining Lindens are either telecommuters (Liaisons and some programmers), work part-time, or are simply "advisors" or "consultants" and very likely aren't physically bound to LL's HQ or branch offices.
Estimating how much office space these people take is hard. A rule of thumb is to consider 90-100 square feet per person, so, roughly, 10k square feet for all the Lindens (if you have been to their offices, let me know your impression on how big their HQ really are!). This article, however, claims that on April 1st, 2007 (yes, I know…), Linden Lab's offices have 28.000 sq. f.! On some old (but very nice-looking!) buildings on Battery Street, SF (where LL is located), the cost is around US$20-30 per square foot, but I have no way of knowing if this is a good or bad price. Let's assume US$30/sq. f. for a total of US$840,000/month in office space only in SF.
Salaries
And finally, the hardest thing to estimate! How much do Linden Lab employees actually earn? Your guesses are as good as mine, of course, specially because Linden Lab is a "cool" company. Being a "cool" company means that people will work there for way under the usual salaries. Liaisons, for instance, often get only US$500 for a part-time job — but they become Lindens, and that's all that counts! With 150 Liaisons or so, that would be about US$ 75k/mo. in salaries — a bargain!
The techies, developers, and the ops team will very likely not go out of their beds for less than US$5k/month. Some, indeed, might earn much more than that — since they are highly specialised professionals, and only a handful of them are available in the market for developers; everybody has been hired by Amazon, Google, eBay, PayPal, or any of the other huge companies that have thousands of developers in the same field as Linden Lab: complex, distributed systems. And they would be working on a way cooler environment — who cares about having 60k simultaneous users, when Google has possibly 60 million simultaneous users or more?

So, we have to wildly imagine that, out of the 250 Lindens, they earn on average US$5k/month, taking into account that many will earn much more, and quite a lot are just there part-time. So this would add up to US$1.2M in salaries.
Barely Profitable
Putting it all together, Linden Lab earn perhaps 5 million dollars per month, and spend close to that in running costs.
My estimates are, obviously, quite conservative. On top of all the above will come a series of hidden costs, like maintenance of the PCs and Macs for all the team (not to mention chairs, tables, and other office supplies), license costs for Havok, Jira, and other pieces of software, and of course the phone costs, even taking into account they are using a VoIP operator to handle that. Also add the cost of supporting payment gateways, outsourcing costs for lawyers, auditors, and Lewis PR… there is not too much of a margin for "going wild".
In essence, they have created a business model that barely allows them to survive as a profitable company. Like my many previous articles on LL's business model, it has not changed much since, say, 2004 — the prices have risen just for private islands, and they had huge savings when introducing hardware that allows them to run 4 sims per server, but, beyond that, the only way they remain profitable is thanks to discounts from growth. If they need to upgrade their bandwidth to 20 GBps, this won't cost twice as much. If they start buying 500 servers per month instead of just 300, they'll get slightly better discounts. The truth is, LL is a classical type of a cost-based, telecom/infrastructure operator — it means that their prices are not speculative (like, say, web design, consultancy, or even metaverse development), but tied very closely to the number of users they need to support.
Conclusions
From a business plan perspective, there is a huge flaw in their model: a huge chunk — over a third of their income! — comes from new private islands being added every month, ie. LL is only a profitable company if SL grows constantly and at least linearly (that means that every month at least 1000 new private islands have to be added). There is always a danger if SL's growth stagnates: if no new users are adding private islands like crazy, Linden Lab will lose too much income on a month and will not be able to keep it up.
You can think of it as a very sophisticated model of a Ponzi scheme

which only works as long as it constantly grows, exponentially, with more and more users buying more and more sims. Unlike, say, web hosting services — where the setup fees are mostly speculative, and can be forfeited as a discount to long-term users — LL cannot afford to do that, or else their business model crumbles to dust.
They do, however, have several options. One, of course, is simply raising the costs of private islands, but that will make residents go wild — since they'd have to charge twice as much! The other is to lease servers instead of buying them — that means a long-term commitment, but they would very likely be able to forfeit all setup costs on private islands that way (or make them very low) at a slight increase of monthly fees (since they'd have to pay at least for a US$100 lease on each server) — but they would also cut down the monthly acquisition costs. More important than that, they would not require SL to constantly grow every month to keep the company afloat. In fact, if SL simply stagnates in its growth, they would simply have the same cost every month.
The other option is technological advance. It seems that they're already toying around with quad-dual-core servers which would allow them to run 8 sims per server (ie. a "Class 6 server"). This would, over time, allow them to support twice the number of sims for half the running costs. But there is more. As some people installing OpenSimulator have found out, there is no real "hard" limit on the number of sims you can run per server, it's all a question of how much performance you wish to have. OpenSimulator, of course, is a "bare-bones" sim server which doesn't have a physics engine and doesn't even support in-world rezzing (yet), so it just tracks down avatar positions, chat and IMs — allegedly, on a "normal" PC, you can run a hundred sims if you wish, assuming you haved enough bandwidth for 4,000 avatars (rougly 400 Mbps of upstreaming bandwidth).
But LL only manages — barely, as we all know — to run 4 sims per server. Is it all due to keeping track of 60k prims, plus 160 avatar and their attachments, and the physics engine? Where are the bottlenecks on the server code? We all know that Havok 1 is really an outdated piece of software (current version is 4.5, version 1 has been obsolete for half a decade) which slows everything down, but is it the only bottleneck? World of Warcraft has the same number of accounts as Second Life, but millions go online simultaneously every day on just a few hundred servers (as opposed to LL's 3000 servers for barely 50k simultaneous users).
Ultimately, what LL really needs to do is to make sure they can run the same grid, using far fewer servers, and allowing an increased number of simultaneous connections. This would also allow prices of private islands to dramatically fall! So, if they can get ten million concurrent users (out of 100 million active accounts) on just 3000-5000 servers, they'd struck gold — and that's what their ultimate goal should be.
---
Disclaimer
I'm not part of Linden Lab, or their accountants. I'm not preparing due dilligence to buy Linden Lab, or help them preparing for an IPO. As a matter of fact, I'm rather messy at accounting. From the many business plans I've done in the past, only two of them ever were fruitful, so I can't even claim to be good at analyzing companies. So take everything I say with a pinch of salt (or even two pounds). Really. Caveat Emptor.