by Alphaville Herald on 09/08/07 at 12:16 am
Simulated prostitution and stripping are legal – Robin Linden
by Jessica Holyoke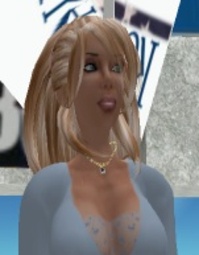 I went to Robin Linden's office hours today to find out if Escorts or Strippers are on their way out of SL. Many residents feel that with gambling gone, escorting is next to be hit with the banstick. When asked about the reasons for the gambling ban, Robin Linden stated that simulated prostitution and stripping were legal acts and that the gambling ban was placed into effect for legal compliance reasons. The gambling ban was not instituted as a means for There-ing up SL.
But once again today, I was told by a commentator that SL Escorts and Strippers are engaging in illegal acts. That somehow, somewhere there might be a law making escorting in SL illegal according to at least one commentator. There is no evidence to back up his assertion. There is no law against SL Escorting and Stripping. But in talking about whether there could be a legal ban against escorting, I decided to see how I would legislate against it. And looking for the answer raised the bigger issue, what are we doing?
All of our activities in Second Life could fall under two categories, behavior or content. When I click on a pose ball and dance, am I dancing or am I creating a video of someone dancing? When I sit in an office hour, am I part of an event or due to the intellectual property aspects, am I helping to create a movie of an event? The implication of what we are doing goes to how the act could be banned.
If our actions are behavior, then reality-based prostitution laws may apply. You pay for sexual intercourse, you are partaking in prostitution. Except that prostitution requires touching. The best behavior description of what residents do when they have sex is that they are mutually masturbating. But an SL escort is not being paid to touch, they are being paid to help someone touch themselves, which is not prostitution.
I remember in Atlanta there were a number of places called Lingerie studios. A friend of mine worked there and she told me how men would come in, and essentially masturbate in the presence of a naked girl. I'm not naïve enough to believe that there was never prostitution there, but the actual, advertised service was not found to be prostitution in Georgia. The relevance is that here we have escorts far removed from their clients, but engaging in similar activity. Under a behavior theory, escorting is legal in SL.
If our actions are content, then you would look to obscenity laws to see if the actions are legal. And if all you do is have sex, then possibly there's obscenity. But there's a problem with looking at solely the sex act. The Miller test of obscenity requires looking at the work as a whole. And the least amount of "whole" in SL would be from log on to log off. If a sex act is content, then everything following and everything preceding that act would be included in "the work." Because people would not just have sex in SL, they would at least sign on, go to the sex club, make the offers, have the sex act, get dressed and leave. The work as a whole would not be solely sex. Therefore, escorting would not be obscene.
There's also the in-between concept of phone sex. It can be considered a combination of behavior and content. Phone sex shares many of the same qualities of SL escorting, such as providing context for someone to be aroused. And again, phone sex is legal activity. Therefore, SL escorting is also legal under a phone sex theory.
So people worried about escorts, take a breath. There is still a vibrant industry in SL revolving around adult content, the escorts themselves and the club owners, clothiers, animators, builders and skin/hair designers. Check out Vociferous in Purple to see how residents are adapting to the new changes in SL with voice. Until age verification comes and everything changes again. But also keep in mind, the actual escorting happens behind closed doors, and not in public view, another point in its favor for staying in SL.