by Alphaville Herald on 27/08/07 at 6:35 am
Gambling, sex, gender-bending, financial fraud: does real life morality apply in SL?
by Victorria Paine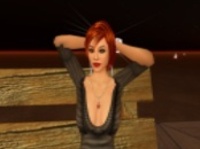 A recurring theme in debates between SL's denizens about any number of the "hot topics" that divide the community (gambling, sex, gender-bending, financial fraud, you name it) is a fundamental disagreement about what "rules" should apply to any of these activities when they take place on the grid. Typically this difference in perspectives remains unstated, with the various players largely talking past each other, more intent on scoring "points" in the debate by deploying clever witticisms or other rhetorical devices in place of addressing the real underlying issues.
People dance around the main disagreement, choosing instead to bolster their argument with this or that standard of "morality" or "ethics" cribbed from a meatspace context, without realizing that it is this issue in itself that is the thorniest one what moral rules, if any, are appropriate to the kind of reality experienced in SL, and why?
Although material reality is also plagued by debates about appropriate moral rules in its own space, many of us tend to take the moral rules we inherited in our meatspace lives as "givens" to some degree, and there is certainly a utility in that. It helps to create a more cohesive living environment, reduces incidents of social tension and honestly makes life more simple, if constrained in some ways. But looking more deeply at our meatspace moral memes, we can often discern – correctly or not – a certain underlying logic or rationale for a given moral rule.
---
where is the logic to our moral memes?
---
To take a familiar example, the widespread tradition of marital sexual exclusivity, as a general moral rule in meatspace, can be explained without regard to varying religious traditions, either by reference historically to the need to preserve property within one bloodline and the risk that sexual activity outside of this bloodline posed to that inheritance scheme, to the more contemporary concern about the "welfare of children", or to an assumed universal human predisposition towards jealousy (something which, curiously, was reflected in the criminal law of many countries traditionally, by recognizing that an act of murder committed when a spouse found (typically his) spouse "in flagrante delicto", the penalty for the murder was significantly reduced). And, of course, there is the general appeal made to the stabilizing effect of stable families on social cohesion as a whole – whether real or imagined. In any case, we can examine these moral rules, the context in which they develop and continue to subsist, and discern, in many cases, a "rationale" for them.
---
what moral rules, if any, apply to the reality experienced in SL?
---
The issue is to what extent these moral rationales are justified – if at all – in Second Life. Taking the example of sexual fidelity between two SL AVs, do any of the meatspace rationales apply? Certainly there is no historical basis for the control of the inheritance of SL property that would be impacted in the slightest by sexual infidelity in a SL relationship. Similarly, the "welfare of children" argument seems not to apply due to the very rare occurrence of children and families "playing" SL together as a reflection of their meatspace family units.
Perhaps the jealousy principle applies – and I suspect that emotionally it does in many cases – but is jealousy, taken alone, a justification for a moral principle that would, generally speaking, be assumed to apply to everyone? And finally, can it really be said that sexual infidelity between AVs contributes to a lack of cohesion in SL society in general, particularly when taken in the context of very enhanced individual freedom and expression that is one of the hallmarks of SL to begin with? Personally, I don't find any of these rationales particularly compelling in the context of a virtual metaverse like SL – they appear weak, when grafted onto this context. Of course, I'm not speaking of the validity of individual commitments here – those are always a matter of personal freedom – but rather of the notion that the memes that underlie these commitments could or should be seen as being "normative" in the context of SL.
---
does SL spillover in RL mean meatspace rules should apply?
---
An important objection can be raised, however. It relies largely on the relationship between SL and meatspace in general, and specifically for certain members of the SL community. The argument is basically that because activities in SL can have a spillover impact into meatspace lives (to take an example relevant to the one I've chosen above, someone who is married in the material world may have a relationship in SL with someone else, and this relationship causes tension in her meatspace marriage, or even causes it to dissolve), the same "rules", morally speaking, should apply to SL as we assume apply in material reality. Essentially, the argument is that since, for some people, SL and the material world bleed into each other, the accepted norms of the material world should be assumed to be normative for SL as well.
While I can see the point of the latter objection, I'm not terribly persuaded by it. It seems to me that it relies on the very subjective (and erroneous) assumption that most SL participants are bleeding their SL and material lives together, or that most SL participants are not capable of having two separate lives, under two separate sets of rules. This flies in the face of reality.
Even in meatspace, we are very accustomed to contextual rulesets for behavior (one way at home, one way in the office, one way among friends, etc.), so it seems to me that the human ability to contextualize behavioral memes is quite well developed and largely without ill effects. More fundamentally, perhaps, it's clear that there are many people who do not combine their material and virtual lives, but separate them, and as a result it would seem tenuous at best to suggest that material world moral memes should be applied to such persons – which would, in effect, happen if the meatspace rules were to be seen as "normative" in SL.
---
your world, your imagination, your context-sensitive morals?
---
The moniker of SL is "your world, your imagination". While we have had tremendous examples of creativity and imagination in material ways in SL, we have had considerably less imagination in less tangible elements of the SL experience, and as a result we have the community talking past each other when it comes to many of the divisive issues that periodically get tossed about.
It's high time that some of the high minds of SL give some serious thought to how we ought to go about creating our world, our imagination, not just with prims, but with ideas as well. We ought to give some thought to the ethics and morality of SL, not in slavish imitation of our meatspace inheritance, but with the same open minds and creativity with which we've approached the rest of our SL experiences so that we can gradually come to grips with a set of moral and ethical principles that are creative, dynamic and "native" to the virtual world of SL.