by Alphaville Herald on 17/08/07 at 11:00 am
by Urizenus Sklar, food critic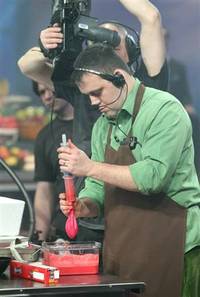 Chef Cantu at Work.
Since I am the ultimate metaverse insider with a profound grasp of new media and the economics thereof, it is natural that when Media Playahs and Venture Capital Guys and Grrls meet me they want the 411 on Second Life. "Uri", they ask me "exactly what is the Second Life business plan anyway?" And who can blame them for asking? The money isn't coming from subscriptions, or sales of Linden dollars, or virtual property sales, nor will enough revenue ever come from those sources, so what in Sam Hades is the plan?
And the craziest thing is that instead of securing the platform and working to make it better, Linden Lab keeps adding more and more bells and whistles and gizmos and gadgets – stuff that no one asked for or ordered or for that matter really even wants. 5000 users have vented against the strategy in a sharply worded open letter, but… News Flash:.. the petition fell on deaf ears. Why treat your customers that way? And why keep adding new crap to a platform that needs to be gutted and rebuilt from the ground up?
I too puzzled over these questions, until two events transpired – events that in conjunction made it all clear. Crystal. Clear.
The first event occurred one day as I ate at the restaurant Moto in Chicago, run by Omaru Cantu. Chef Cantu is the Inspector Gadget of the restaurant bizz. Like the other post-modern molecular cuisine chefs he does the usual thing with foams and gels and … you know… dumping juiced peas and carrots into liquid nitrogen at your tableside. Then too there are the edible menus. He rigged up a Canon i560 inkjet printer to print with edible dye on edible paper, which he has flavored somehow. You are instructed to crumble up your menu and dump it in your soup – it's Chef Cantu's version of "Alphabet Soup". One course, called "filet mignon" is a piece of paper with a cow printed on it. It tastes like beef. (Not chicken.)
Chef Cantu previously worked as the sous chef at Charlie Trotter's – a place where he began experimenting with cutlery. Break the handle off a fork, replace it with a screw from a cork screw, stuff it with herbs and voila! – aromatic cutlery. Chef Cantu's kitchen is nothing if not the laboratory of a mad scientist. The New York Times offered this description of some of the mad scientist toys he is using to cook:
Mr. Cantu is experimenting with liquid nitrogen, helium and superconductors to make foods levitate. And while many chefs speak of buying new ovens or refrigerators, he wants to invest in a three-dimensional printer to make physical prototypes of his inventions, which he now painstakingly builds by hand. The 3-D printer could function as a cooking device, creating silicone molds for pill-sized dishes flavored, say, like watermelon, bacon and eggs or even beef Bourguignon, he said, and he could also make edible molds out of cornstarch.

He also plans to buy a class IV laser to create dishes that are "impossible through conventional means." (A class IV laser, the highest grade under the Occupational Safety and Health Administration's classification system, projects high-powered beams and is typically used for surgery or welding.)

Mr. Cantu said he might use the laser to burn a hole through a piece of sashimi tuna, cooking the fish thoroughly inside but leaving its exterior raw. He said he would also use the laser to create "inside out" bread, where the crust is baked inside the loaf and the doughy part is the outer surface. "We'll be the first restaurant on planet Earth to use a class IV laser to cook food," he said with a grin.

He is testing a hand-held ion-particle gun, which he said is for levitating food. So far he has zapped only salt and sugar, but envisions one day making whole meals float before awestruck diners.
Since that article was written, Cantu broke out his laser in an Iron Chef America competition against Iron Chef Morimoto, using the laser to carmelize packing peanuts made from edible starch. (He beat Morimoto.)
Another source claims that Cantu has even found a use for Nasa's Aerogel:
Cantu is also developing a course that floats. He starts with a cube made of a special kind of whipped silicone (invented by NASA) and, in a smoker, imbues it with various food aromas. The server then holds it above the table and spins it to release its designated fragrance. The material, which contains air pockets, become lighter than air when heated, so it remains suspended for a short time.
Cantu claims that we have been cooking with basically the same technology since the invention of fire, and he wants to move us into the future. He wants us to rethink the possibilities for food preparation and cooking technologies. Very noble.
Now when I ate at Cantu's restaurant I could not figure out how this guys was making money in his tiny restaurant, churning out these technology intensive concoctions. He certainly wasn't going to get rich like Bobby Flay or Emeril. Or was he? Months later I met someone who was doing patent work for Cantu. It seems all the crazy ideas are being patented.
For example, one of his signature dishes is a heat retaining polymer box that is taken to the customer's table and a fish is placed inside where it is cooked at the table. The patent application for that is written broadly so that it covers any heat retaining box (those heated river rocks therefore don't count). The apparent patent application for his cork screw enhanced utensils is also written very broadly.
According to the New York Times, he has 30 such patents pending. This guy is going to own the future of new cooking technologies. Move over Bobby and Emeril. Some day Emeril is going to pwn you. Crimey he's going to pwn all of us.
Then it struck me. This must be the Linden business plan. And if it isn't, it should be.
They know they are never going to have an economically viable platform, and they know that dozens of competitors are on the way and that existing competitors are starting to muscle them out of the way. One thing that the Lab has going for it, is that it is on the cutting edge of developing gizmos and gadgets and add-ons and widgets and whatchamacallits for virtual worlds. Why not patent those, sit back, and collect the royalties as other metaverse corporations adopt and/or accidentally stumble onto your technology?
There is just one problem with this theory. It is hard to locate patents (or pending patents) that have been filed by Lindens. Here are some that I was able to dig up.
Philip and Cory and Andrew Meadows have a patent application that promises:
"a distributed continuous simulation of a three dimensional simulation space. The simulation space is partitioned into a set of regions. The system includes a set of simulation servers. In one embodiment, each simulation server is responsible for simulating one of the regions of the simulation space. Users interacting with the simulation communicate directly with the simulation server responsible for simulating the region that the user is currently interacting with."
In other words, "we pwn the metaverse".
In another very interesting patent application by Philip, filed last year, that promises …
"An input and feedback system for use with simulator devices immobilizes a portion of the user's body using a securement device which holds the immobilized portion in a fixed position. Pressure sensors are disposed upon the securement device to detect the force resulting from any attempted motion of the immobilized body part. Signals describing these forces are sent to a processing unit which applies this information to a simulated environment and provides sensory feedback to the user of the this simulated environment. Feedback is provided via vibrating elements which provide a sensation to the user corresponding to the motion of the user's muscles which occur in the simulated environment."
In other words…well…I guess this must be for a teledildonics suit.
Question is, are the Lindens or their agents locking down other patents that we don't know about? Are they trying to pwn the metaverse? Is that their business plan? I don't know, I'm asking!