by Alphaville Herald on 30/08/07 at 8:26 am
Community Radio Even a Kajira Could Luff
by Urizenus Sklar, Media Mogul/Critic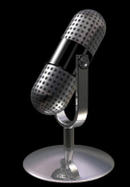 As the Second Life mediascape continues to diversify, a number of in-world radio stations have emerged. Of course such radio stations have been familiar to us at least since the days of The Sims Online, where there were a number of radio stations, including stations run by mafias and by the infamous The Sim Shadow Government. And of course the game-centered radio broadcasts for World of Warcraft and many other games exist today. Here in Second Life there have been numerous online stations as well, ranging from Taco Rubio's Phreak Radio to the now defunct Dreamland Radio, which was the voice of Anshe Chung's Dreamland, continent to the Virtual world radio network (VWRN) and the German Language SLR2. Hells Bells, there are even radio stations that straddle both TSO and Second life (Maxed Out Radio being a case in point). What got our attention though was the rise of at least two full time Gorean Radio Stations.
Gorean Portal Radio claims to have been broadcasting nonstop for three years. It began as an IRC channel but now broadcasts from Ar. Meanwhile, the relative newcomer The Edge, Gorean Radio, which was doing a play-by-play of Gorean combat contests when I tuned in. I guess I've always been interested in the way subcultures like Gor create their own media outlets, including not just radio stations but "newspapers" like The Tarns Feather (which is only available in world).
Question: what other radio stations (Gorean or otherwise) are currently up and running in SL? I'd also be interested in hearing about other "community newspapers" like The Tarn's Feather.