by Alphaville Herald on 27/09/07 at 9:47 pm
Something like Miss America with a whip
by Tillery Woodhen, leather enthusiast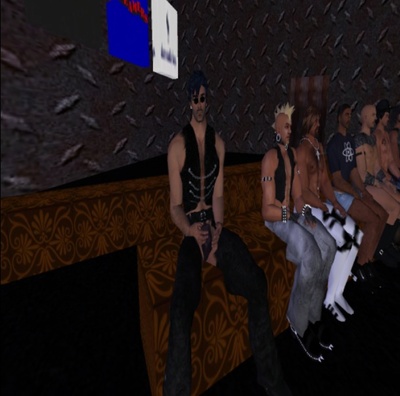 9 contestants in the Mister category, 7 for the Boy category
Impulse Island hosted the second annual SL International Leather contest recently. And it was a case of art, or virtual life, imitating real life.
For the uninitiated, a leather contest can be seen as Miss America with a whip. Seriously. There's formal wear, swimsuit (well, jockstrap), public speaking and talent. Take talent as you will. In RL, there is a system of local, regional and international contests. Actually, there are several systems, but that's another story for another publication.
This reporter, a veteran of several contests both from the stage and the paparazzi viewpoints, took part in the most recent SL incarnation as a contestant. The result? It's surprisingly like real life.
The contest was popular enough that the sim it was held on crashed. Hard. Strangely, that's not unusual for RL contests. Occasionally that's because of incidents of public indecency, but it happens. If there's a chance to see bare skin, even simulated, people will take it. Especially if it's free access. The result was more than 55 people (a small crowd by RL standards) in the sim, which, of course, sent it crashing down (thanks, LL).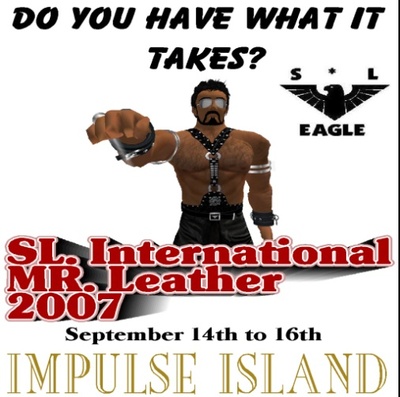 After the sim was finally back up, and the crowd was limited to 50 people with all scripts turned off, the contest restarted. There were at total of 16 contestants – nine for the Mister category and seven for the Boy category. (And for those who are paranoid, they were all in their mid 20s to mid 40s. Boy means submissive in this case.)
The contest was over two days, going well into the night. Many of the contestants were surprised to find themselves nervous (again, like RL), despite the fact that they're ass wasn't really being looked at by 50 strangers.
The MC read the speeches (essays?) by the producers while adding his own commentary throughout the night. For each segment, the contestants would go down the catwalk and strike a pose. There was casual, fetish wear, full leather and the ever popular jockstrap.
Dejeritty Mycron won for the Mister and Keeran Blackadder won for Boy. This reporter, as is typical, did not even get close to winning. (I thought fantasies came true in SL. Oh well.) Both will represent, as much as possible, the gay leather community in SL. Doing anything else with them will require some personal negotiation.