by onder on 08/09/07 at 3:07 pm
Love for sale to highest bidder
by Onder Skall, former Unicorn daddy
Yesterday at the First Friday technology expo we saw some incredible inventions, but one in particular had the power to change the way we buy and sell things in Second Life. Through BidSL you can put things up for auction quickly and easily, and bidding is fast and fun! For Second Life society at large this is big deal, and could change the way we think about selling things in-world.
For me, I saw it as an opportunity to dump find a loving home for the rape spawn sweet little things that were the product of me stupidly following the latest fad some unfortunate incidents I'd rather not discuss. Let's just say that mating with unicorns isn't everybody's cup of tea, and I thought perhaps people would like baby unicorns without having to do the deed.
The BidSL Auction House (SLurl) is laid out into sections for various types of items, and a handy elevator lets you go upstairs for the adult stuff. Lucky for me I was there early on opening day and got to grab the prime Featured item spot right near the door.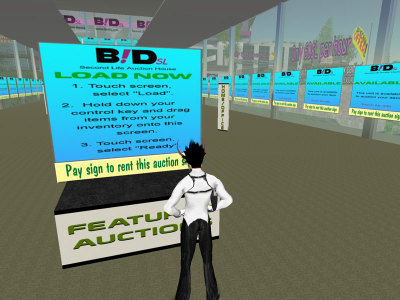 Setting up an auction is easy. Click on the board, say in chat the number of days you want the auction open for, make a payment to the board for L$1 for every day, and ctrl-drag-drop a texture, notecard, and the item in question. Naming conventions make everything work, so check the instructions. You can click the board and hit "clear" to reset, or hit "ready" to start your auction.
Next thing I knew, the babies were up for sale ready to find loving parents. Problem solved! Uh… the problem being finding parents who could love and care for such beautiful creatures. I'm just too busy, that's all… and… well everybody knows guys wearing horns are notoriously terrible parents! I'm doing this because I want to be rid of the little pests love them!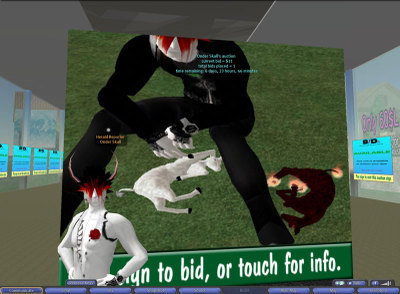 Do you have some junk you'd like to dump from your inventory for a few Lindens? Swing by the BidSL Auction House in BongSwang (SLurl) or check out the website!