by Pixeleen Mistral on 10/09/07 at 5:08 am
Players flee fecal collection game in ice cream factory advertisland
Corporations step in mixed marketing messages
by Pixeleen Mistral, National Affairs desk
I have seen strange and wonderful things in Second Life, and Ben & Jerry's virtual ice cream factory/cow poop collection facility/new resident "orientation" area left me in awe. Not a good kind of awe — more of a "we can't make this up, folks" sort of awe. Where were the PR people when someone suggested a cow shit pick-up game in an ice cream factory – has anyone heard of product placement? Where is the Second Life virtual health inspector?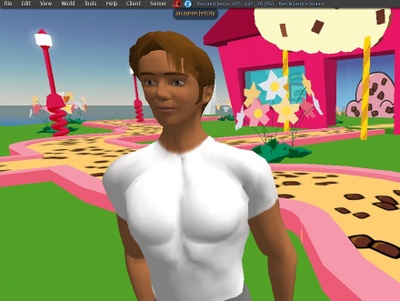 try not to track anything into the factory
These strangely mixed marketing messages comes from the juxtaposition of a green "game" – collecting cow pies for an eco-friendly methane digester with an ice cream factory. I'm all for green marketing and sustainability – but didn't anyone think suspicious brown blotches on the pink bordered path to the factory might evoke questions about sanitation? I don't want to think about what some of the virtual world's less desirable elements are going to put in the ice cream.
But the virtual gross-out factor is not the only marketing muddle in Ben & Jerry's virtual advertisland. The implications of Second Life's continuing Disneyfication and and how Linden Lab treats its customers are chilling – evidently the Lab has abandoned anyone who chooses the ice cream "community" to what amounts to a 2 island cage – with no apparent exit.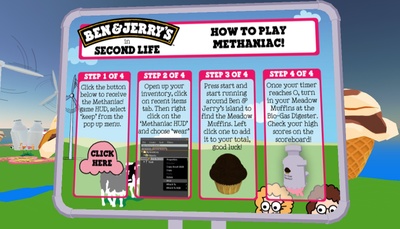 you'll want to wash your hands afterwards
---
Cross-contaminated marketing treats customers like krill
---
Linden Lab reportedly has very low retention rates for new residents – only 10% of new players stick with Second Life for any length of time – although the vast majority of the players are not paying a subscription fee. Linden Lab fanboys have suggested that the problem with player retention may start with the Linden Lab new player orientation. This seems somewhat implausible – doesn't having 1 out of 4 sessions ending in a crash discourage residents more?
The Lab recently began picking corporate partners for new player orientation, and dressing up this customer sell-off as giving new residents a choice of "communities". In the virtual world of "community choice", new residents can opt for the official Linden Lab orientation area, or one several corporate-sponsored orientation sites – including Ben & Jerry's garishly-colored islands. Apparently community is now defined by real life brand preferences – at least according to the Lindens. Someone should send a memo to the elf, gorean, and furry communities of Second Life – perhaps they can get corporate sponsorship as well if they can identify a real life product affinity.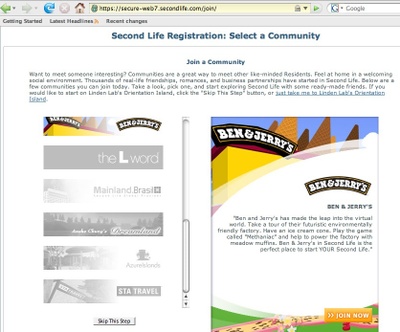 we'll tell you how to wear our uniforms – but not how to leave
Unfortunately, the corporate orientation crowd may not be exactly motivated to cover some of the finer points of Second Life – like how to escape the immersive advertisement island and explore the metaverse at large. Both Ben and Jerry forgot all about explaining how the map works, or how to teleport anywhere. Their orientation does explain how to wear their corporate logo-wear. But is it surprising there is no mention of how to ever leave the isolated islands? The longer players are trapped the more time they have to absorb the message. The only orientation to transportation is sign that says it is a teleport – but the faux-teleport simply deposits players at the bovine fecal collection facility/food factory.
During repeated visits to Ben & Jerry's orientation island I met many bewildered new players, wondering how to get off the island. Here is a typical encounter:
jacaaron Jetcity: hi
Pixeleen Mistral: hi! enjoying Second Life?
jacaaron Jetcity: yea
Pixeleen Mistral: good. i'd think that this area might get boring for you, but as long as you are happy, that's the important thing
jacaaron Jetcity: really
Pixeleen Mistral: you are stuck here though – unless you can get someone to tell you how to leave or learn how to leave yourself. but there are cow pies to touch if you like that sort of thing. see the sign in back of me? they have a game where you collect cow shit
jacaaron Jetcity: haha ha. where?
Pixeleen Mistral: right here
Pixeleen Mistral: read the sign and you can collect cow poop. wash your hands afterwards though, and don't get any in the ice cream. doesn't this make you want to eat ice cream?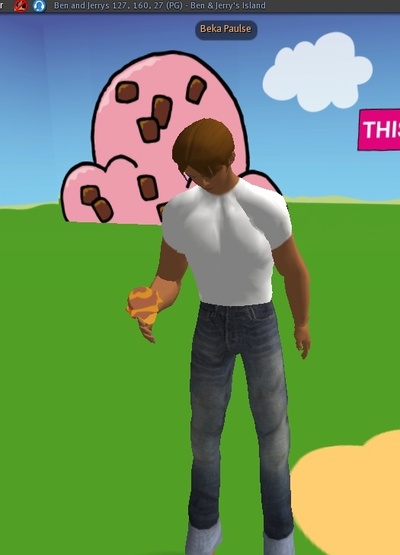 Beka Paulse wonders what he just stepped in
Honeptis Villota: Hey!
jacaaron Jetcity: hi honeptis
Honeptis Villota: hello. please help me
Pixeleen Mistral: I'll try
jacaaron Jetcity: i'm trying to figure out how to play the game
Pixeleen Mistral: what is the problem?
Honeptis Villota: i want to leave this horrible place
jacaaron Jetcity: yea me too
Pixeleen Mistral: I can help with that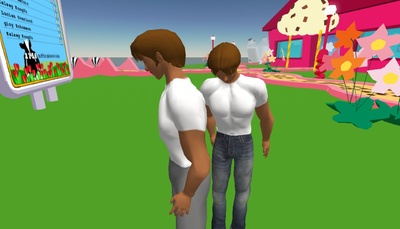 get us out of this horrible place
---
What were they thinking?
---
After teaching the confused players how to teleport to Help Island, I returned to study Ben and Jerry's color scheme – a color palette 9-year olds and Torley Linden will find attractive. Fighting the suspicion that I had walked through something questionable, I scuffed my sandals on the impossibly green lawn and wondered if this new media experiment is really helping or Second Life or Ben & Jerry's brands.
Presumably Linden Lab is paid a placement fee to steer new customers to the corporate dis-orientation, but what will restrain a corporation's natural desire to keep players in their advertisland forever? What will those trapped players tell their friends about the wonders of Second Life? Perhaps this does not matter if Second Life players really are just marketing krill – but Ben & Jerry's PR people must have been suffering from brain freeze when they signed off on this one. I'll never look at their ice cream the same way again.