by Alphaville Herald on 29/09/07 at 8:32 am
by Inigo Chamerberlin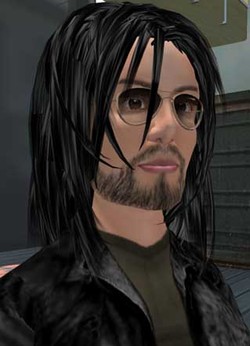 Yet another missive from those lovely folks at Linden Lab. On a Friday, as usual. I'm coming to actively dislike Friday eMails from Linden Lab.
What now? Well, all us lucky EU residents are now going to be charged VAT (Value Added Tax to the rest of you) on 'all payments to Linden Lab such as land sales, monthly maintenance fees and Premium subscription fees'. Quite where that leaves Lindex purchases isn't made clear – but whatever is by Linden Lab. You can be pretty sure those transactions will be included though.
The only way to 'avoid' this is to have your in-world business registered for VAT, with all the lovely complex paperwork that entails. It would almost be worth it to be able to demand correctly formatted VAT invoices from Linden Lab – except they have come up with a wheeze to get around that – or so they seem to think.
You see, IF you are registered for VAT you are issued a 'VAT number' by your local government tax authorities (its ONLY use is to identify you as being entitled to charge VAT by being printed on your receipts and invoices, and to assist filing and tracking. I wonder what Linden Lab's VAT registration number is?)
Linden Lab is neatly sidestepping the EU legal requirement to provide VAT registered companies with VAT compliant invoicing and receipts by telling you that IF you provide them with your VAT number they won't bother charging you VAT.
Sound good to you? Well it appears to be unlawful.
It's NOT how EU VAT works. VAT is collected from the non-VAT registered at the point of sale. It's also collected from the registered, those with a VAT number, in the same way. Then, every three months they get to wade through the paperwork, claim back the VAT paid for deductible purchases, and pay the balance to the VAT tax collection agency.
Failing to collect VAT because someone gave you their VAT registration number, and – god forbid – failure to pay any subsequent liability to the tax collection agency is actually a serious criminal offense. I hope that is not what the Lindens are proposing.
Ah, you say, but Linden Lab is sitting smugly in the State of California in the United States of America, they can't be touched by European Union legislation. Really? Well then how come they are, supposedly, applying EU taxation law in the State of California in the United States of America? US State/City sales tax I can understand, in fact I pay it in most transactions with US companies, except the few that have no sales tax.
It's worth noting at this point that California seems to have a rather complex sales tax structure, which I'll be checking into in more detail on Monday, because I'm damn sure that double taxation is not lawful under international trade agreements to which both the EU and the USA are signatories. If Linden Lab is, as I suspect they are, proposing to charge me California Sales tax as well as EU VAT there is going to be trouble. Something I'll also be checking into with my own local VAT Inspector. However there are a couple of additional issues here.
---
Does Linden Lab get to pick and choose the legislation applies to Second Life?
---
Think about it.
When it suits them, they are an American business, based in the US, with servers based in the US, and thus subject only to US legislation. Even to the point of stating in the TOS that they are a California business and therefore any legal challenge to their whims and fancies must be dealt with by a California court.
However, for some reason all that is forgotten when it comes to this latest move. NOW they are subject to EU legislation. Legislation which, depending on which part of the EU you happen to be based in, can add between 15 and 25% to your Second Life costs. Not a trivial amount when you are talking Island fees!
How very odd that they are suddenly, after all this time, required to charge their European customers an extra 15 – 25%. Everyone else includes those fees in the published prices. Is the Lab feeling a squeeze due to recent shifts in the US$/Euro exchange rate? Are Linden Lab's margins really that thin? Of course the new VAT charges will be passed straight on to the 27 different European tax authorities – but haven't they been doing this all along? What changed so suddenly?
Arguably Linden Lab wouldn't be doing this, bearing in mind the huge amount of administration involved, if they weren't absolutely compelled to – by EU legislation. Which as an American business, based in the US, with servers based in the US, and thus subject only to US legislation they aren't, are they?. Unless of course they ARE subject to legislation from outside the US, specifically from outside California. In which case, what's the value of their latest TOS amendment?
Something stinks in my opinion. Because they can't have it both ways. It's either/or. Not 'pick the bits that happen to suit you'.
Then there's this business of 'If you are a business and are reselling, or adding value to our product before providing it to a consumer, you are eligible to provide your EU-issued VAT ID number to be excluded from this assessment.'
Utter rubbish. It's unlawful under EU legislation, as I explained previously.
EU VAT is not some sort of 'buffet' from which you pick the bits that look tasty (the collection of VAT for instance) and reject the bits you don't like the look of (the associated administration requirements for instance, or even, dare I suggest, forwarding the collected tax to the relevant tax collection agencies).
People go to jail, in the EU admittedly, for such things. Though maybe those California courts might take a more relaxed view of such irregularities, seeing as it's not Uncle Sam's tax $ here after all.
Then there's this carrot and stick element. You have to pay us VAT – unless you give us your VAT registration number. Interesting. I wonder where that VAT number will wind up? Could it possibly find its way to that well known collector of snippets of personal information – Integrity-Aristotle?
All that aside though. And that doesn't mean it's trivial. There is another issue which is going to rear it's ugly head.
---
Raise your prices by 15-25%, probably make a loss, and go bust
---
Many in-world businesses in Second life are run by European residents. The huge majority of those will NOT be registered for VAT. Believe me, if you can avoid registering, legally, you do. The threshold income above which a business is legally obliged to register is variable across the EU, but generally pretty high, around the US $ 60,000 mark, and the administration burden is huge – we all avoid it where legally possible.
However, that 15-25% overhead increase has to be met somehow… So, what choice is there? None. You raise your prices by 15-25%, or probably make a loss and go bust, seeing how slim much of Second Life's business profit margins are.
---
Linden Lab has found ANOTHER way to wreck the economy
---
You have to admire their tenacity, nay, their inventiveness. Having failed miserably to understand the damage they caused the economy with the 'casino ban' – something they hinted, but never came right out and said, was caused by US Legislation – now they are pulling this manoeuvre, which will almost certainly have similarly devastating effects, and blaming the requirements of that very same EU legislation they claim to be exempt from!
I'm not going to comment further on that. I don't think it's necessary. The facts speak for themselves. Hang on though, it's going to be a bumpy ride.