by Alphaville Herald on 09/09/07 at 5:44 am
by Katrina Eales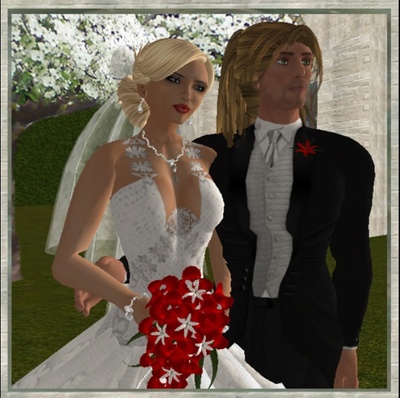 7.05 pm on August 22. Venue: Love Story Weddings. After months of meticulous planning Alleggra Whitfield's big moment had arrived.
She was anxious to step down the aisle and take the hand of her betrothed, Bert Cramer, sealing the promise they had already made to live only for each other throughout their sojourn in Second Life.
Laden with anticipation, nerves stretched taut, Alle was hardly equipped to deal with a crisis but she had a feeling that something had gone terribly wrong.
The wedding was scheduled for 7 pm but there was no sign of celebrant, Alisha Appin, nor Love Story Wedding's official photographer.
Alle could feel panic rising. All the meticulous planning for her SL wedding — the hours spent choosing her dress, writing out the guest list, organising flowers and planning the ceremony had come to nought, it seemed.
As if the anticipation of the long awaited occasion wasn't enough to string her nerves as tightly as a high tuned violin she was now faced with fronting a crowd impatient to see her walk gracefully down the aisle to tell them that her wedding may have to be postponed.
By 7.15 pm she was under real stress, attempting to locate the celebrant and at the same time answer fast coming internal messages.
At that point most brides would have been clawing at their dress. Alle took a deep breath and after a quick word with her beloved, decided that nothing was going to spoil her big day. A frantic search through the SL directory failed to find a celebrant who could attend at short notice so the resolute couple resolved to marry each other.
The guests were directed to their seats in the chapel, Bert took his place at the altar and Alle stepped up to join him. A friend, Staci Merosi, a DJ well rehearsed in public speaking and sitting in the front row was co-opted to perform the ceremony.
All was well until Murphy, that troublesome leprechaun, already well known in Second Life decided to strike a second time and the bride disappeared from the altar while repeating her vows leaving the groom standing with the opportunity to utter some classic one-liners.
She was back five minutes later with a short speech………"When things go wrong there is always something to make up for it. And for me, Bert Cramer, it's you."
Said with style and dignity, neither understated nor overstated, it highlighted the occasion people were there to celebrate, not the trappings that we tend to put so much store on when it comes to our wedding day. Here was a celebration stripped bare highlighting the love of two people who met in Second Life and decided to marry as a seal of their friendship.
---
marrying in second life – but not real life
---
It's hard to say whether Bert and Alle are representative of the typical Second Life couple. Both are convinced that their marriage is no more than an enjoyable progression of their game playing in Second Life. They are not planning to meet in the real world.
"It's a line we do not cross," Bert explained. "Alle is certain she wants to keep this relationship in SL and so am I. Nevertheless, we have a strikingly similar outlook on life – we complete each other's sentences and often have the same thoughts. She has been caring to me emotionally and I have tried to provide both spiritual and material comfort for her."
Bert admits that that he has personal feelings for Alle that bridge the gap between SL and real life but notes that the SL landscape is littered with lost souls who take the game too seriously. Can the playing of a fantasy game like Second Life leak over into reality?
"I think the answer is yes, sure it can. I can't possibly tell tell you how I am going to feel about Alle in SL or RL in a year's time. But I will tell you this – we have been very clear with each other that this is where the relationship stays.
"I am in love with Alle in SL and I am making a committment to her happiness here. It gives me fulfilment and allows me to play with the nurturing side of my soul. It's like a good movie, except that it's interactive."
For Alle, marriage is part of the fun of the game. "It's a celebration of the commitment you have to the game and the friends you make," she says.
"I've always thought that internet relationships which involve more than friendship are pure drama. The easiest way to understand our relationship is that our avatars are in love and the real people in front of the screen just like to talk to each other and share SL experiences."
Not everyone is as matter of fact about Second Life relationships. Queenie Moriarty, a marriage celebrant in both SL and real life says that love is love whether it is virtual or real.
---
love is love whether it is virtual or real
---
"I have come across couples very much in love and I have, for example, married people who are married to each other in RL but live apart, often for career reasons."
Queenie has presided over more than 500 SL marriages and believes that most were "genuine love matches." The bride and groom generally seem concerned for each other – the groom often nervous and sweating, the bride apprehensive. I get the picture when people present themselves to me and are obviously being careful around each other, careful not to interrupt or talk over each other, and laughing at the same (sometimes inane) things and remembering when they first met and what they wore and what they said. That sounds very close to love to me."
Queenie has also married couples who have different spouses in the real world. One woman told her repeatedly that her real life husband must never find out she was getting married in SL, even though the SL marriage seemed to be a love match.
Queenie says she makes no moral judgments. "I have no opinions on what morality means to another person whether in in SL or elsewhere. i used to leave ads for my services outside strip clubs and picked up a lot of business from quick marriages that way with the boys telling me to keep quiet about it."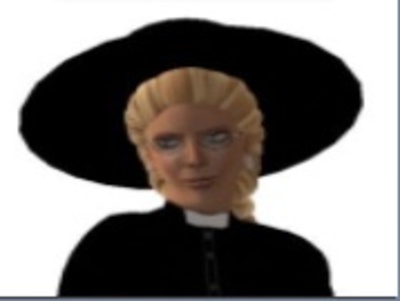 Queenie believes that SL is a separate existence and that the two worlds don't have to meet, much less collide. For example, she is not concerned about the possibility that a man marry a woman in SL who is actually a man in real life.
"In SL we take on a new persona and being committed to a partner here should not impinge on RL. In here we live out another identity and here a man can be a woman and he may be, must surely be, happier in here than he is in RL."
While there may be confusion about which partner is what sex in real life Queenie says she has not witnessed a cross species marriage between a human avatar and and a furry.
"There have been plenty of marriages between humans and vampires, for example, but never across human and fur lines. It must be a line they draw for themselves."
One of the most immediate and striking aspects of marriage in SL is the extravagance of the weddings and Queenie feels strongly that there is a very simple answer.
"They are extravagant because in SL people can afford to be extravagant. "I liken it to the movie, Muriel's Wedding. There is no doubt that marriage in SL can be just as exciting as a real world event. The frock, the planning, the make-up, the reception and writing the guest list can take many hours. The brides get nervous and IM me every 10 minutes about a wedding that is still two weeks away. They get the jitters, change their mind and then change it back again. They decide they are too short, or too tall for their frock and buy a new one for another $1200 lindens."
Strangely enough, in Queenie's experience, most Second Lifers tend to be very much like their real life selves, despite SL being a world where people can look and live almost as they please.
"Some live like rock stars and have children, which is probably what they would be doing in RL if they had the money, but you know, I think most people are very much like they really are," she says.
That is why Queenie loves the marriage game. "It's very exciting because happiness, like love, is contagious."
---
real life spillover
---
For many other people, however, love, sex and marriage in SL is not all gowns, wine and roses. In my short time as a Second Life resident I have encountered several women grappling with the problem of an SL relationship spilling over into their every day lives.
Before Kim discovered Second Life she was a happily married 28 year old with two young children. Then she met her SL partner, Burb, at a nightclub and has since sworn eternal love. She is terrified her real life husband will discover the affair but at the same is flirting with the possibility of packing up her young sons and fleeing her home in Australia to be in the arms of her California lover. The potentially disastrous impact on two young boys is neither a here nor there.
"At the age of seven and five they are young enough to get over it," she says. "It is the potential impact on me that I am concerned about – for example Burb wants children of his own and I am not sure I want another pregnancy."
And then there was the wife of an alcoholic husband who made a plea for help through the SL Catholic Church group. She wanted a priest to confess to.
Finally there is the woman who helped me when I was an SL noob. A church going Anglican in real life she has already had one SL relationship and has now moved on to a second – this time with a man whose avatar is the devil.
That is the nature of romance, love and marriage in Second Life – a mesh of the good, the bad and the downright ugly.
Footnote: The mystery of the missing celebrant at Bert Cramer and Alle's Whitfield's wedding was explained three days after the event. Celebrant Alisha Appin was suddenly called away after her real life father was seriously injured in an industrial accident. Unbeknown to Alisha her back up had failed.
She has since refunded the full cost of the wedding and offered to provide another ceremony and reception free of charge.