by Alphaville Herald on 25/10/07 at 10:11 am
by Jessica Holyoke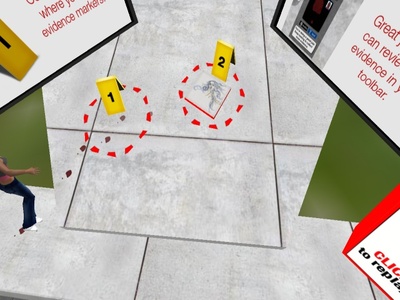 Only in SL can you start with dead hookers, then move up to virtual hookers
I watched the CSI:NY episode "Down the Rabbit Hole". Which if you are in some other form of hole, you would know is part one of the CSI:NY Second Life episodes. Part one aired Wednesday, part two will air in February. Some of the things that made me smile:
Apparently, you can be either gender or something called a "furry." These furries, as they are called, are easily seen as "griefers." Usually armed with paintball guns that cover avatars with paint. If an avatar is hit too many times, they disappear down a hole and they can leave their shoes behind.
If you happen to track down the griefer in real life, you might find him lying dead at his PC, a .45 through the head. (Wait a minute….New York….griefer dead….a handkerchief with PN on it. No, no PN handkerchief)
If you want to change clothing, then you must go into Edit Appearance.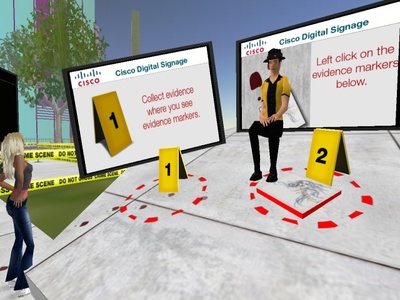 "Calling Cards" are actual cards lying on the ground. But be careful. They might be an invitation…to DOOM.
People have love affairs in SL. Including congressmen. Who knew?
There are gladiatorial arena fights that are required to gain access to certain land. And you can even use the severed head of a defeated avatar to fight off your other combatants.
But you still have a noob walk.
Even if you have all of the coolest weapons.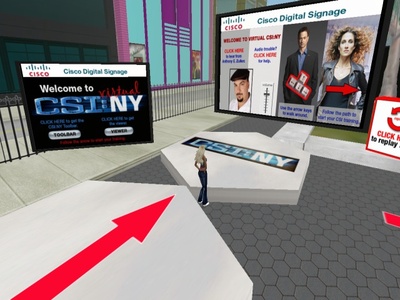 And you never need things like Search.
Overall, Second Life looks a lot cooler on TV then it does on my computer, which may lead to 2 million slightly disappointed users when they first log in.
Looking for new residents to comment, I found many silent PC's. To my thinking, it truly is 1995 all over again. People just saw Sandra Bullock in The Net and now they are too afraid to talk to anyone in this strange new world.
Of course, in true SL fashion, when I went looking for CSI under Search Places, I find as the number two spot, ! Sexy World with skins. shapes, escorts and newbies. Welcome to Second Life CSI fans.