by Alphaville Herald on 31/10/07 at 7:12 pm
by Jimbo Quality
I decided to go Trick or Treating this year. I figured it was a good way to combine running for President with the annual scam for free candy. I could go door to door, meet some people, shake some babies and kiss some hands. And get free candy.
Welfare Island has this awesome thing now though, where if you fill out surveys you get into a special club and if you're in the special club you get massive camping dollars, so I didn't want to spend a lot of time shopping for costumes, even free ones, because let's face it, you get just as much candy for a crappy costume as you do for a good one. Sometimes more, because the people feel sorry that you're wearing such a lame costume and give you extra candy for being a retard.
By the way, if you're looking for a great, lag-free place to fill out your Welfare Island surveys, drop by Great Stuff Cheap in Tangun. Also, if you're looking for a Halloween or Thanksgiving present for the person who has everything, drop by the Herald Office and buy a special limited edition picture of my butt. It's a limited run of 500, and you'd better hurry, there are only 499 left.
Anyhow. I thought I would go as GrayFace, the untextured monster, because at the time, my face hadn't rezzed. Then, just to ruin that plan, my face popped and I had to find a better costume.
I shrugged and dropped trou and went as a noob.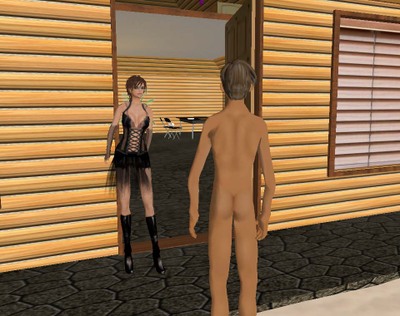 Jimbo's quest for candy continues
I walked over to the little cabin the Herald has rented for hoity-toity photographer Justine Babii. I figured if anyone was giving out full size candy bars it had to be her. Well, Tenshi probably would too but you'd be nervous about eating them.
Now I know that Miss Pixeleen said very loudly many times that I'm not to go near the new photographer because she's from fashion and skittish and probably won't understand me, but I figured that this was different since it's Halloween and all. I rang the bell and she answered.
You: Trick or Treat
Justine Babii: Uh, hi, Jimbo, your clothes aren't rezzed yet.
You: I'm not wearing any, it's my costume, I'm a Noob
Justine Babii: oh, ok
You: So, Trick or Treat?
Justine Babii: Oh! Yes, of course, one second, hold on, I'm sure I have something….
Justine Babii: Oh! Hold it, this is perfect!
Justine Babii gave you (Simone!) Shaun Suit in Blue
You: What's that?
Justine Babii: It's a gorgeous man's suit from Simone! You'll love it, it's from her Fall line and can be worn with….
I started walking when I realized she'd given me clothing and was out of range for the rest of it. I guess she got the point because a second later I got this message.
Justine Babii gave you Grande Taco.
Which was nice, but having already visited twelve Taco Bells to get my free World Series tacos that afternoon, the idea of another one made me a little queasy.
Leaving the yard, I ran into more Second Lifers.
You: Trick or Treat
Scorpio Troglodyte: Put some goddamn pants on, noob.
Xiao Fall: Yeah, yer nakie
And more Second Lifers.
You: Trick or Treat
DusNufus Beck: What? Hey, put some pants on, newbie.
I decided to give up on the costume idea. I put my fine duds back on and went back at it.
You: Trick or Treat
yosaku Kappler: ただそれを言いにきたんですか?
You: Trick or Treat
claudio Rau: flic e floc
You: what the hell is that?
claudio Rau: je parle francais
You: et tu brute?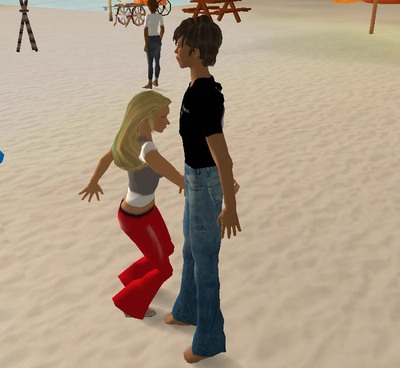 blondecherryade Dreamscape throws a mean virtual punch
I was starting to think that maybe Halloween was a holiday best left in the real world. I gave it one last try.
You: Trick or Treat
blondecherryade Dreamscape: tret
blondecherryade Dreamscape: treat
You: ok, what is it?
blondecherryade Dreamscape: whats wha
You: the treat
You: i say trick or treat and then you give me a treat
You: usually some sugary thing
You: that's how this holiday rolls
blondecherryade Dreamscape: u can lick my foot
You: what kind of treat is that?
You: is it chocolatey at least?
blondecherryade Dreamscape: cheesey
You: i'm guessing you won't have a lot of trick or treaters
I started to walk off and she threw a punch.
You: did you just punch me?
blondecherryade Dreamscape: did it hurt?
Being a gentleman and fully supportive of women's rights, I had to punch her back. We stood there a while, swapping punches, until I got tired of it and told her about all the free goodies at Justine's house she should go look at.
I looked at my watch and saw it was time for Quincy. Well folks, that was my Halloween in Second Life. Vote for Jimbo.