by onder on 13/10/07 at 12:49 pm
a little fish that's grown up in the small pond of SL
by Onder Skall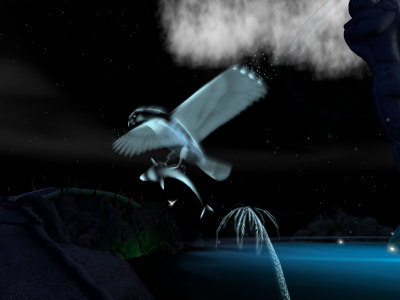 I didn't start out looking for proof that Light Waves was Starax. Originally I just wanted to figure out who was bankrolling Rezzable. They've built 35 sims and have no defined business model. Who is spending tens of thousands of dollars on these vaguely defined art sims? Why are all the employees under contract to not reveal where the funding comes from?
Unfortunately I'm going to have to save the answer to that question for another day. They're trying to keep a client, Surfline, from freaking out over deadlines for a bunch of surfing sims so I'll give them some slack. Along the way, however, it came up several times that Light Waves, the artist behind the Greenies and the celebrated ballerina sculpty, is most definitely Starax.As I explored Hallucinogen (SLurl), a sim filled with stuff Rezzable bought from Light Waves, I thought it would be the right time to talk to him about having left behind his old identity.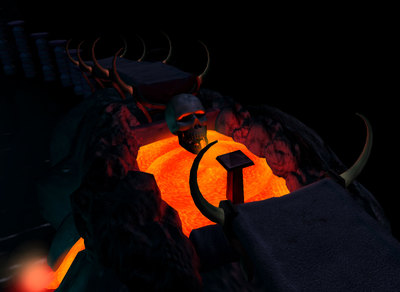 I should preface this by saying that, while I thought I was such a brilliant researcher for working this out, it turns out that Not Possible IRL had the scoop on this in mid-September. Ah well, I guess I'll have to work a little harder to earn my reporter's rumpled raincoat and fedora.
The number one question I had was: why did he leave the Starax name behind? "I dumped Starax for many reasons. I wanted to move on from the wand [...] I became disillusioned with prims for things like "sculptures". Oh, and nobody could remember how spell his last name.

"
Starax's wand is the stuff of legend. One of the most expensive items in Second Life, it listens and responds to almost 150 words, rezzing some of the most incredible interactive sculptures you've ever seen in response. The problem was that as long as the name Starax Statosky was associated with that wand, people would be less inclined to accept permanent installations. Everyone would want to know why they should pay such an exorbitant amount of money for something that doesn't have his "latest" work in it. The wand owned the name, not the other way around.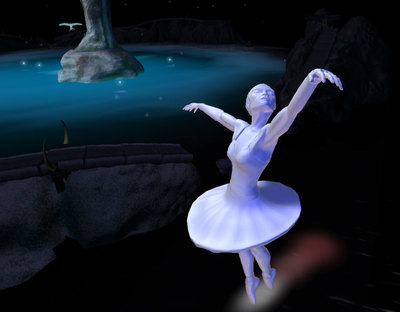 Making sculptures from prims was frustrating too. Starax was known for incredible works of art, all hailed for their detail and subtlety. The trouble was that he couldn't take it to the next level – there's only so much detail you can create with a basic prim set. He had gone to the edge of what could be done in Second Life, and was frustrated when he couldn't go any further.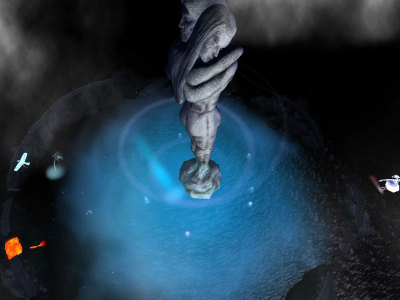 So he left… for a few months. "I didn't really take that long of a break. After a few months Iwas soon back to building. But this time I decided to make stuff thatwas more suitable to prims, and so the Greenies were born… and nowthat we've got sculpties I'm enjoying making "sculptures" again."
These days he uses Mudbox, Cinema 4D and Maya to design and implement his Second Life creations, but he wasn't always the notorious artist we know today. "I do SL for a living now. But I was a office worker before SL anddidn't create a damn thing. If you had seen my first model that I madein SL, you'd laugh. I was bloody awful."
So who does he look to for inspiration? Nobody, apparently. In fact, he's careful not to follow others too closely at all: "I don't really have any influences. I'm deliberately ignorant to otherart because I worry I'll block myself off through fear of copyingsomebody else's stuff."
Having said that, I did manage to get him to show me some pictures of what he would build if he had a full 4 sims available to construct a single piece of art in. He directed me to images of the Himalayan mountain range, and of Angel Falls (the world's highest waterfall). Seeing these images really makes one appreciate what he's doing here: bringing a new reality into the virtual world. Even so, Light Waves doesn't see anything he has accomplished so far as all that impressive:
"I'm fully aware that Second Life is very limited and that anything Icreate is nothing compared to the what the big fish create in the vastocean of 3D modeling. I'm just a little fish that's grown up in thesmall pond of SL and is afraid to venture out. I never think ofanything I do as an 'achievement'."