by Alphaville Herald on 16/10/07 at 11:30 pm
Mighty morphin without space bucks
by Nikola Shirakawa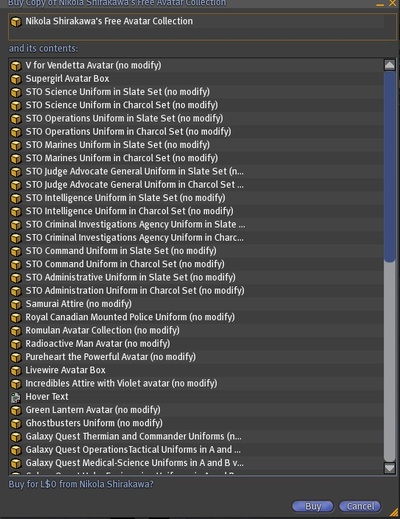 Popular books and films naturally create fanboys and fangirls, and these subcultures have taken to heart the Second Life mantra – your world, your imagination. How can we improve Second Life for these players? We need to nurture true fandom.
The fanboy title is all-encompassing, whether it is the gadget producing Stargate fans, the role-playing Starfleet Command, to the anti-griefing Justice League Unlimited and their rivals, the anime-loving Patriotic Nigras. Open up your friends list. I'd be willing to bet dollars to doughnuts that, providing you've been on for more than a week, at least fifty-percent who could be considered a major fan of a work of art in some way.
Some on Second Life even go so far as to build entire sims around their fandom. Look at the well-built Gotham City or Wizard's Alley. Why have those places have spread like wildfire? They are free and open to everyone. It doesn't matter whether you have voice or not, whether you derive your income from stipends or camping, everyone gets a chance to indulge in their fandom, without being drained financially to do it.
Very few of us started out with pocketfuls of L$ space bucks The first two weeks of a good many avatar's second lives are spent on camping chairs just to buy basic clothes for their fandom. Sadly, a good number of people obviously get bored of this, and quit long before they get a chance to get into it.
The Free Fandom Project was established with this problem in mind. Our goal is simple. We want to provide everything you need to indulge in your fandom, whether it is props, avatars, or what, not to make a few L$s, but for the love of the media – and the role play. Our goal is to provide as full an assortment of fan-based products as possible, help others in creating their own, and honing our own crafts in the process.
---
Why be Free?
---
The truth is, we have no right to make money off of the products. Just because we put a lot of work into them doesn't mean we acquire copyright – we are still bound by copyright law. If the companies like DC or Marvel, or Warner Bros, want to, they might shut it down. But the record does show that these same companies aren't going to go out of their way to alienate their fan base. Provided we aren't making profit, most of the holders are more than happy to let us play pretend.
Our goal is just to bring free, high quality products to the fans who want them. For every noob that quits before raising money for their fandom, we may have lost a creative mind. They could have become one of the greatest role-players, or scripters that the grid has seen. The danger is that due to the frustration of having to sit on their computer and stare at their screen for days on end just to buy a decent hairdo, a great mind could be lost. But if they get that hair for free, that time can be spent working on their own products. One person makes a good Supergirl. For three girls that are big fans, they now have the time to devote to working on separate X-Men Avatars. Soon, everyone has time to make the perfect avatars, everyone is indulging in nothing but the best quality of fandom and the grid is a much less ugly place, to say the least.
---
A message for the player haters
---
I imagine there are many of you that will hate this project. The thought of giving away for free what you are trying to sell is usually scary for a lot of people. But we will be doing high-quality, not perfect. Just because we are putting out good products doesn't mean you won't be able to do one better. The noobians will have great looking products that work for everything they want to do, and the moneymakers will be inspired to refine and perfect, leading to a rise in quality across the grid.
---
Join The Free Fandom Project
---
We are open enrollment. Anyone can join and find out what the latest events and projects we're working on are. There are special roles with more privileges, however. The first is a special tag for Patrons of the project. The fact is, uploading does cost money, and occasionally getting a little bit of a kick-back doesn't hurt matters any. For people that might not have talent for creation, but want to help out anyway, that's the way to do it.
For the creators, there is a special role that identifies them as the artists they are. With this role comes the ability to post notices and news about projects, as well as receive an equal portion of any donated Lindens. Of course, this role is not open to just anyone. Despite having a great drive and ambition, many people are just not ready to do custom content yet. We focus on a certain level of quality, so items such as the majority of avatars designed with no custom texturing or prims are simply not good enough. Not to say those people aren't welcome. Other Artists will be more than happy to help you refine your skill, until you are ready to step up to that rank.
Look up the group "The Free Fandom Project" in your search menu, or IM me in world for an invite, and a collection of the products already available. All fans from all walks of life are welcome.