by Alphaville Herald on 29/10/07 at 9:00 am
So what do men want?
by Aurel Miles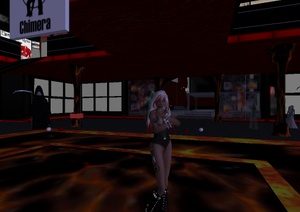 According to an article in the February 2001 Journal of Sex Research, 78 per cent of heterosexual men's sexual fantasies involve a person who has never been their sexual partner. That seemingly high number does not mean men don't fantasize about their partners, that is in addition to their partner-fantasies and any others.
What that number does not tell you however, is how many of those fantasies would be classified by most people as homosexual. The archives of sexual behavior published in the Netherlands in 2005 found a significantly higher incidence of homosexual fantasies reported by heterosexual men who participated in surveys where their identity could not be discovered than it did in surveys where the respondent was identified.
What am I getting at with this, you might ask?
SL is a realm of fantasy. As we hear over and over again, in flatland you can be anyone you want, do anything you want and never have to worry about getting caught, hurt or ridiculed. But still, the percentage of gay male avatars in SL remains relatively small.
To find out why, I spent some time in the SL shemale community – who better to ask than the people who refuse to choose-up sides?
For years, my gay male friends have been telling me men give better oral sex than women. They say this with a smile, pat me on the head and pour the coffee as though there was nothing I could do to change it and I really shouldn't let it worry me. As a woman who frequently (though not always) chooses men as romantic partners, this is frustrating. They also tell me most, if not all men, fantasize about having an encounter with another man. We've all heard about the latest sexual hot-spot, the prostate. Well, just like the female g-spot the male equivalent cannot be reached from the outside. All that whining you hear about the annual bend-over and cough exam may be just a lot of smoke and mirrors disguising the fact that they would like to play doctor at home. If you want concrete proof, have a look at the sales figures of penetration toys for men. There is a very real male desire for penetration that most groups of men have assured me is almost universal.
So what do men want? And why is SL so devoid of bathhouses in comparison to the many, many orgy gardens and lesbian sex sims? Pretty simple really, there are two reasons; first, they're scared. Men are so scared of being considered as anything but the manliest man you know that even when they can bed down with the man of their fantasies in complete anonymity – most won't. They're even scared they won't think of themselves as manly men anymore and they're also scared that they'll like it enough to switch teams. Reason number two is even more basic than that, men like breasts. Which brings us back to SL Shemales.
Jacks Hammerer, the owner of Shemale Heaven and Hell (Shemale H&H, in the Search window) says, "It's the best of both worlds isn't it? Most straight men love women's bodies but they would also love to have a penis to play with and they don't admit it but most of them long to be penetrated." There is a certain logic to that, a girl who has a penis is unlikely to feel anxious or offended at anything you might want to do to her with your penis. Members of Shemale Haven reaffirm this idea, according to them, all men are kinky (and according to them, most women are not – which raised my eyebrows but more on that another day…) Following this logic it stands to reason, there's nobody better to play out your kinks with than another man. Just the same, Jacks has seen avatars come into the club, mumble a few compliments, look around for a nervous moment or two and then get scared and run. Even here in Sl, completely unidentified and unidentifiable, some are so frightened of being seen as freaks they just can't bear it.
At Shemale Haven, I heard another explanation. Men in SL see beautiful women getting a lot of attention and they want attention too. The best way to get attention in SL is to be a beautiful woman. The clothes are better, (they say) the hair is better, the jewelry is way better and there are a hundred more choices and more ways to combine them for SL women than there are for SL men. And since high heels won't keep you from climbing mountains, racing sailboats or dancing all night – why not?
During the research for this story I was told one thing over and over again; men want a lot of sex. They want more sex than most women do, and they want their gear to be included in it, not left in a harness and dropped to the floor halfway through the party. The best way to maximize your chances of getting sex, I'm told, without having to pretend to be a lesbian is to be a chick with a dick. (There are plenty of men who do choose to be lesbian or bisexual avatars in flatland but their stories have been covered in some detail in prior columns). The shemales I met also told me they felt they could explore what it means to be a woman better through their body having the outward appearance of femininity than they could in any other way in real life (or SL.)
For submissive SL shemales there is also the fact that the combination of two negatives in our culture actually does add up to a practical positive in this case. People accept female sexual submission more readily than they do male submission. People tend to treat what they fear with contempt. Put the two together and you have a situation where it is very easy for a submissive shemale to find a sexually potent partner who will play games of dominance and humiliation with the "girl" as the focus of the action.
The list goes on and on. Another good reason to play as a shemale is that it gives a man the opportunity to find new techniques that can enhance his RL sexual experience. I found one couple that used his shemale avatar as a means of improving their sex lives together. She watched while he performed orally on another man. What a man does is what a man likes. So now this particular woman has seen the exact stroke and pressure that her mate fantasizes about, she's had a tutorial in how to use the equipment to its exact specifications – what could be bad about that? Everybody wins. This is a technique that could also be used by women who have male partners who maybe aren't so great at dealing with the subtleties of a woman's anatomy. Talking about sex is difficult for a lot of people. Sometimes it is easier to show than tell. And if mainstream porn is anything to judge by, the showing could be part of your new and improved sex life all by itself.
Many SL shemales would like to play out their dressing-up fantasies in RL. What prevents them from doing this is the shame heaped on them by a remarkably intolerant society (much worse in North America than elsewhere – or so I was repeatedly told). Most, believe it or not, are heterosexual men, many in committed relationships, who simply want to indulge a surprisingly common fantasy without feeling like a freak or upsetting the Missus. (or having their kink used as a weapon against them in domestic squabbles.)
[Let me take a moment to say a word for mental health here. Psychiatrists and sex columnists everywhere agree on this one. Turning a consensual experiment into fuel for shaming your partner when you are feeling vindictive is beyond sadistic and should be considered seriously abusive. If your partner ever does this to you – leave. Someone who will use your consensual, mutual exploration in your sex life as a couple against you in an outside arena or even in a contained argument, can not be trusted. It will not get any better and it could easily get much, much worse. If you ever feel tempted to do this to your partner, don't. And if you feel strongly tempted to use a person's most intimate trust in you as a weapon, then see a counselor, there is something seriously wrong in your emotional architecture. You need help and you need it now.]
The widely expressed view that male attraction to shemales is freakish is, I discovered, completely off base. In SL. It may be widely expressed but even in RL, it is also completely contradictory to the any clinical evidence. The majority of shemales and shemale admirers in flatland are simply men who really like sex.
So what's a girl to do? Having heard all the descriptions of ultra-hot sex between shemales I wanted to know how a woman could ever hope to satisfy her male partner – after all, you can't buy a penis at the mall in the round world the way you can in Flatland.
The shemales I spoke to all gave me the same answer. Men want to explore their fantasies. They want their sex lives to be exciting and they don't want to have to be the ones who are always coming up with the spicy stuff.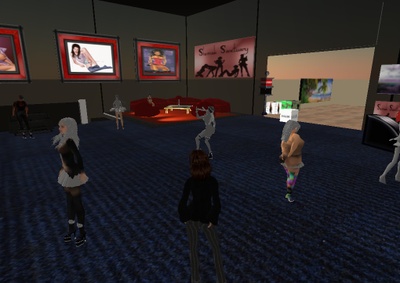 exploring fantasies and gray textures
Men, more than women, have fantasies about being dominated by a really hot woman who knows what she wants. Most straight men really do want to be with a woman but, if the academic research and the men of SL are to be believed, most want to step outside the narrow definitions of masculinity our society has created for them. Breaking a taboo is powerfully arousing for a man. Jackshammer told me a secret, for any man, the woman of his dreams is a woman who is willing to let him be a whole person and that includes sex.
If you are in a relationship with a straight man and you want to unlock his intimacy level start looking beyond the obvious. Talk about your fantasies and start encouraging him to tell you his. No laughing, remember, he is more frightened of this than you are. Open up your own box of secrets and once you've started the process, take him with you, Start walking into his shadowy places, that's where he hides the desires that drive him – nothing scary about a chick with a dick, after all you have breasts of your own, right? Breasts are easy, fear is hard. That SL shemale you think is so freaky is just an amalgam of desire. She is not a threat. She won't bite you, unless you're into that, and if the statistics are to be believed, she very well might be sleeping in the RL bed right next to you.