by Alphaville Herald on 30/10/07 at 11:23 am
Metaverse shark jumping is the latest television craze
by Jessica Holyoke
Even if you don't watch CSI:NY, you might have known about their episode dealing with Second Life last week. But you might have missed another television show that went onto the Grid.
The Office, the NBC American Version, also visited the Grid last week. The promotions heavily featured Rainn Wilson's character, Dwight, going into Second Life as his Second Life avatar, Dwight Shelford. Dwight's avatar Dwight looks like Dwight and has the same job as Dwight, Assistant to the Regional Manager, although if you follow the show, its not Assistant Regional Manager. Dwight's Dwight avatar likes to fly around Second Life, which the Director showed twice during the episode. The only other thing Dwight does in Second Life is market his Second Second Life for avatars that are tired of their first Second Life.
The office opponent Jim, played by John Krasinski, decides to follow Dwight's avatar Dwight into Second Life after this exhange: Dwight: "This is Second Life…there are no points, no winners or losers." Jim: "Oh, there are losers." Jim decides to make an avatar as well, named Jim Samtanko. Jim's avatar Jim plays guitar and is a Philadelphia sportswriter, which is not Jim in his real life.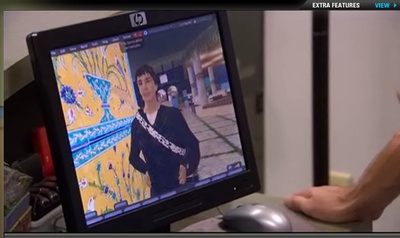 And that's why this use of Second Life is interesting. While CSI:NY's use of SL was more integral to the show, and there were idealized islands and mysteries to solve that took the viewer to places in SL that don't exist, the Office used SL the way residents use and experience it. The producers of The Office didn't augment Second Life, making it look like World of Warcraft or a more advanced graphics program that doesn't have lag, they used it as they found it.
More importantly, the conflict between Dwight and Jim is also a conflict between the augmentists and the immersionists, those who see SL as a way to augment who they are in RL, the flying and the businesses that Dwight did, and those who see SL as a way to be who they aren't in RL, or the chance to be the sportswriter they want to be instead of the paper salesman that they are, as Jim did. Dwight could have been Assistant Regional Manager, but instead hued to who he was, Assistant to the Regional Manager. The way both characters used Second Life moved their story along. The viewer knows more about Dwight and Jim based on how they used Second Life. Also notice how the cool person, Jim, is an immersionist and Dwight's cold, socially awkward, serial killer-esque persona is the augmentist.
Yes, CSI:NY has done more to bring people into Second Life, the hundreds and hundreds of them [but how many will stay? - the Editrix]. But The Office showed more about what Second Life truly is as a B storyline than the CSI:NY people did as their A storyline.