by Alphaville Herald on 27/11/07 at 11:12 pm
Prim Time with Keiko Ketsugo Premieres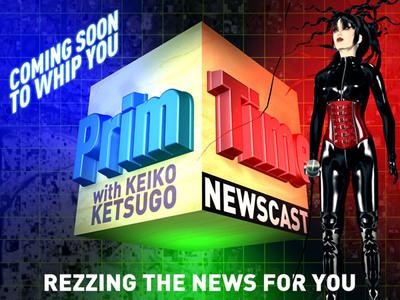 Oriental Express, Second Life (194, 235, 24) November 27, 2007: Want the latest news in the virtual world of Second Life – Raw, naked and bound – with whip marks? Step into Castle Prim for the premiere of "Prim* Time" anchored by Keiko Ketsugo which captures (literally) top Second Life correspondents, analysts and guests for a complete domination of current events. The program combines traditional journalism with the latest dominatrix tools, making the entire process of news gathering more threatening and placing the cutting edge news and information at the tip of Keiko Ketsugo's whip. For a video preview go to www.primtime.info.
Keiko Ketsugo is anchor of Prim Time and has won numerous awards including the 2006 Journalist Pillar of Torture Award from the News Kneeling and Begging Alliance and the 2007 Mistress Award from the Virtual Press Doms Association. Ketsugo is the author of two books, Between Pain and Pleasure: A News Enslavement Notebook (Cuff University Press) and Chaining the Lies to Crosses and Whipping Them to Death (Harsher and Raw).
Primtime.info is among the world's leaders in Second Life news and information delivery. Staffed 24 hours, seven days a week by a cowed and submissive staff in Prim Time World headquarters at Castle Prim (Freeze – Oriental Express, Second Life (194, 235, 24) and in bureaus across the grid, Primtime.info relies heavily on its inworld team of almost 4000 news professionals (give or take 3,998.) in partnership with Subrealism.org and sousrealisme.org. For more information contact Keiko Ketsugo at keiko@primtime.info or go to www.primtime.info.
Second Life is a 3-D virtual world entirely created by its Residents. Since opening to the public in 2003, it was grown explosively and today is inhabited by millions of Residents from around the globe.
*Prim is short for primitive a 3D object in Second life.