by Alphaville Herald on 17/11/07 at 1:43 pm
Official SL Herald comment policy – a look at the backoffice
by Jimbo Quality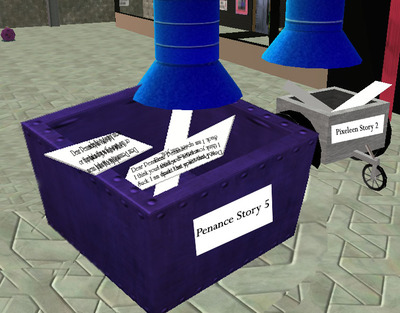 Readers' comments travel through the tubes and are carefully sorted
A while ago I 'splained how comments here work. In case you missed it, here's a recap.
You people write them, then they go thru teh internets, then they get jumbled up and put through our comment thing, then they plop out here at the Herald Office. I know, because I catch them.
Well, not me. I have buckets. Miss Pixeleen says I'm not to touch the comments themselves.
Sometimes Miss Pixeleen says "Jimbo, get the big bucket" then we know it's a story that's gonna get a lot of comments and everyone stands around while I go to the cellar and get a big bucket. Then they stand around and watch the comments come pouring in. If it's a really big story she tells me to get a vat. We go all the way up to oil barge when there's a story about furry people having sex coming through the pipes.
For a while, it was looking like I might need to go live someplace else because no matter how hard I tried to hide, Miss Pixeleen would find me and tell me to go get a big bucket for some dumb story or another. Between furry stories, ageplay and anything by Tenshi, I was breaking my back hauling the comments around.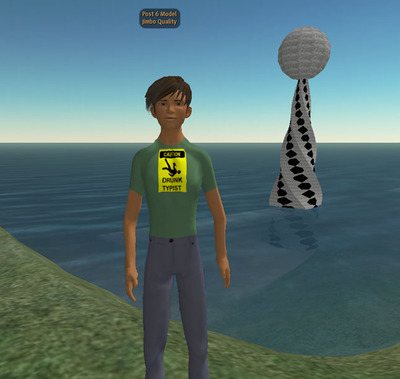 Jimbo Quality – professional comment container schlepper
Things calmed down, which was good. I do have a busy camping chair routine AND a presidential campaign to run, after all.
Then, a couple weeks ago, Miss Penance the nice purple cat lady, came to the offices and the comment thingy went batshit. You should have seen it; it took me, my invisible friend Jeebus and the godammed office parakeet sixteen straight hours of bucket duty to keep up with all the comments. I don't know what she did or how many times she did it but I thought it was going to kill us.
Then, one day, I fell asleep and when I woke up I looked and all her buckets were empty. The other articles were full, the thingy seemed to be working right, just hers were gone. I told Jeebus I was going to hide and he should ask Miss Pixeleen what was going on. I figured I'd broken something. "Help me Jeebus," I said.
"Not now, Jimbo," Miss Pixeleen said as she stormed through the office, and I knew it was gonna be ok, at least for me, because she didn't even kick me, or Jeebus, when she went by.
Curious, bored and underemployed, me, Jeebus and the bird hid and watched. We heard the comment thingy rumble and a whole bunch of comments came in and plopped into Miss Penance's super-size bucket. Then poof, they disappeared. I looked at Jeebus and Jeebus looked at me. We both looked at the bird, who shrugged, feigning indifference.
"She's deleting them, you moron," called Miss Pixeleen from the other room.
Now, the series of events that happened after that is a little unclear, but here's the best I can figure.
The Herald Office, in addition to my invisible friend Jeebus, has several spirits that hang around. As near as I can figure, the news that someone at the Herald was deleting comments was so shocking that either the ghost of Miss Murphy or of Mr. Prok stepped on Tenshi Vielle's foot, because she got hopping around and bounced into Miss Justine, who spilled coffee on the bird, who flew like a pissed-off-supersonic feather-covered bullet right into my gaping pie hole. Yes, Jeebus saved me, with help of Dr. Heimlich. Tasted like chicken.
Needless to say, we were all a little shocked by the whole thing, 'specially the bird.
At this point I should admit that I've got a longstanding case of comment envy. I schlep buckets and barrels and industrial vats around the office to catch all the comments people get. Meanwhile, they gave me a dixie cup with my name on it for my comments. My last article got ten. The one before that got two. I've framed them all, even the comments I wrote.
So here's the deal. Give me your comments. I'll treasure them. Some suggestions, in case you're stuck.
---
Jimbo-
You're the funniest Herald writer since Prokofy Neva.
Love,
Mooty
---
Jimbo-
Last night was incredible!
Love,
Callie
---
Yo Jimbo!
That raise you've wanted is yours.
Love,
Uri
---
Hey Jimbo!
You've always got a friend in me.
Love,
Jeebus
---
Hey Jimbo!
Vote for You,
Love,
Jimbo
---