by Alphaville Herald on 30/11/07 at 12:23 am
Fashion-forward babyfurs love loose, kicky dresses, holiday highlights!
[the Herald's babyfur week continues with a look at the babyfur fashion scene]
by Pixeleen Mistral, fake fur fashionista

In-world security can look great
The Holidays are just around the corner – what a perfect excuse to spend a little me-time shopping to dress-for-SL-success! Just look at these young and restless babyfurs, modeling the latest looks in fun and funky virtual fashions.
Petite wardrobes can be a challenge in SL, especially when you factor in the hooves, ears, paws, pacifiers, and furry fluff that defines the basic babyfur avatar – so looking stunning can be a real challenge.
But this challenge is one that Relena Resistance breezes through modeling two outfits – a white blouse and red skirt, and a red blouse and white polkadot skirt. Just the thing for the babyfur security officer on watch. While checking to see if I was really a reporter, Relena and I chatted about keeping the cubs safe and today's "take a babyfur to lunch" event. To keep the troublemakers away, Relena has eject and ban powers for the Cub Conclave sim, so its important to project a businesslike, yet feminine image.
Relena's friend Amber Sleeper is a DJ specializing in 80s music, and she shows off a cute santa claws inspired outfit.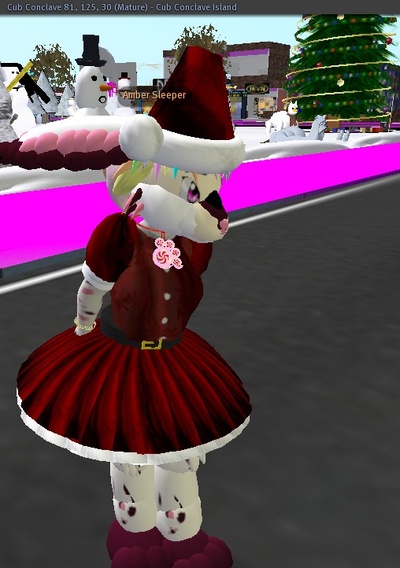 Amber Sleeper knows if you have been naughty or nice – the perfect DJ
Finally, Meek Aeon color coordinates her blue hair and eyes with a perfect blue and pink polkadot dress.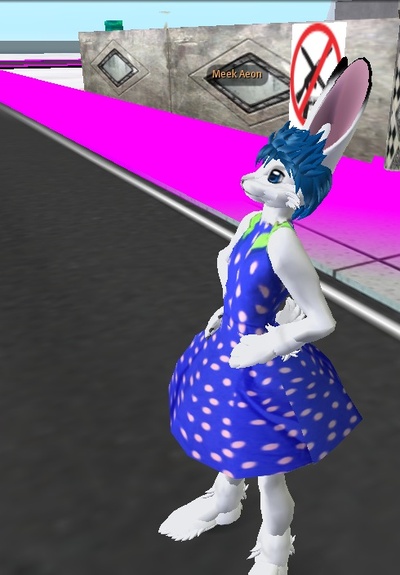 Meek Aeon in a sultry blue mood
These three babyfurs show that diapers are really not necessary for a perfect babyfur look – a confident attitude, and some style sense is all you really need! Amber Sleeper promised to play one of my requests the next time she is DJing – does SL get any better than virtual fashionistas dancing to White Zombie?