by Alphaville Herald on 05/12/07 at 5:09 am
Don't Spit the Bit. 4000 ponygirls/boys can't be wrong!
By Urizenus Sklar, at the equestrian sports desk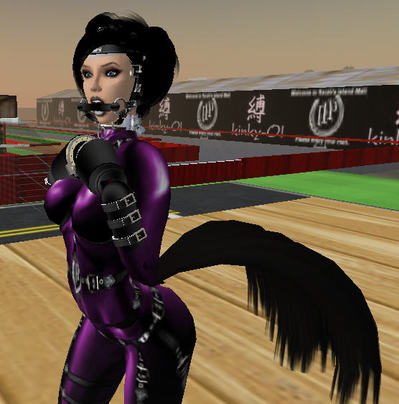 In this Herald Instant Classic ™, Uri talks to two leading Second Life ponygirl/ponyboy stable owners (PonygirlSarah Clapper and Alicia Delphin) and discusses the whole ponygirl fetish – what it is, why people are into it, and exactly how large is it anyway. Are there really 4000 Second Lifers into the pony scene? Only the Lindens know for sure. But more pressing is the ponygirl trainer shortage; is it reaching crisis proportions?
Urizenus: Let's start from the top. What are ponygirls?
PonygirlSarah Clapper: ponygirls and ponyboys are submissive who like to roleplay the part of ponies in bondage and fetish scenes. There are also roles of trainers, grooms, and handlers for the dominant set of participants. The history can be traced back to ancient Egypt in some accounts, but the modern play has been defined around the 1960′s. With SL, however, it allows for a more inclusive play. RL pony play is very expensive. some people spend upwards of $4000 US for track and other items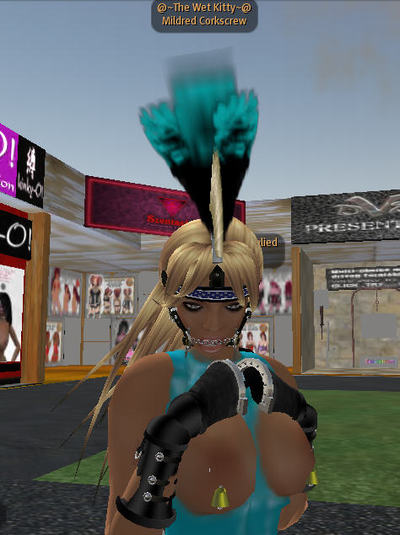 Urizenus: Do a lot or people spend that much irl?
PonygirlSarah Clapper: it varies by the level of involvement the couple or individual wants to spend. The most basic items like a bit and tail plug are not that expensive. On the other end of the spectrum, there are whole pony costumes that some have purchased.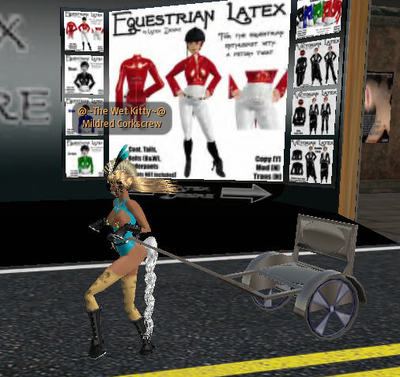 Urizenus: Do you have a link to a website for rl pony play?
PonygirlSarah Clapper: there are a few active groups. Sir Jeff's Ponygirls is a story and fiction site, that also includes some video and RL pictures. There are also some porn sites, that try to portray ponygirls at play, but the most common and referenced work is the pony play magAzine Equus Eroticus.
Urizenus: So what do you think is going on with this fetish? Why do people enjoy being ponies?
PonygirlSarah Clapper: as for why is it taking off, esp on SL, is because it is something new for a lot of people. before SL, to get into pony play, one almost had to know someone into the aspects of the scene, to get the equipment. Now, with SL, more people can experiment, try it virtually, and see if they like it.
Urizenus: well *why* do they like it?
PonygirlSarah Clapper: oh Sil? here girl
Urizenus:


PonygirlSarah Clapper: This is one of our ponygirls, Silvena. And just so you know, sil is wearing one of the more conservative pony outfits on SL…there have been a wide variation on here, from full nude, to fully enclosed ponygirls. As you can also see on the artwork around the grandstands here, there is a sense of eroticism here, to having a girl behaving like a pony, under the control of another.
Urizenus: Do you consider this a subset of BDSM?
PonygirlSarah Clapper: It is. BDSM includes a lot of different subsets to be found both RL and in SL. Here on my islands, we have no less than 5 different cultures, from the ponies, to puppies, bimbos, human furniture, and auctions
Urizenus: puppies?
PonygirlSarah Clapper: yes. thanks to some inventive creators, we have the ability to make human puppies. and Sil has the outfits to show off both
PonygirlSarah Clapper: the mall here, has both vendors for ponies and puppies, as well as a host of other items for sale.
Urizenus: and bimbos?
PonygirlSarah Clapper: bimbos can be broken down into the sex dolls and the general slaves here
Urizenus: you mean like inflatable sex dolls?
PonygirlSarah Clapper: exactly
Urizenus: I was wondering about those
Urizenus: What do you say to critics who say that all this is degrading to women or whoever the subs are?
PonygirlSarah Clapper: well, the arguments are wide and varied, but my basic comment is don't knock it till you try it. I also think that those who say it is degrading to women, all the ponies here have volunteered for the role, and all of them like it.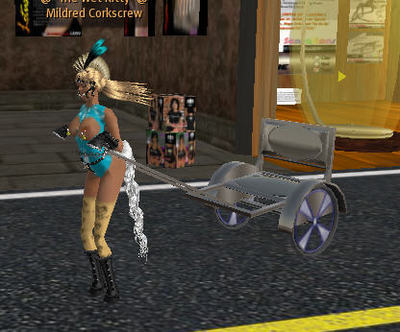 Urizenus: I'm sure the ponies wouldn't do it unless they enjoyed it, but that doesn't mean it isn't degrading, no?
PonygirlSarah Clapper: in the broad, wide brush that they use to call this degrading, they can include a lot of things. for myself personally, I find it to be a great way to relax, and enjoy a good roleplay, both here and in RL.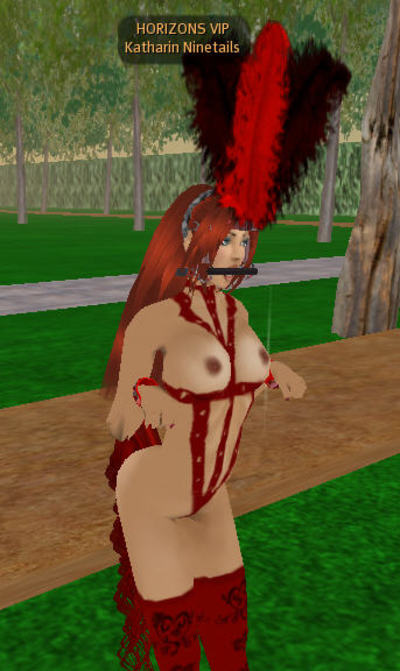 Urizenus: Well lets look at the other side. Some will say that whatever the subs may feel, it isn't good to fuel the doms in this fetish.
PonygirlSarah Clapper: the whole aspect here, is a deep sense of trust, respect, and above all, care of the partner. To have it said that no one involved in any aspect of the Ds or BDSM lifestyle doesn't care for their partner, is total bull cookies. Personally, I have seen the not so caring dominants here on SL, and the pretenders, and will take the heat for correcting them. In the Real world, I have had the privlage of knowing quite a few who have been involved in one aspect of Ds or BDSM, and without exception, the people you meet have cared more for the sub sometimes, than they have for themselves.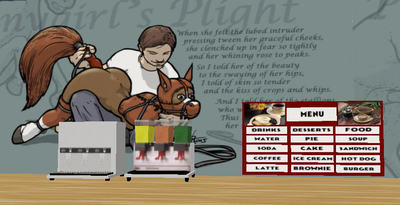 Refreshment stand at the ponygirl race track
Urizenus: How many people in SL do you think are into the ponyplay scene?
PonygirlSarah Clapper: by my counts, and this is just what I've seen here, there are probably close to 4,000 ponygirls and ponyboys. some of the vendors will probably call it higher than that.
Urizenus: 4000!!!???
PonygirlSarah Clapper: thats just by my rough count
Urizenus: Are people coming to SL specifically for pony play?
PonygirlSarah Clapper: people are coming to SL, for all sorts of reasons. personally, i came on to get my ponyplay in my life, and ended up building (in my opinion) one of the best ponygirl sites
Urizenus: How many pony stables do you think are here in SL?
PonygirlSarah Clapper: well, the established ones, are mine, FFF, and Alikat to name the top 3. There are a bunch of smaller ones I haven't seen yet, as well.
Shard Soyinka: Broceliande, Black Rose….Brandy's Isle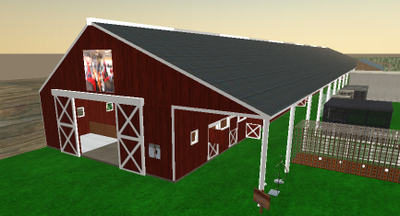 PonygirlSarah Clapper: I'm bringing in Alicia Delphin, who runs Alikat stables
Urizenus: Hi Alicia
Alicia Delphin: hello
PonygirlSarah Clapper: Alicia has been one of my closest friends on SL, and has been a great builder of pony skins and play items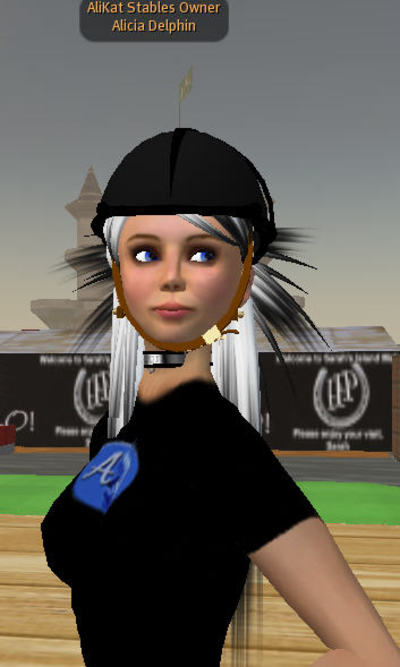 Alicia Delphin
Urizenus: I was just interviewing Sarah about the ponygirl scene for the SL Herald. Sarah thinks there may be as many as 4000 people into the scene here in SL. Do you concur?
Alicia Delphin: The pony scene is certainly very large. I would probably agree that 10% of the online residents have visited or participate in pony play. many just to learn what it is about…some because they can't in real life. We offer a different experience from the traditional slave environment. ponies are very emotional and spirited compared to true subs
Urizenus: Interesting difference
Alicia Delphin: It is. many of my girls don't want to be mindless robots or sex toys, so they come to me to be restrained and cared for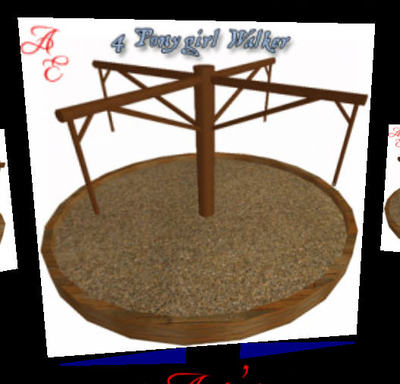 Urizenus: And you agree that the scene is growing here?
Alicia Delphin: Very much so. Sadly the ponies are increasing faster than the trainers.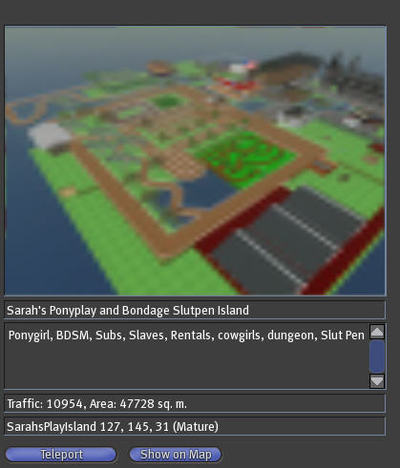 Urizenus: what's the ratio of ponies to trainers now?
Alicia Delphin: easily 400:1 or so, of those, [the ratio is] maybe 800:1 or so [if we limit it to] what I consider good trainers
PonygirlSarah Clapper: i know here on my island, the ratio of ponies to trainers here is about 1 trainer to 40 ponies. depending on the skill of the trainer, that number can increase rapidly
Alicia Delphin: SL is sadly full of "I put the title mistress over my head so I am all knowing"
PonygirlSarah Clapper nods in agreement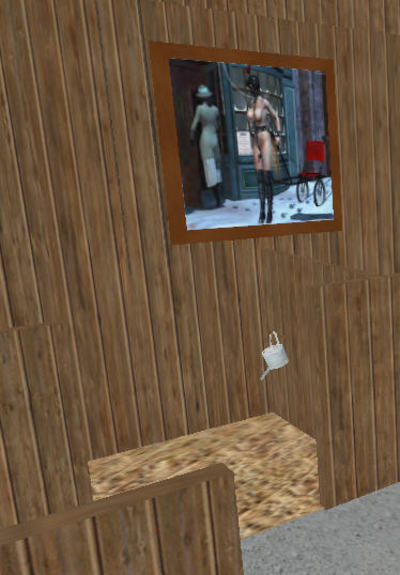 Urizenus: so there is a shortage of good doms? or just good horse trainers
Alicia Delphin: both
PonygirlSarah Clapper: one of the experiences I've seen here, has been people claiming ot be dominant, but when you try to pin them down, and ask pointed questions, it becomes apparent they don't know what they're doing
Alicia Delphin: in real life i run a munch, have modeled for fetish events for 2 decades, 12 years of pony training, 3 ponies on EE covers. Here however i get challenged that I know nothing of pony play
PonygirlSarah Clapper: similarly, RL i am a story writer for Sir Jeff's site, have been a pony for 6 years, 2 showings at Fetishcon in Tampa
Alicia Delphin: its quite comical to hear a 19 year old girl telling me that i should listen since she has 2 yrs of play experience, most of it in SL.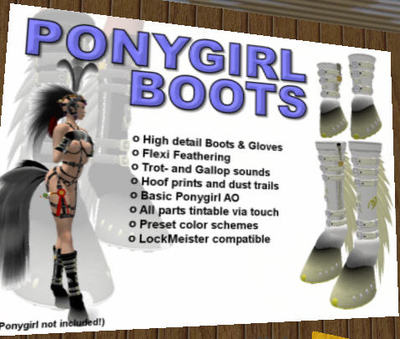 Urizenus: Does your real life experience with pony play translate into SL? if you are better in RL are you better here?
Alicia Delphin: i train here as I do in RL.
Urizenus: But is it a similar experience?
PonygirlSarah Clapper: it depends, really, on the training. Most of the equipment here can handle the movements in a good fashion, so here it is more behavioral and learning the SL environment, at least as i have seen. but RL experience does allow the stable owners to design better courses than those without the experience.
Alicia Delphin: can't say if I am better than others. I can only go with the praise i get from the 18 ponies I have stabled at my place, and the 5-10 a week who pay me to train them…despite other stables who train for free. My goal was to make a location where ponies could come play and partners could play safely and discreetly. to offer a place where BDSM could be put into its truest light, away from the stereotypes and misconceptions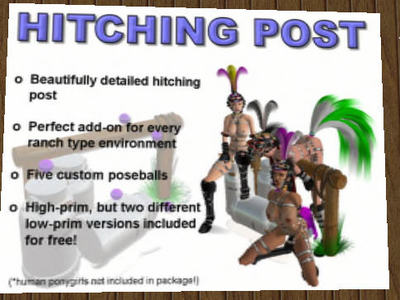 Urizenus: What do people pay you to be trained?
Alicia Delphin: strictly paid in $L. They pay me about $75-100L per lesson plus a stall rental. I treat it as I do my RL stable as well.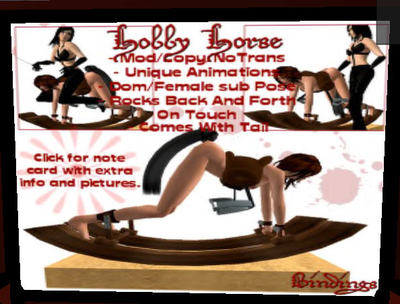 Urizenus: Any last thoughts before we finish?
PonygirlSarah Clapper: similar to Alicia, I wanted to get a place together that could accommodate the growing population of SL pony players, and offer a facility to race and train at. And while Alikat and my stable differ in the layouts, we both have the same goal of helping those wishing to train, to be comfortable in their surroundings.
Alicia Delphin: We offer people a chance to explore themselves…I have teachers, physicists, grocery clerks, politicians…all seeking a little better understanding of their inner workings. They are not freaks or weirdos, but everyday people. SL has helped them do this safely and securely.
Urizenus: Politicians?
To be continued…