by Alphaville Herald on 17/12/07 at 8:25 pm
Tiny Tim despondent – lumps of coal and company restructuring for the holidays
by Pixeleen Mistral, National Affairs desk
Jeremy Vaught reports on the Second Life Podcast blog that 22 employees of the Electric Sheep Company will have a permanent holiday this Christmas – leaving them plenty of time to select and wrap presents and visit their families, now that they have been sacked by the metaverse development company.
Reportedly, ESC cited financial problems and is "refocusing the business". The group working on MTV projects is apparently still intact, but speculation is that they may be discarded at a later date now that the company is focusing on "technology like onRez". OnRez is a shopping site for purchasing virtual clothing and accessorizing SL lifestyles with possible holiday gifts such as latex school girl outfits, and whip marks and everhard prim genitalia.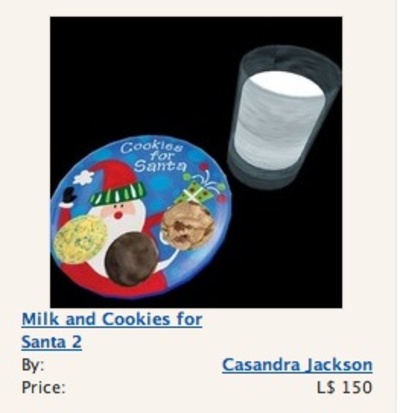 OnRez sells milk and cookies, too
Joel Greenberg's Virtual World Ad Network has also been shutdown as part of the ESC company restructuring. According to an e-mail send by Mr. Greenburg to those who had signed up for updates on the project the ad network was about a month away from going into beta test. Tiny Tim was unavailable for comment at press time, but the ghosts of Christmas past, present, and future were reportedly planning a midnight visit to the ESC headquarters.