by Alphaville Herald on 30/12/07 at 12:50 pm
The Herald is pleased to introduce a new series featuring Second Life artists. In this series Second Life resident Frank Koolhaus (irl Mario Gerosa, the editor of Architectural Digest Italia) will interview a series of prominent and outstanding Second Life artists, beginning today with Daequix Scarborough. Artists should feel free to contact Frank in world. The rest of you, enjoy! –Uri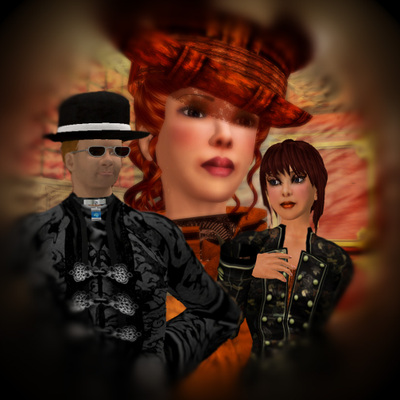 Frank and Dae in front of Dae's piece: Magic Lantern Dreamer
Daequix Scarborough has a great gift. With her art, she can offer you instant fame. Her portraits always have an aura of celebrity that transform the ordinary people depicted into celebrity characters. You can see this by looking at the "Club Hex" series. These are screenshots taken in a Second Life disco, with people you can meet at any moment. But, then, when you look at the portraits of these dancers, waitresses, and clubbers, you have the impression you are in front of someone famous, someone you did not recognize before. The same happens with "Shopping Time", another great work by Daequix. The work shows three women shopping — Daequix and her friends Gadget and Arteer — but the impression is that your are in front of a poster for the rights of women. These three friends look powerful, determined and strong, and they represent a sort of a bidimensional monument created to honour the girl power in Second Life.
Daequix obtains this effect mostly with lighting. Not ambient lighting, but with direct lighting, spread on the subjects, as in her work "Magic Lantern Dreams", a pointillist style photo taken in the steampunk Victorian sim of Babbage Square. In this work the subject is completely infused with lights — with a thousand minuscule rays of light that makes the effect of a rain of sun and colours. But Daequix can achieve those results even reducing drastically the light, cancelling it at times, as you can see in "The Eyes have it", where she made a great work in taking off progressively every sense of tangible light, to concentrate it on the face of the subject.
But which is the background and which are the inspirations of Daequix Scarbourough?
We asked her in this interview for the SL Herald.

-What is your artistic background? Did you work as an artist before SL?
- Really only as a child/teen- it was frowned on in my family for me to pursue it….. so went into nursing.
- When did you start creating digital artworks?
- Umm, didn't even know how to use Photoshop when I came to Second life in May of 2006. My boyfriend, Solivar is a graphic artist so he's taught me many of the tricks of the trade over the past year or so.
- And he introduced you to pop art, I guess.
- Lol no not really…..that was me, and just really playing more so. Warhol was someone I remember as a youngster….and of course the entire Pop Art movement.
- But I think you have some artists who inspired you, in your works there is a 70′s touch. Could you mention other artists you like?
- I honestly love Julie Bell, Boris Vallejo, Michael Parks,Vargas type work as well.
- Which are the subjects you prefer? Have you some favourite models? Here in SL arte there models very requested by artists? Who are they?
- Myself honestly…and occasionally spontaneous captures. I'm a skin maker by trade so I can create pretty much any look I wish. – I have used on occasion Suki Oki who is a friend of mine….she has interesting features to work with.
- Do you make mostly portraits?
- Mostly……but I also like to set scenes as well.
- Which kind of scenes?
- Often shoot in Straylight, Apollo Gardens…… and I very much like to work with some sort of fantasy environment if I can work around the area's visitors.
- And which kind of scenes you set up?
- Well for instance….in Apollo I set up one called "Slave to the Sunset"…it has an Asian Influence to it….and was part of a series. It depicts a very rich sunset which took alot of post work to get it right…..In addition I shot another one in there, "Final punishment", it is a death scene….this was influenced by the strong Gorean Society here……
- So in your works there is also a narrative dimension….behind the picture there is a story, I guess.
- Often times…and at other times the story comes from the picture….the angle of the face, that chance expression that is so elusive here in SL. Often times to get just that right shot I may shoot 100, and in examining them…….one will speak to me.
- Have you many works by commission? People who ask you a particular subject?
- I have had some, not a major amount. I am on the board of Avatrait (www.avatrait.com), a Second Life and Real Life based company that focuses on the artists wtihin Second Life and promotion of their work, and sell works through them. As well as have had some private commissions really based on what people have seen in Flickr and have wanted a recreation of these works with them as the model.
- Is there an art market for SL? are RL galleries interested in these works?
- There is a beginning one. This is one of the areas that Avatrait is trying to capture…often times right now, its more a person wishes a picture of their own avatar.
- Do you know of RL galleries interested in selling these works?
- Only this one at this point, Avatrait, in Evanston Illinois.
- The prices are so different, there is not a structured market. here someone sells at 10 US$ and in RL some artists sold at 3500 euros. Is it going to change?
- Ahh, I know nothing of the prices honestly. I have no idea …..my entire focus in this is to have an outlet for my own creativity and…..to encourage others here to do the same.
- I tell you that because I sincerely think that the art generation of people here is going to become famous, as the backyard artists discovered by Juxtapoz.
- That would be wonderful in many ways, and ….scary in others

- Why scary? Too much work?
- Lol well, I like my privacy and my ability to create. Famous means no more privacy.
- Yes, anyway, none will force artists to come out.
- Very very true
- But I think the direction is that one.
- I think it may be, though time will tell…if not, I'm happy with what I do now…..its relaxing, and satisfying all in all.
- You have been working as an artist since two years. which differences you see in your earlier and newer works?
- My earlier works were often mistakes….but sometimes wonderful mistakes…. I am not more technically able to produce what I want…and often times I can go to the shoot with a picture in my head of where it will end….other times it takes me where it will go. I am now more technically I mean to say. My skills have gotten stronger…..but I still have so much more room to grow.
- Which are your favourite works, I mean among the ones you made?
- Well, some of my very favourites are "Magic Lantern Dreams", "Slave to the Sunset", "In Waiting" and most recently "Morning Delight".
- In SL are there enough museums for SL art? which are the best?
- There are so many but I haven't visited all of them…again Avatrait has a very nice representation….Code Red , September McKinney's, The Cannery is brilliant.
- Which are your favourite SL artists?
- I would say that Stephen Venkman is one of my favorites……Gita Rau. Hmmm there are so many honestly I don't know that I could name them….Codie, Shoshona, Corbett Howard, Looker Lumet….
- Do you work in a studio or in open air, looking for the good location?
- I do both. I sometimes perch here on the edge of my work platform even just to get the sky behind me well

with no interference. I have a small private work area with Photosphere in it, and we have various backdrops as well
- Performances or figurative art? what is the best for the art of SL?
- I would say figurative would work best now but at this time performance is in its infancy ………audio/video are still with many glitches.
- Is there an avatar you would make a portrait of, maybe a famous avatar?
- Actually none that I can think of from SL….. Fame comes with so much baggage…ego, need to impress, the need to 'show' something or someone……so I prefer to work with random captures, or with my friends, family or other artists at this point
- Are there good art critics in SL? Are there reference books, catalogues of art?
- Not that I'm aware of as of yet
- Coming back to art in RL, which are the artistic movements you like the best?
- I'm very fond of the Pre-Raphaelites, and William Morris.
- Please name the three books you have on the shelf while you work
- Well not that you could call it an art book but a big collection of Julie Bell, "Art Through the Ages", "Northern Italian Renaissance".
- Daequix is a preraphaelite name, kind of Beata Beatrix?
- Well…. more so hadn't really thought of that in that light at all, though one of my alts name is Gabrielle….so maybe that is the influence?

- If you had to define the SL art, which styles you would name? Digital impressionism? Ludic surrealism? New naif? Post raphaelite?
- Actually I like that name……Digital Impressionism.. There is so much cheesecake in SL sorry it seems to lend itself to that. I would say though that Digital Impressionism isn't just obviously confined to SL, and that in reality that since art in SL is so new…that it as yet is to be defined.
- Have you ever thought about making limited editions of your works?
- I have….though haven't really approached it yet as an option…but if it seems there is more of a call for my work then I would be more than happy to. Through again, Avatrait (not trying to publicize them sorry) there are limited editions in world.
- Which is the last art exhibition or museum you saw either in SL and in RL?
- Juno's was his name? But prior to that September McKinney's Haunted Gallery. She had artists all over SL displayed but it had to have a macbre leaning, or a Samhain, Halloween feel to it.
- Do you think the art of SL is similar to the one of graphic novels? Do you like them? which ones?
- It can be depending on the artists…..And yes I like them though I'd have to say Solivar is more the enthusiast of them…in terms of which ones..I like "The Doll's House" by Neil Gaiman. "Stardust"…again by Neil Gaiman. And "The New Frontier" by Darwyn Cooke.
- Did you visit other virtual worlds? Do you like video games?
- Well, yes…..I'm a long time gamer…..I started ages ago in a MUD called Dragon Realms…Have been playing and still do play others… WoW, CoH, Guild Wars, Lineage II, Everquest II, Star Wars Galaxies. I'm a gamer at heart really

- Could you describe some of your works?
- Surely. This is "Slave to the Sunset" and was shot at Apollo Gardens, its the series I spoke of…..
- I figure there is an history behind it….
- Well, in some ways I wanted to capture the feel of slavery…..when we first came here I was overwhelmed with the beauty of some of the Gorean Sims…..but also conflicted by them. So……I used this entire series to depict a conflict between freedom and slavery. The next one is "Magic Lantern Dreams".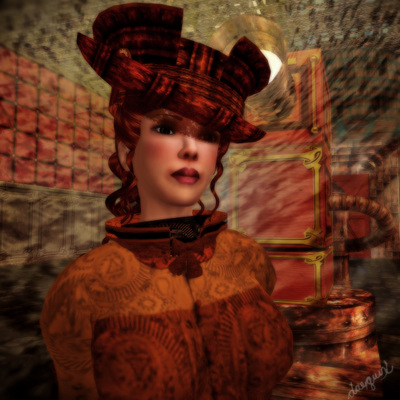 - Here I see the influence of Seurat.
- Thank you so much…..the effect though was mostly from the light from the projector behind me so…..wasn't shot that way intentionally just a happy accident.
- It's a bit victorian too.
It's very victorian its taken in our Babbage Square Home the Phantasmagorium. I'd also like to point out that everything you see in that picture is made by myself and Solivar.
This is called "Thresholds". The angle is very modern but the warmth, the light…..is more so owed to Caillebotte.
- Where was it shot?
- In the Varnish Scrapers, again shot in Babbage Square, a Victorian Steam Punk Sim. And was mostly again….just a happy accident
- In which way?
- There is a marvelous structure there with glass flooring and I was attempting to catch a different angle, and this just happened…..swirl of skirts…the pose, the lighting, the reflections are all after effect work though.
- You like to use reflections, lights, in a way you wok as a director of photography too…
- I love the use of lights, reflections…the add so much to the image and different colors, textures can enrich it so much.
- Did it happen by chance?
- Not entirely.
- Anyway, you made it seem spontaneous. that's an art.
- Once I envisioned the angle….it blossomed but it took a long while to get what I was looking for. Much like shooting in the real world, inspiration often comes not from before hand…but by that happy moment when you capture or see something in the area…spontaneously.
- Do you feel more a painter or a photographer?
- Very hard question that….I like to think I am crafting the shot so much more a painter.