by Alphaville Herald on 16/01/08 at 10:34 pm
by Chloe Mason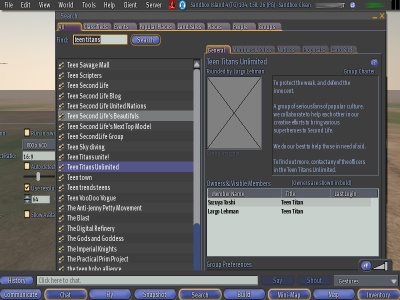 teen titans unlimited – click image for large version
Kalel Venkman's controversial "anti-griefer" group – the Justice League Unlimited – have consistently claimed to strictly adhere to the Terms of Service. But some wonder if the similarities between the Justice League Unlimited and the Teen Titans Unlimited indicate a TOS violation on the part of the Justice League Unlimited or members of the Teen Titans Unlimited.
To protect minors from the adult content in Second Life, Linden Labs maintains two separate grids, the main grid and the Teen Grid. The Teen Grid is only meant to be accessible to youths between the ages of 13 and 18. The penalties for adults found to be fraudulently accessing the Teen Grid involve a near instant perma-ban as well as reporting identifying information on the account to the National Center for Missing and Exploited Children. The main grid is off limits to those who qualify for the Teen Grid, although the Lindens enforcement of this sort of TOS violation has been spotty, at best.
Investigating a tip from a recently ejected JLU member led this reporter to enlist the assistance of her younger sister to log on to the Teen Grid to search for the presence of a JLU branch on the Teen Grid. What was uncovered was a group calling themselves the Teen Titans Unlimited. Several key similarities between the groups suggest a surprisingly close alliance – or are some members role playing in another age-group's gird?

justice league unlimited – click image for large version
Both groups descriptions start with the motto "To protect the weak, and defend the innocent" and end with the phrase "To find out more, contact any of the officers in the Justice League/Teen Titans Unlimited". Both groups also mention a key mission: "We do our best to help those in need of aid." Is this just a coincidence?
"I knew they were on the Teen Grid," said the ex-JLU member. "I remember seeing a texture of a Teen Titans tower in the Watchtower, which Kalel mentioned as having been on the Teen Grid. Of course with the way they talked about Cid, and their readiness to punish someone for passing word along, it really doesn't surprise me that Kalel would have such big skeletons in his closet."
Could Kalel have decided, for the betterment of the grid, to violate the Terms of Service and establish his own presence on the Teen Grid? How is it that there is such a close alignment of mission statements between two groups?
In related news, the Herald received reports earlier this week that Kalel Venkman was added to the mulit-sim Banlink list – a list used by a number of landowners to share land bans of undesirables. According to our sources there were no complaints about Kalel's appearance on the land ban list – our sources tell us this is a sign of the karmic imbalances of the metaverse sorting themselves out.