by Alphaville Herald on 22/01/08 at 6:14 pm
Non-profit hopes to promote crime and fun
by Sigmund Leominster
Dressed in dapper pinstripes, black oxfords with white spats, Logan Walker wants to make you an offer you can't refuse. No virtual horse heads in beds, no need to sleep with fishes, no whackings, and no special favors that involve the bribing of senators. All he wants to offer is a bar, good music, a cozy atmosphere, and the chance to meet up with the "other Families."
The new Speakeasy club is open; a Mafia-theme-based venue complete with lush red private booths, each with the ubiquitous dance pole. Each booth looks out onto a checkerboard dance floor but offers privacy from the Wise Guys to your left and right. Your personal dancer will keep you and your buddies entertained while genial and perky hostesses make sure your drinks are filled. Planning your next "business venture?" This is an ideal spot.
On arriving, I was greeted by hostess Andromeda Leigh and Logan. In keeping with the stereotype of the 1920's hack, I went straight to the bar to check out the drinks. Two right clicks later I'm snuggling a Jim Beam and eyeing my next.
"Got champagne!" offers Logan with a grin and conspiratorial wink. As everyone knows, an ink slinger is much more colorful drunk than a sober. I downed the bourbon and snatched up a Dom. Drinks first, interview second. That's how it was done in the Roaring Twenties. Maybe the Mafia theme is broader than this, but images of prohibition, flappers, and clip joints help ease me into character.
Logan is no stranger to the club scene and Speakeasy is his latest venture. I asked him about the club and what he wanted to achieve.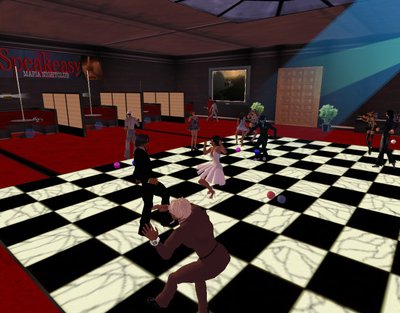 "The name? Well, it has good connotations for the theme and suggests the kind of club I wanna have – small, friendly, little bit bad, ya know? Being mafia-themed I expect people from families within SL or people who are interested in that theme."
So what drew him to this particular theme?
"Well, I joined a family soon after joining Second Life, so I know a few people. And to be honest, I think SL needs more fun communal areas which aren't all about selling or ads. This club aims to be a cool hangout on theme, where people can meet friends and contacts old and new."
No mall, no T-shirts, no vendors, and no camping?
"All that stuff just adds lag and reduces user experience. I did have some vendors before to help income, but they made lag. Camping is horrible because you think a place is busy but it ain't!"
Speakeasy is the second club of this name that Logan has owned. The new one came about after he realized he wanted to provide some other type of SL experience. He explained that the first incarnation of Speakeasy was similar to this one;
"…but bigger – and we tried 24/7. I guess before I felt it was a business chance. Now it is about fun. You could do a club as a business in SL, but you need to spend a lot of time online. It's about an experience to fit the theme. From the old club, I met sooo many good people – some here now – and I think people appreciate the neutral ground; a chance to add to the scene."
The opening officially took place at 6:00 pm SL time, which is 23:00 GMT and 3:00 EST. These times are important because being based in the UK, if Logan wants to optimize the accessibility of Speakeasy across the world he has to juggle the time zones. As he said, rather than go for the 24/7 approach, he has opted for catching the late Europeans and the early Americas. In fact, during the first hour, Logan's enthusiastic "Let's have a big woot from the Europeans in the house!" raised the required woot from over half of the people there. The US woot was a little smaller – and more of a "yeehah.".
Hostess Angelica Compton, shimmering in a Marilyn Munroe white dress, white heels and just enough bling to catch your attention, appeared to be right at home with the customers, greeting newcomers and chatting easily. Despite her obvious youth and stunningly gorgeous appearance, Angelica has been in SL since the Lindens loaded the first Metaverse onto an Apple IIe via the DuoDisk. Well, maybe not that long, but some four years. In fact, Angelica was a customer in the original Speakeasy and hostessing is something new.
"This is my first time of working for someone else," said Angelica. "I am a past club owner. I have been a friend of Logan for about a year, so I was happy to help him out."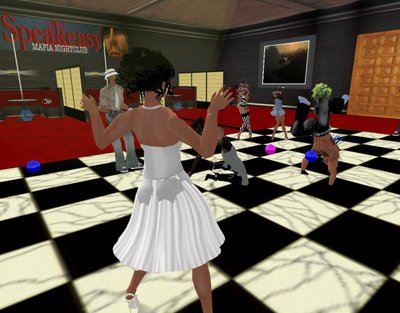 She sees her job as "…to welcome each new person to the club as best as possible, show them where to find the dances and drinks, and encourage the rest of the staff to participate in chat."
Like Logan, she sees Speakeasy as being a fun endeavor and not a business. She wound up her own club after the experience left her burned out.
"Most folks want to treat SL as fun, not a slog to make money," she told me. "Logan has all the right ideas. It would be a let down if he hoped to make a profit."
Logan's Speakeasy represents what might be called the "not-for-profit" business in RL. There are tip jars for the DJ, hosts/hostesses, and dancers, so sure there is an element of commerce involved. But then what self-respecting Mafia hang-out wouldn't allow you to tip the dames and slip a little green to the staff for making sure you get the right booth. On the other hand, there's little pressure to hand over cash at every opportunity and the long-term viability of the club will depend on building up a steady flow of regulars and not a return-on-investment.
Should you decide to don your pinstripes and fedora, or maybe a slinky little flapper dress, and take a trip to Speakeasy, tell Logan that Sigmund sent you and maybe you'll get that special booth.
Oh, and the lush at the bar with a notepad and pen? Just get him another drink.