by Alphaville Herald on 28/01/08 at 12:11 am
Woodbury U critic disappointed in LL, likely to file even more abuse reports
by Pixeleen Mistral, National Affairs desk
---
"I'd say, stay on the mainland; the idea of clustering and the magic spell of working with your neighbors is just a great appeal." – Philip Linden
---
Late Sunday afternoon I sat on the lawn in Furness sim as MC Fizgig reclaimed his virtual land – land that had been seized by Linden Lab last week. After the land confiscation, several sources informed the Herald that the land reclamation may have been due to a concerted program of abuse reporting on the part of a prominent Woodbury University critic – the seldom taciturn Mr. Prokofy Neva. Even more worrying, two residents claimed that the same would-be watchdog's woofing implied a special relationship with Linden Lab — a chilling thought for those who have disagreed with conspiracy theorist Mr. Prokofy Neva in the past. However, it appears that the initial reports were mistaken.

MC Fizgig: the land is officially back in my hands
Saturday, reliable sources informed the Herald that the Lab's sudden land seizure was unlikely to be due to one garrulous gadfly's abuse reports. Instead, the problem was likely due to MC Fizgig's account originally being marked for "educator: complimentary" status. Previously, this status gave Mr. Fizgig 4000m2 of free tier. Apparently LL was upset that he was still using the free tier – but after a quick upgrade of the account to premium status and the customary land tier payments, all was forgiven.
And so, after spending part of Saturday and Sunday in the disputed Furness sim plot, I was rewarded twofold. Not only did I meet MC Fizgig and the current Woodbury University SL coordinator Madelena Rossini as the disputed land was reclaimed – I was also abuse reported by Mr. Prokofy Neva according to his blog — an abuse report that was justified on the chance that I might have had something to do with a series of sim crashes Saturday evening. Apparently a working reporter in the vicinity of breaking news is enough to suggest to Mr. Neva that heavy-handed press intimidation tactics are in order.
While the disputed Furness sim land is back in it's virtual owner's hands, this is unlikely to be the end of the drama in Furness and Ravenglass.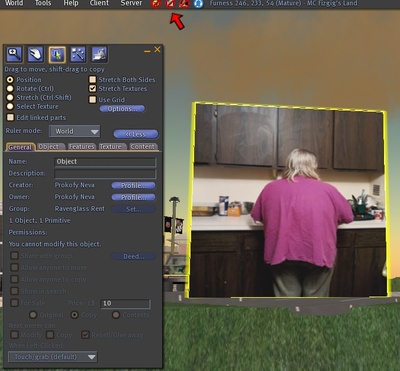 Does self-disclosure make this image fair game for griefers?
In a move to enhance his SLebrity status, Mr. Prokoy Neva decided to self-disclose his own RL information inside Second Life and placed a large picture of his real life typist from a recent story in WIRED magazine just inside his property line next to MC Fizgig's land.
Adding to the strange atmosphere Sunday evening, a silent Prokofy Neva avatar hovered in the air taking pictures of residents present on MC Fizgig's land, as IntLibber Brautigan informed the Linden Lab governance team about Mr. Neva's self-disclosure — and advanced the theory that this makes this particular picture fair game and no longer a TOS violation. Meanwhile, some residents ad-libbed new lyrics for Chamillionaire's "Ridin' Dirty":
Alyx Stoklitsky: Prok's lookin' at me
Alyx Stoklitsky: And screenshotting me
Alyx Stoklitsky: And typing.
Windowlic Klaar: trying to catch you ridin' dirty
Warren Flanagan: they see me buildin
Warren Flanagan: they snappin
Alyx Stoklitsky: THEY SEE ME TROLLIN'
Alyx Stoklitsky: RICKROLLIN'
Alyx Stoklitsky: TRYIN TO CATCH ME BREAKIN' TOS
I hope Philip Linden was right about the mainland – "the magic spell of working with your neighbors is just a great appeal", and I'm sure that it will all work out for Ravenglass and Furness — eventually. But for now, the expansion of Ravenglass rentals has been blocked by a banned and now reinstated landowner who reclaimed his plot in Furness. Whatever happens next is sure to be educational.