by Alphaville Herald on 16/01/08 at 8:51 am
The key to damage-proof immortal avatars?
by Pixeleen Mistral, National Affairs desk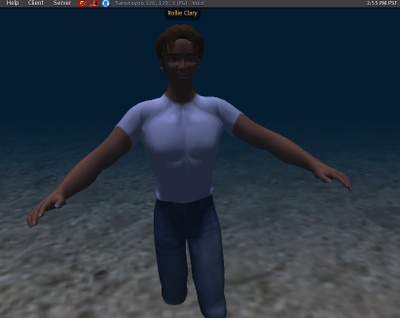 Havok 4 physics of no interest to bot stuck in the mud in Sansooyoo
One of the mysteries the Great Bot Hunt may have finally been revealed by Second Life resident Day Oh, who called the Herald to explain the key to creating phantom avatars. Readers may recall that last November the Herald located a number of mysterious bots lurking in Linden sims – bots that were impossible to bump or push.
Not only does Day Oh's discovery explain the mechanism of push-proof bots, it may also point toward a new avenue for boutique SL client creators to add value to the user experience – by making SL physics optional.
Day Oh: Did I ever tell you I figured out what's up with phantom avatars?
Pixeleen Mistral: no – what is your theory?
Day Oh: No theory, it's all solid and easy to do


Day Oh: As long as your client never sends an AgentUpdate packet, the simulator never puts you in the physics simulation
Day Oh: Not only does that make you phantom, but you never receive objects at all… you wouldn't BELIEVE how much network traffic that saves XD
Pixeleen Mistral: hmmm
Day Oh: Normally you just get a torrent of object updates constantly
Day Oh: But with that trick, the connection is serene
Pixeleen Mistral: so if you were doing a really efficient landbot that is what you would do
Day Oh: Yep
Day Oh: I did it with the LL viewer and slproxy
Day Oh: I haven't tried to get libsl bots to do it yet
Day Oh: But I do remember hearing so-and-so landbot runner modified the lib to make his bot more efficient
Pixeleen Mistral: well that does explain a lot about those undersea landbots
Consider how useful a physics-free client could be in sim full of trigger happy push gun wielding day old residents – you could walk about freely without feeling the force of any physics-based weaponry. Now that the Herald is in the process of setting up our bunker office space in the Jessie combat sim, a custom client with optional physics may be particularly useful.
Despite obvious applications of physics-free SL experience, observers worry that widely available not-quite-of-this-world avatars may upset the balance of power in the militia community. Will anything other than a commitment to fair play keep militia members from trying to give their army an edge? Expect to see members of the shooting-em-up community move to requiring proof of physics to curb cheating if push-free SL clients become widespread.