by Alphaville Herald on 28/02/08 at 10:50 pm
How to reach /b/tards and the *chan
by Pixeleen Mistral, business desk
After a year and a half of failed attempts at corporate marketing via the metaverse, Second Life finally found a secure place in the ad-supported media universe yesterday. Despite the predictions of a number of pundits, Google did not buy out SL, fix the crash-prone universe, institute mandatory avatar tracking and chat logging systems for all residents to better target special 3D ad-words, and send Philip Linden packing to pay off the accumulated bad karma of a game where more than 20% of all sessions ended in a crash. In the end, the answer was much simpler.
At just the point when legions of highly paid new media consultants had given up hope, a few plucky upstarts both identified the target market that SL appeals to, and demonstrated a cost-effective strategy for reaching these affluent, influential consumers. It is now official – skywriting for the 4chan audience is the best use of SL. See the map view below.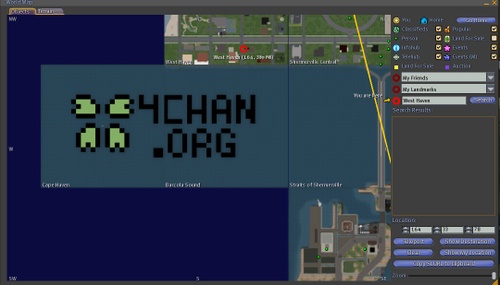 skywriting for 4chan – will 7chan respond?