by Alphaville Herald on 09/02/08 at 2:43 pm
by Pixeleen Mistral, National Affairs desk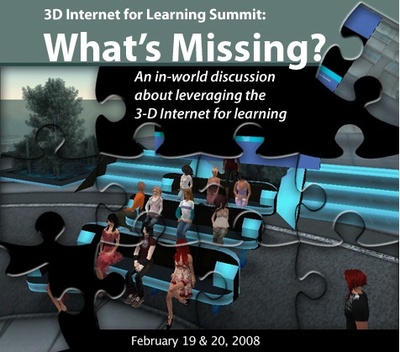 Activeworlds, conference calls, and interactive web pages – but no SL
It is hard to know exactly what to make of this, but a reliable source pointed us to the Kauffman foundation's web site where this page http://www.kauffman.org/3D announces a "3-D Internet for Learning Summit" hosted not on Second Life – but on ActiveWorlds.
It would not do to speculate on what Philip Linden thinks of this development – but speculation is sure to follow as the announcement promises "a first-ever public demonstration of IBM'S privately-developed capability" where participants will "experience a real-time, seamless and simultaneous environment that combines telephony, wiki and virtual world environments. This will allow global participants to collaborate in building some of the next-generation capabilities of the 3-D Internet."
This summit is to be open to all – and the Herald expects strong representation from the furry and babyfur metaverse demographic – assuming fur avatars are avalable in ActiveWorlds. The event will take place February 19th and 20th, 2008, in three spaces simultaneously – a toll free conference call, within IBM's Active Worlds based Extraverse, and on the web through an interactive wiki environment.