by Alphaville Herald on 23/03/08 at 6:53 pm
50k of traffic – but nobody is home
Does bot abuse explain population growth and stagnant economy?
by Amazing4u, concerned citizen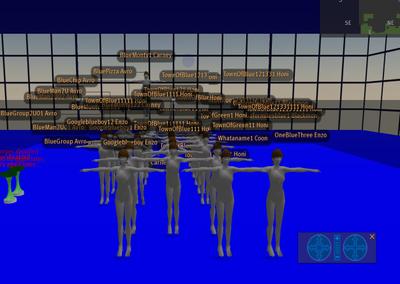 Teeing up the Avro, Honi, and Enzo bot clans in a skybox over Liberty Central S
Just thought I'd drop you a line and a photo of so-called Bot abuse.
I went looking for a place to rent in a mall, and discovered a new mall with 50k traffic. I thought this was strange and went to investigate. Up high in the sky I found a skybox. Inside were about 30+ av's – all with very similar names. I took a pic which is included. After a while, word got out and people came to look – including several SL mentors.
Harold Mapholisto – the owner of the land – stopped by but he couldn't say much. Mr. Mapholisto owns part of the land at Liberty Central S (rented). Mapholisto then brought in an associate named Rocko Fallon who said that "his bots have been designed to manage up to 25 groups" and that "everyone of these bots are group managers". [it looks like the bot group managers are doing T-pose yoga together - maybe it is really an avatar exercise class? - the Editrix]
All the bots were created on the 14th march 2008. One of the SL mentors pointed out that LL terms of service states only 2 accounts to be created in 24 hour period. Some might consider this sort of bot abuse a deceptive practice, creating high traffic to entice shop owners take out rentals on the mall on ground level.
Can anyone trust people's traffic if this sort of thing happens?