by Alphaville Herald on 29/03/08 at 4:14 pm
Bots crush humans in land competition — L$1 mainland gone in under 10 seconds
by Pixeleen Mistral, National Affairs desk
A friend has been holding one of the most inconvenient bits of virtual land imaginable – a 576 m2 diamond-shaped sliver of land on an extremely steep underwater hillside located in the Torch mainland sim. As part of the Second Life Herald's scientific study of metaverse economies, we decided to run a small experiment to see if automated land arbitrage was as brutally effective as say, snuffing out a candle with a hurricane. Good news – it is!
Less then 10 seconds after setting the land for sale at L$1, the Freak Bot Land group had taken possession. Studying the profiles of the new owners, I felt confident that would put this little slice of paradise to good use – perhaps a commercial ad farming operation would help grow the in-world economy? Clearly, this sort of market discipline is the future of the 3D Internet – never mind the humans residents.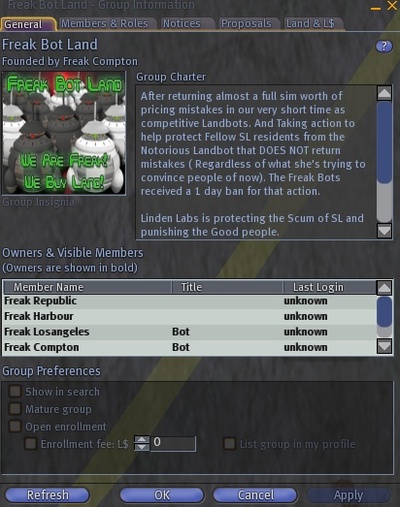 Freak Bot Land group makes sure your L$1 land is gone in under 10 seconds
I wondered how long it would take for the robotic invisible hand of the market to improve the user experience in Torch – and the answer was quick to appear. In a few minutes the land was back on the market for L$9999. Certainly the dueling scripters are enjoying their landbot competition, but this sort of botplay might put off some would-be land owners. Could botplay account for the stagnant growth in premium accounts – the supposed stable middle class of the metaverse?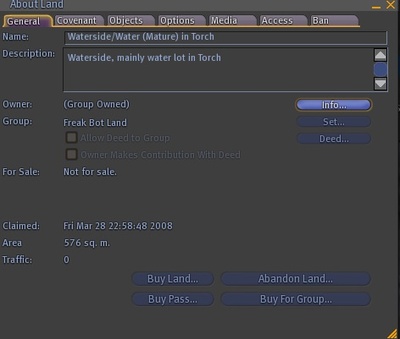 immediately after the bot buys in…
While it was gratifying to see the bots work so quickly, I still felt some concern that the land game has become uninviting to the weak puny humans that pay the bills for the metaverse. Merciless bots waiting to pounce on any misstep paints a rather dystopian picture of Philip Linden's dream of the 3D Internet – especially for anyone who accidentally put their land on sale at well below market prices. These concerns are nothing new, and the Freak Bot Land group charter offers this statement:
---
After returning almost a full sim worth of pricing mistakes in our very short time as competitive Landbots. And Taking action to help protect Fellow SL residents from the Notorious Landbot that DOES NOT return mistakes ( Regardless of what she's trying to convince people of now). The Freak Bots received a 1 day ban for that action.
Linden Labs is protecting the Scum of SL and punishing the Good people.
As of 2-29 The Freak Bots will no longer return any pricing mistakes. You can thank Linden Labs!
---
The Freak Bot's gush of nearly incoherent gabble suggests they are both defensive about their line of work and a little weak on English grammar. Perhaps after they make a few million L$s they can sit in on the speech therapy courses being arranged for the wurkin' girls of little paradise.
While imagining the fun the five year old roleplayers and the freak land bots could have together in grammar school, an idea occurred to me – why not see if there were other L$1 plots for sale. Could I beat the bots at their own game?
A quick look at the land search revealed plenty of L$1 plots – which all seemed to be con jobs fine examples of creative financing. Those bots are smarter than they appeared in their profile – they weren't wasting time on other people's virtual con games – they have their own scam to run.
After looking through half a dozen L$1 land sales, I was particularly impressed by a "sale" that was a non-refundable extremely short-term lease (10 minutes) during which the sucker buyer is free to pay thousands more – or lose the L$1 deposit.
While some may complain about this style of gameplay, in some ways it is an impressive achievement – there can be real art in gaming the Linden search function, and I'm sure impressive feats of bot technology are in play here. But is this a game many people would want to play for long?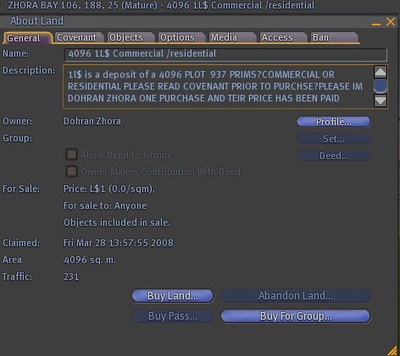 the L$1 land the bots won't touch