by Alphaville Herald on 27/04/08 at 5:00 pm
Police search for suspects
by Femme Bleu
Early the morning of Thursday April 17th, the body of club owner freereed Freenote was found dead in Birdland, Moondust. Although there were no signs of a struggle first responders on the scene said the cause of Ms. Freenote's death is being ruled "foul play."
Second Life Police questioned a despondent Wellington Bahram, last to see Ms. Freenote alive. "I don't understand it," said Mr. Bahram, a photographer with Metaverse Messenger. "She was fine when I last saw her. She said she had had a long day and was very tired. She lay down to sleep and I sat up with her. I thought she looked fine." According to his statement Mr. Bahram left the sleeping Freenote around 9 PM SL time.
Medical Examiner Thomas Noguchi said it appears Ms. Freenote died from asphyxia somewhere between the hours of 10 PM and 2 AM SL time. "It appears," said Dr. Noguchi, "that Ms. Freenote was suffocated in her sleep. She was in good health before the time of her slaying and death by overdose of prescription drugs has been ruled out". Police were also quick to add that Mr. Bahram is not being considered a suspect. At the time of discovery, Mr. Bahram would not leave the body of his dead friend.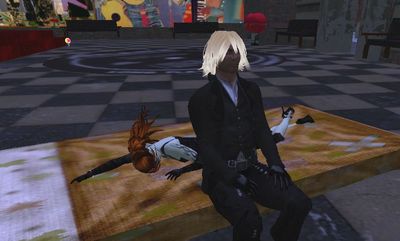 Mr. Wellington Bahram is despondent
Police have interviewed dj Speelo Snook, musician Tone Uriza, and artist Filthy Fluno all of whom had extensive conversations with Ms. Freenote on her last day of Second Life. Mr. Snook said, "I can't begin to say what a loss this is to the music community of Second Life. Free loved music more than anything, especially jazz music. She built Birdland a as tribute to the jazz musicians she loved the most: Charlie Parker, John Coltrane, Thelonious Monk and Dizzy Gillespie. It just won't be the same without her. I can tell you one thing though, Free said to me last week that if anything ever happened to her she wanted a Dixieland funeral, and we aim to see that she gets one."
Musician Tone Uriza said, "On the day she died we were arranging for a gig at Moondust Lounge, just across the street from Birdland. I know she would never have skipped out on a deal like this. She lived for music."
Artist Filthy Fluno said, "Free is also the owner of the Newggenheim Museum. We were over an hour in conversation on Wednesday making arrangements for my one man retrospective show over there. I can repeat what Speelo and others have said, when Free was behind you, she was there 100%. She would move mountains to help and promote the artist, regardless of personal cost. I cannot imagine what kind of sick bastard did this.. she hadn't an enemy in the world."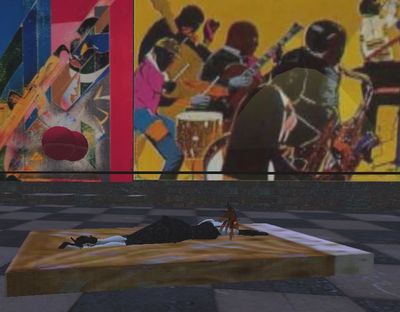 Revpaperboy Boozehound, a partner with Ms. Freenote in the Moondust clubs, said that he was in conference with the other residents and musicians of Moondust and will release a statement to the press later this week. As to his plans to keep the clubs open he said, "We are all in shock right now. We can't understand who would do this.. She lived for the music and it is our aim to keep music alive here at Moondust."
Police have interviewed more than 50 people who saw Ms. Freenote on Wednesday. According to witnesses she had expressed great frustration with the US health care insurance system, her unbridled rage at the cost of the war on Iraq, and a longing to return to Ireland where she had been living the last. fifteen years. Anyone who has any information leading to the capture and arrest of Ms. Freenote's killer or killers please report to RobboDobbo Kawashima brother of the deceased..