by Alphaville Herald on 15/05/08 at 11:23 pm
Welcome to teh Internets
by Anise Hankins
Woodbury University. Some of you may know it as a school, but there's a side of Woodbury University that extends far past just that. It's also a place in the metaverse we know and love as Second Life. It's an interesting place where both students and visitors alike can come together and interact both for personal and collective benefits. What was once a simple school funded project has grown into a community featuring people from across the world coming together, all for one purpose: lulz.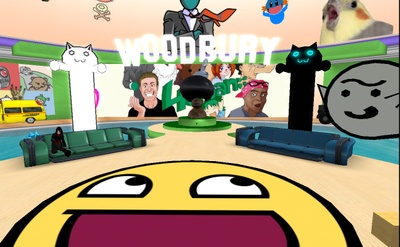 To some, the ways of Woodbury University may alienate, confuse, and even frighten you. This is a completely normal response when first coming into contact with the denizens of Woodbury. Fear not, that is why I have stepped forth to help you, the innocent bystander, come to terms and accept their ways. Perhaps you too, will spread the ways and mannerisms of the students of Woodbury to your own community and help it grow even more. If not, at least you'll enjoy an enriching experience that may brighten up your Second Life.
Memes: The lifeblood of Woodbury, and the foundation of conversation. Those ignorant of the memes and the history they are based upon may seem lost when first warping in. Everything in the sim is in one way or another, based off of internet memes, which is simply a fancy word for fad, although some of the students may argue that they are more than fads. The pictures, buildings, and avatars are all in one way or another influenced by a meme. Memes are heavily influenced by anime, video games, or other internet pop culture. There are more memes than a simple article can cover, so I will try to inform you of the most prominent ones you are likely to see referenced in Woodbury University.
The biggest meme is that of Suiseiseki. Some of you may know her as "that girl with the different colored eyes" or "the desu girl". Both of those are actually pretty accurate descriptions. Suiseiseki, also known as "Desu", due to the fact that she ends all of her sentences with said word, is a character from the Japanese animation Rozen Maiden. For reasons unknown to many, she has become a mascot of sorts to the people of Woodbury and the internet. She often appears as the leader or member of several organizations run by Woodbury students, such as the Fursecution Corps. Speaking of furries, contrary to popular opinion, Woodbury students are actually quite tolerant of furries. Any resentment is just a simple façade meant to scare off the kind of people that wear fur suits in real life. You know how those types are.
Another meme worth knowing is that of Longcat. Originating from a picture of a white cat being held by its upper body, Longcat (and variations of it, like ***-cat, etc) is the secondary mascot of Woodbury University. Longcat is often seen as a long white body with a cat's head at the top. In the event that someone is asked how long longcat actually is, the only proper and acceptable response is "Longcat is looooooooooooooong!". Asking for any specifics past that is considered bad form and may cause you to be shunned.
In the rare event that your avatar looks like a child, you should also be on the lookout for Pedobear during your stay in Woodbury. Pedobear is easily identifiable, as he is essentially a big brown smiling bear. Pedobear's only purpose in life is to punish female avatars with a young supple body through means that are far too violent to be described. Once Pedobear has you in his sights, there is no escape until he has had his way with you. The best solution is to simply use a normal shaped avatar. Rumor has it Pedobear is currently hibernating, but there is no way to be sure.
When looking for a potential mate among the Woodbury students, be careful who you choose. Some students have taken a liking to the character Bridget, hailing from the Guilty Gear series, an anime based two-dimensional fighting game. The initial response upon seeing Bridget among males may be arousal. This is a completely acceptable response when ignorant of Bridget's character. However, be warned, that under Bridget's cute and innocent demeanor is…well, you know what, I think I'll leave this one for you guys to figure out. After all, some of the fun of the internet is discovery!
With this knowledge in hand, you are now prepared to make your first steps into Woodbury University and interact with the people who call it home. As long as you show respect to the memes and culture of the students, they are sure to take you in and show you around, and maybe even teach you a thing or two about the internets. Be warned, Woodbury University is not a place for the close-minded. I will not lie, if you are unprepared, some of the images that the students commonly revere may traumatize you. But if you are willing to jump in and get messy, I'm sure you will find a whole new world awaiting you.