by Alphaville Herald on 18/05/08 at 6:50 pm
Discover the beauty of Kush Islands today! Kush Bay and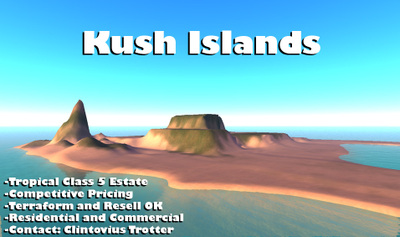 Exclusive low lag class 5 waterfront at a fraction of mainland prices! Residential, commercial, and mixed zoning. Terraform and resale allowed. Friendly community with lots of privacy.
Kush Islands has the waterfront land that you've been looking for! Please visit us today! Search the Map for "Kush" to see our islands, and contact estate manager Clintovius Trotter to get the special Herald discount!
We'll see you in Kush Islands!