by Alphaville Herald on 29/06/08 at 12:01 pm
Aretai Warrior and Shivar Prime Minister
by montserrat snakeankle {RdS}
The SL Gorean community was saddened on June 3, 2008, to hear of the RL death of Aretai Warrior Morlin Saarinen. Master Saarinen, who was an active duty member of the US Army in real life, committed suicide the night of June 1, in Texas.
In addition to his duties in the desert, Morlin also found time to RP as Prime Minister of a small, mixed culture sim called Shivar. At Shivar, Morlin was instrumental in founding and organizing the military structure of the community and with First Sword Travis Maeterlinck, headed off at least two wars initiated by the hot-headed monarch of that land.
In RL, Morlin was fond of medieval sagas and Japanese military teachings. He was especially fond of Tolkein's Lord of the Rings. He was a Physician's Assistant and was generous with his expertise. He was a help to many people in many ways. Master Saarinen also worked hard and studied as a D/s Master, something which he himself said he was learning, and for which he showed talent.
Services for Master Saarinen in SL were held at Tenaya Cathedral at Shivar. A memorial was also held on Gorean ground at Shaba School, where he was a teacher and Supervising Master, by order of the school's First Master. The memorials for Master Saarinen were supervised by the Lady Joelle Tardis and built both at Shivar and Shaba by Aretai Captain Twisted Surface, and his girl, nathalia. The memorials were attended by many grieving and frustrated friends.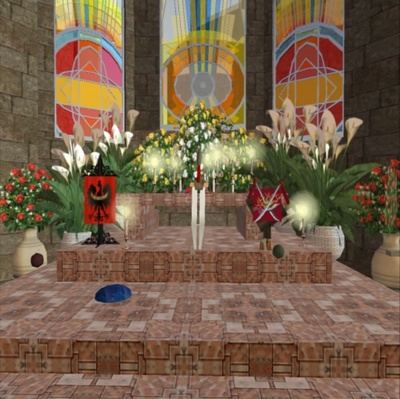 Morlin Saarien's memorial service at the Cathedral at Shivar
Morlin leaves behind two sorrowing kajirae: Unwen, his First Girl, collared in 2006, and Aly, collared 2008, as well as his dear RL/SL friend, the Lady Tardis' kajira, kitten. He also leaves behind many friends, and his RL family (whose anonymity we shall respect).
This poem, from the film LORD OF THE RINGS, was read for Master Saarinen:
May it be an evening star
Shines down upon you
May it be when darkness falls
Your heart will be true
You walk a lonely road
Oh! How far you are from home
Darkness has come
Believe and you will find your way
Darkness has fallen
A promise lives within you now
May it be the shadows call
Will fly away
May it be you journey on
To light the day
When the night is overcome
You may rise to find the sun
Darkness has come
Believe and you will find your way
Darkness has fallen
A promise lives within you now
---
Those who love Master Saarinen urge anyone who is considering suicide to talk to your friends. Remember that you are loved. Please trust the people who love you to stand by you no matter what you are going through.
---