by Alphaville Herald on 11/06/08 at 8:02 pm
Nazi alts, neopotism in the marine leadership, attack of the Cookie Monster
by Caine Constantine
[the Herald correspondent returns to the Task Force Marine base and is given a warm welcome]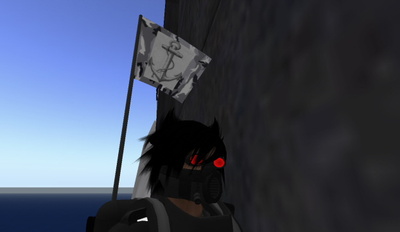 Caine Constantine shouts: Hey guys, how's it going? Is bennyboy Ball in?
toccovender Waco shouts: caine, go away.
This taccovender Waco, another soldier in the Marines, was not happy to see me. But I didn't care; I was on a mission. The leader, bennyboy Ball, was indeed online – on another account and named jaws Ashby. He came out to greet me and told me he was in financial troubles.
Caine Constantine: Your account, it was banned? Or you just cannot log in?
jaws Ashby: banned cause i o sl 11 dollars but i had to block my card cause i lost it
jaws Ashby: so when i get my new credit card i will get benny back
He confirmed most all of what Flamethrower said the day before, and added to it.
Caine Constantine: So who are the allies of the Marines, if you have any yet, and do you have a list of enemies?
jaws Ashby: alpha marines are our allies.
jaws Ashby: enemies are csl, alliance navy, mercz vanguard, blackwatch and 2142
Caine Constantine: Those are some big enemies. Do you fight them often?
jaws Ashby: yeah at least 1 a day
jaws Ashby: we attack csl for training
Caine Constantine: How do you do against them?
jaws Ashby: kill them and take pics to prove it
Caine Constantine: Do you have any to share with the readers?
jaws Ashby: on benny i do
So word of warning to all you Alliance Navy, Merczateers, Vanguard, Blackwatch and 2142 – when his credit card is back, you're all going to be outed for the real losers you are. But jaws Ashby…I felt like there was something he wasn't revealing.
---
Let's take a break from the Marines for a second – though the end of their story is great – to go to the humble sim of Jessie, usually empty now though it is the original granddaddy of combat sims. I live in the area and love its history. The land I acquired to build my home once belonged to a group who were known as the People's Soviet Communist Party. Most of the group died, a few joined me and disavowed communism, and some others soldier on in FurNation Vista to this day.
One of the old members, a friend of mine, shared with me this picture of jaws Ashby. He is pictured here, in the Jessie simulator. He is clearly wearing a swastika and giving the "Seig Heil" – what was going on? Was this a commie plot? The pictures look legitimate.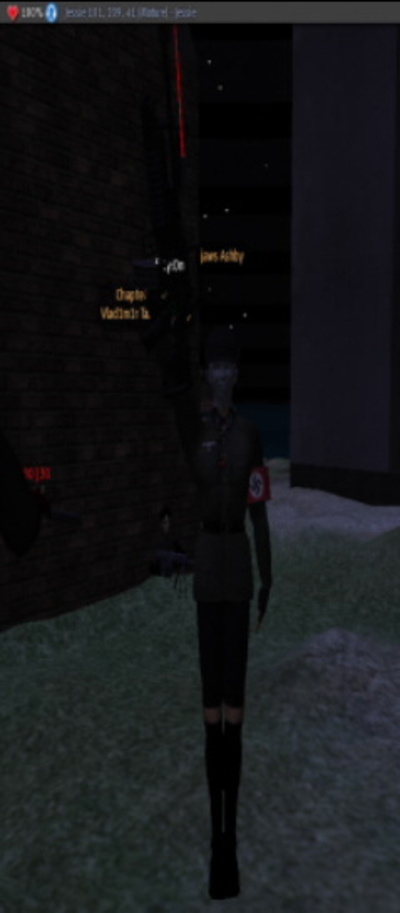 Was this group – purporting to be based on the same Marines that helped kick Hitler into the dustbin of history – run by one of Hitler's online fan club? The corruption does not stop here either.

Nazi under the Christmas tree?
Not only is jaws Ashby a proven Nazi sympathizer, but his other account – bennyboy Ball – has an interesting partnership.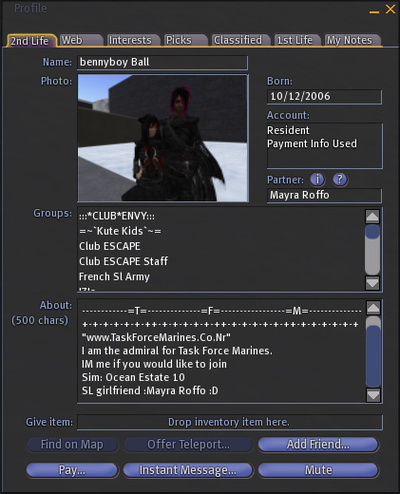 He is partnered to his 3rd in command – the same Admiral Mayra Roffo who took over Marines founder Flamethrower Rives' Admiral title when bennyboy Ball got bored with him and decided there were too many admirals. Is the army based on not only Nazism but nepotism as well? I asked the other Admiral, Bouwie Scofield for more information.
Caine Constantine: Alright, and just so I am clear, the order of command is Jaws/Benny, then you, then Mayra Roffo?
Bouwie Scofield: Yes.
toccovender Waco: Mayra and Bouwie are the same rank
Malik Weder: no tocco
Malik Weder: oh
Malik Weder: nvm
Bouwie Scofield: Not realy, but you can see it that way.
It sounded like the rest of the troops in the Marines understood there is a special relationship in the ranks of the TFM Admiralty.
Back in Ocean Estate 10, the weekly meeting was about to begin. A visitor, Brodey Boucher, tried to get in. His role will be more important later.
Brodey Boucher: can i come
Brodey Boucher: i can?
Cole Pashinin: no brodey
Cole Pashinin shouts: fill out a form (to join the Task Force Marines, that is) brodey..then u can get in
I was invited to attend by jaws Ashby. Brodey was banging on the door to the compound, trying to get in to no avail. The underground meeting hall was packed, and it was time for the week's promotions.
But someone broke into the Marines' compound, now virtually defenseless as most of the group's online members were burrowed underground. Only a skeleton crew was manning the walls – and they were slaughtered by an attacker clothed in Vanguard fashions who told this interviewer he wanted to remain anonymous, going only by the codename "Cookie Monster," which will soon make sense.
Admiral Mayra Roffo began the meeting amidst the carnage outside, congratulating new members for joining and talking about the speed of the group's expansion.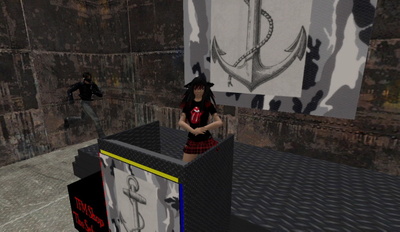 Meanwhile, poor Brodey was getting repeatedly knifed in the back as Cookie Monster laid waste to the poor men outside. Wearing Vanguard clothes and using their weapons, he was coming for the meeting room, stopped only by a locked door.
It was perhaps fitting that a television in the Marine's base was playing an episode of "The Three Stooges" as the meeting went on. It could be loudly heard during the meeting. Perhaps I was the only one with my media access options turned on, but I did not think it fitting to interrupt their meeting and ask them about it. I wouldn't want to sound like I was making fun.
Somehow, Brodey soon made it down to the underground bunker, perhaps by teleport through a friend. He interrupted the meeting.
Brodey Boucher shouts: dont shoot im unarmed and need to talk to bouwie
Brodey Boucher shouts: bouwie sir
Brodey Boucher shouts: dont shoot me!
toccovender Waco shouts: brodey shutup and come back later
toccovender Waco shouts: please.
He came to warn them of the Cookie Monster, but they did not listen. And so, the Cookie Monster made it into the base, with a chilling warning of his intent.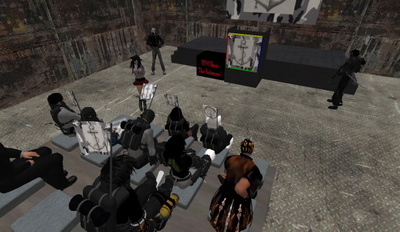 Cookie Monster: im in ur base, stealing ur cookies
Brodey Boucher shouts: dont shoot!
Brodey was soon dead yet again. Cookie Monster was slaughtering anyone coming to defend the base – only through use of advanced Vanguard weaponry of their own did the Marines eject him from their stronghold. He came back repeatedly for some time after that. After a healthy dose of back and forth slaughter, with Cookie Monster taking on the whole of the Marines by himself and holding his own, he told me about what had transpired to cause the skirmish. He was upset about how the Marines fought.
Cookie Monster: shooting into the hub, rezzing grenades on hostiles – is there anything you do fight fair about?
toccovender Waco: shutup
Cookie Monster: lol
toccovender Waco: maybe u shouldnt sit in the hub for 5 minutes
In a post-battle interview, Cookie Monster said that the reason he had been so miraculously held off during much of the meeting, even though he was opposed mostly only by poor and unarmed Brodey, was that the Marines were simply rezzing grenades on the ground and killing him from a distance. He claimed they were actively using phantom bullets and killing he and anyone else entering the hub of the base.
I watched the skirmishing from a nearby hill until I was cut down in the crossfire. It was quite a sight, but a few hours later I received a message from Cookie Monster declaring his victory over the Marines.
And so that ends our story with the Task Force Marines. A fearless lot of men and some women, to be sure. They are committed and devoted to their leadership, but the real question is whether their leadership deserves to be followed. First Admiral jaws Ashby, with his Nazi past, and Third Admiral Mayra Roffo, who was half naked for much of my trip there, are partnered and her career with the Marines sounds like it was advanced by the unjust demotion of Flamethrower Rives, who helped found the group.
Second Admiral Bouwie Scofield seemed to be innocent of any of the problems afflicting the group.
So what to make of the common grunts? Using Vanguard weapons was not their only lifting of technology from other groups – Cookie Monster claims they are also using the armor of Ordo Imperialis. Are they just a group of "noobs" in it for the free, and lifted, guns and armor?
Maybe. But Flamethrower did make a good point. They were all having a great time. It was the best visit to a military base I've ever had, and they were pretty friendly too, except for toccovender Waco telling me to go away, and william Setner threatening the integrity of my kneecaps the day before. Each of them were laugh riots though.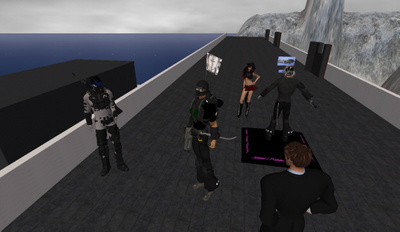 Ultimately, you be the judge – check out Ocean Estate 10 and see what the Marines are about, and the one thing I can guarantee you is a good time. And if you want to join up, just pick up an application.
Caine Constantine: Shall I tell people where to find you and who to talk to about recruitment and joining the TFM?
Bouwie Scofield: Just let em fill out the application and send it to me, Mayra or Benny/Jaws