by Alphaville Herald on 28/07/08 at 9:09 am
Google's Lively "Heather" & "Vanessa" Avatars Can't Dance With Boys
Fighting breaks out in Jen's Coffee House
by Pixeleen Mistral, International Affairs desk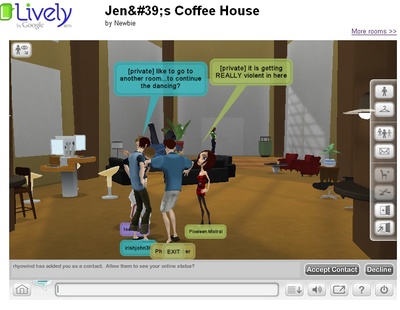 I have enjoyed my time in Lively so far, but there are parts of the experience I find troubling – I simply cannot dance with irishJohn36. I met irishJohn36 in Jen's Coffee House, and after sitting chatting with him and another guy named "Photographer", irishJohn36 suggested we get up and dance.
"Photographer" had been IMing me privately asking for photos – I sent him some links to Pixeleen Mistral pictures I found using in Google's image search — after all, when in Google, do as the Googles do. But "Photographer" wanted much more for his collection and was getting rather insistent and tiresome. IrishJohn36 seemed to be a bit more of a gentleman, and I hadn't danced with anyone yet, so I stood up from my chair and clicked on irishJohn36′s avatar to bring up a list of animations I could perform with him. Strangely, dance was not listed – but slap was.
Very soon, a nimbus of guys appeared around me, as irishJohn36, "Photographer", and others started punching, kicking, and dropping anvils on each other, leaving me at the center of a vortex of virtual testosterone violence. That was when irishJohn36 suggested we find another scene to try to dance.
Once we got to a less violent club, I tried to dance again, but no matter what I tried, the dance animation never appeared when I clicked on irishJohn36′s avatar.
Eventually I had a rendezvous with irishJohn36 and his friend Finola on a quiet island, where the mystery was solved.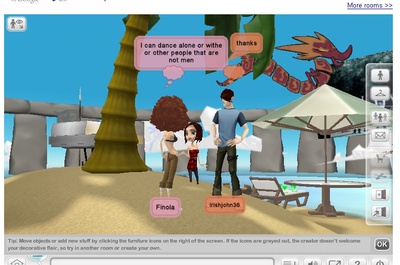 Why can't girls dance with boys?
Finola: any idea why we can't dance with men?
Finola: I can only dance with women…
Pixeleen.Mistral: really?
Finola: yeah.
Pixeleen.Mistral: you are right!
Finola: Yeah, let me know if you do find you can
I have determined my avatar is a lesbian or just hates men
Pixeleen.Mistral: I can dance with you – but not with IrishJohn!
irishJohn36: hahaha
Finola and Pixeleen.Mistral move to the beat
Pixeleen.Mistral: this is sooooo weird
irishJohn36: well ladies….will i leave you two alone


Finola: lol
irishJohn36: so pixeleen…you have some good moves
Pixeleen.Mistral: now I do
Finola: only cause she was dancing with me
Pixeleen.Mistral and Finola move to the beat
Finola: other women can dance with men
irishJohn36: get a room

Finola: I can dance alone or withe or other people that are not men
btw I like your shirt Pix
irishJohn36: other people that are not men…as in women


Finola: yea. I think some animals. so this girl must of been really pissed at men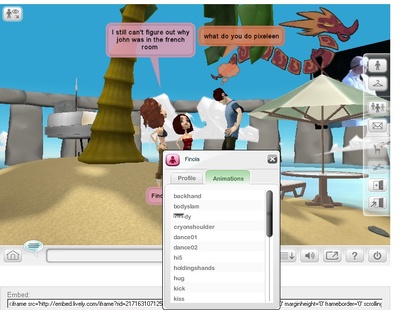 girls with "Heather"-based avatars can dance with other Heathers
After Finola and I got done dancing I did some experimentation and found that girls can only dance with girls if you choose the "Heather" avatar as your base type. Apparently Heather is a man-hater. Later I discovered that the "Vanessa" avatar also only dances with girls, but busty "Jane Doe" is totally guy-friendly. Are the designers of Lively sending some sort of subliminal message here? No dancing without a D-cup?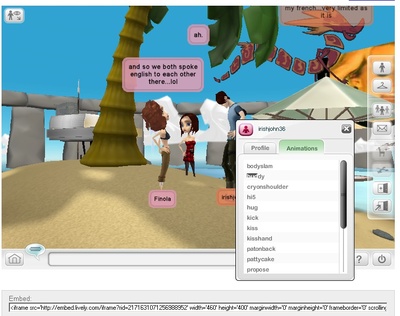 boys are strictly prohibited –click on irishJohn36 and there is no dancing