by Alphaville Herald on 21/08/08 at 7:59 am
Lab holds grandpa's alt accounts hostage for being underage – then refuses to talk?
by Pixeleen Mistral, National Affairs desk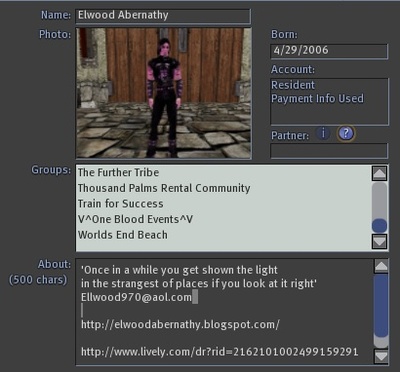 Elwood Abernathy is not happy with Linden Lab
A distressing notecard from Elwood Abernathy was waiting when I stopped by the Herald offices last night:
---
I read with interest the Second Life Herald about intlibbers difficulties with age verification and the Tizzers ban. I have three alts that have been disabled due to age verification ID checks, apparently the lindens think I am 16 years old because someone A/R'd me, a griefer perhaps? I was told I belong on the Teen grid. In real life I am a grandfather for God's sake. I wonder how widespread this is among the people who pay Linden Lab hefty fees. I pay 2 1/2 sim tier, and if I had not for some reason, three weeks ago, consolidated tier from one of my accounts which is now disabled, I would be in a tier deficit. The Lindens simply will not talk to me about this issue, only demanding more and more identification be faxed to them, even asking for my social security card. I am considering cashing in and going with a free alt.

Elwood

---
A quick look at Mr. Abernathy's profile led me to his blog – and chilling details of how the Lab treats some of its landowners.
According to the Linden Lab price sheet, 2 1/2 regions require ongoing tier payments totaling $500 USD/month. For most businesses, this sort of customer would get better treatment than an unverified anonymous account – but this does not appear to be the case in Second Life. It is becoming clear that all residents of Second Life are subject to detailed age verification checks whenever the game gods feel so inclined – and the potential for anonymous false accusations as part of griefing or other resident conflicts is frightening. As a matter of policy, Linden Lab does not release the names of those making accusations in abuse reports, nor does the lab publicly discuss its disciplinary actions.
Mr. Abernathy details the problem:
"It has been since August 8th now that three of my alts have been disabled for being underage. I said in live chat in a role playing sim that I was 16 1/2 years old. Reverse those numbers. Anyway, I have sent the Lindens whatever they asked for, regretably, because now they have copies of my identification, including my driver's license. I did have the sense not to send my social security number or card. They have ignored the issue up until now. So now I am going to ignore them. And if they disable my main alt, so be it, the 100 residents of Thousand Palms can have some free rent until the lindens they get around to taking the land back, which will be quite a while given the glut of land on the mainland."
"I created a kid alt on July 27, 2008, after 11 days got banned for being underage, and since then have had to prove my identity to Linden Lab, forget the fact that EACH of my accounts is secured by my credit cards, including the banned ones (yes two got banned) and my main concierge account is 2 and 1/2 years old and age verified. I also have two other accounts for land management that are age verified and payment secured. I faxed my state issued official legal birth certificate. That was not enough they wanted the one that came directly from the hospital the day I was born. I faxed that one too. They requested another proof of identification so I sent my Pennsylvania State Driver's License."
With even Prokofy Neva – virtual fanboy numero uno – tiering down, Mr. Abernathy points to the real problem for the Lab, "We don't have to ask what they are doing to retain new accounts, the question is what are they doing to retain long term paying customers." Exactly. Perhaps M Linden would like to address this issue soon? Or has LL outgrown the need to pretend to play fair with its customers?