by Alphaville Herald on 19/08/08 at 12:03 am
"Your World, Your Imagination" — unless your first name is Tizzers
by Pixeleen Mistral, National Affairs desk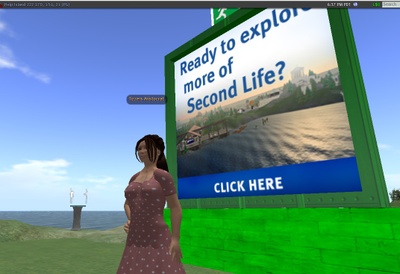 Tizzers Aristocrat and Intlibber Brautigan suggests everyone register a Tizzers alt account
After buying the exclusive rights to the BnT avatar last name in Second Life for a $500 USD setup fee, plus $500 in annual fees, Intlibber Brautigan was surprised to find that Linden Lab was effectively banning free use of the naming rights he had purchased, and believes Harry Linden could be the culprit. Mr. Brautigan is a well known virtual land baron who says he owns 49 sims in Second Life.
Typically, residents of Second Life must select their last name from a Linden game-god approved list, but some wealthy corporate entities purchase last names as a way to provide employees with a consistent identity that is tied to their official work duties and independent of their gameplay.
Mr. Brautigan told the Herald tonight, "I own the BnT last name. Last week I registered the account Tizzers BnT. Before anybody had even logged onto Sl with it, Harry had age-banned it demanding an ID check, even though I, who own the BnT last name, am already ID verified – apparently anybody named Tizzers is automatically a minor"
A number of sources have told the Herald that a common form of player harassment is to demand age-verification for accounts – these complaints are frequently heard from both the /b/tards associated with the Woodbury sims and the W-Hat community – both are groups that some suspect are in conflict with LL's moved toward more mainstream corporate acceptance and who have attracted organized opposition from other residents in-word.
The clearly displeased land baron continued, "I registered the name in remembrance of my dear departed friend and hero of free expression, Tizzers Foxchase, much as someone names a child after a dead relative".
The possibility that rogue Linden staffers are singling out certain parties for special attention cannot be discounted, but is nearly impossible for anyone outside Linden Lab to verify this, due to the notable lack of transparency in LL's governance and disciplinary actions.
Meanwhile, Mr. Brautigan tell us he is appealing the action, after talking with Leo Linden:
---
Leo Linden: Hi there, we just spoke about that account which is undergoing ID check. Could you please submit a ticket about it please, so I can get this looked at by Governance Team for you please?
intlibber BnT: I own the BnT last name and I am ID verified, ergo all my BnT accounts are explicitly also ID verified. BnT last named accounts are used only for BnT company business and remain my property. Last week I made the account Tizzers BnT, but it quickly disappeared from search without any IM or email notifying me of why. Leo has said it is age-banned for ID check. This Account NEVER LOGGED INTO SL EVEN ONCE!!! How can you justify age-banning an account thats never logged in which you know I own? I expect this account to be unlocked immediately and not to have to deal with this issue again.
---
In a world where identity and reputation are paramount, it is unsurprising that struggles over names occur – but the level of pettiness apparently being exhibited by some parts of Linden Lab are astounding – are there any adults in charge?
For those sympathetic to Mr. Brautigan's plight, he offered this suggestion, "Apparently anybody named Tizzers is automatically a minor – I am therefore announcing it is National Tizzers Month and encouraging everybody in Sl to register an alt by the name of Tizzers".